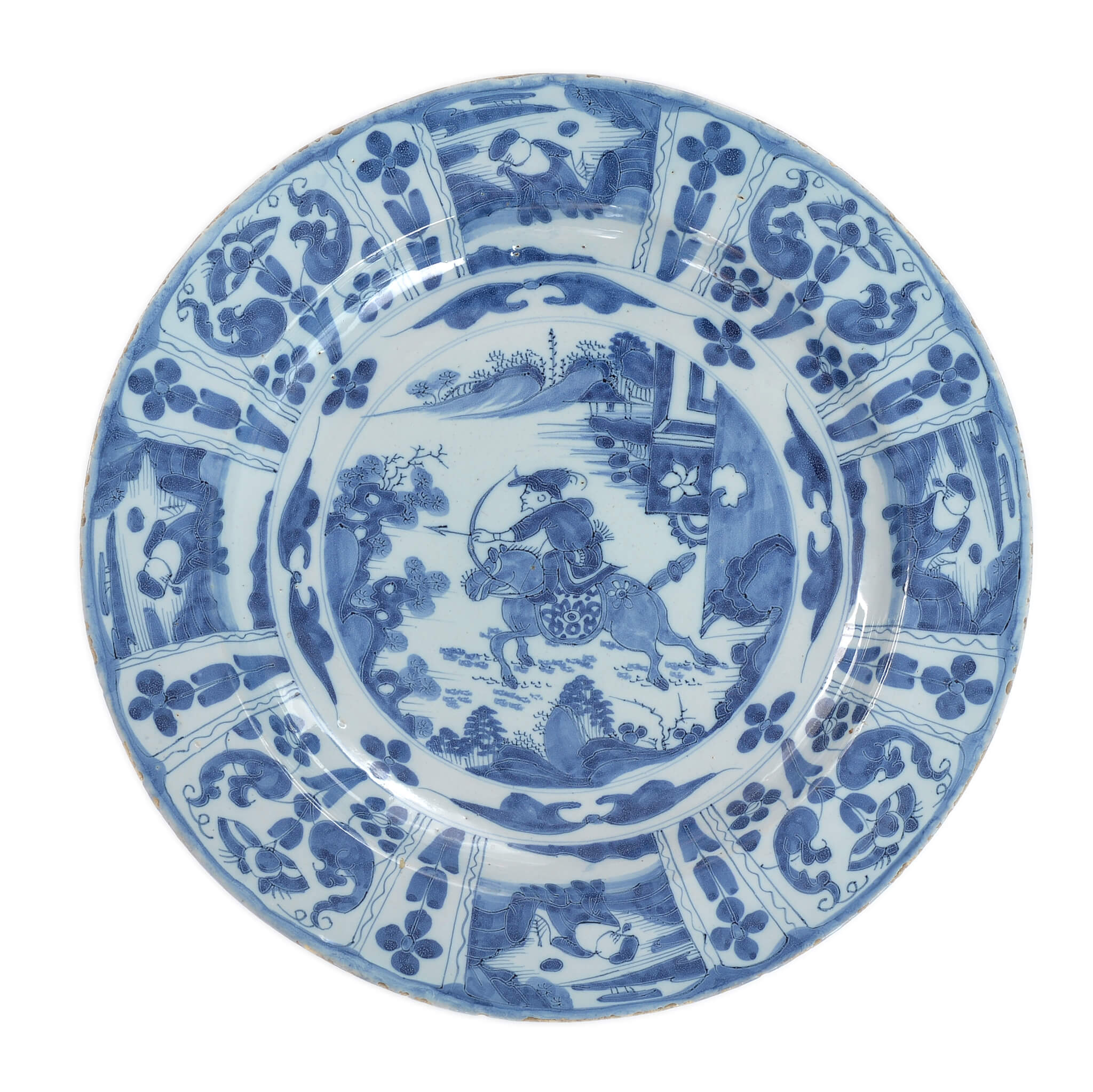 [popup_trigger id="13756″ tag="span"]

[/popup_trigger]
OBJECT
D1811. Blue and White Kraak-Style Charger
Delft, circa 1680
Painted in the center with an equestrian warrior holding a bow and arrow in a landscape of rocks and pines, within a roundel decorated with floral and foliate devices and surrounded by four slightly fan-shaped panels of a figure seated on a terrace alternating with four panels of blossoms and scrolling foliage, all separated by stylized flowers between bands of squiggles on the cavetto and rim, the reverse with alternating circular and dash motifs, and the foot rim pierced with a hole for suspension.
Diameter: 34.2 cm. (13.5 in.)
Note: The depiction of a mounted huntsman in art recalls the widely circulated images of Petrus Schenk's publication Nieuwe geinventeerde Sineesen, met groote moeyte geteekent en in 't Ligt gegeven. The Delft pottery painters were not inspired by these particular prints however, because the book was not published until circa 1740. Other prints and Chinese porcelain wares must have served as the source of inspiration for the painter of this charger. During the Kangxi period (1662-1722), Chinese porcelain was made specifically for the export market. However, the scenes of Chinese life, legend and landscape were hardly changed for the Western market. Many of the dishes and other decorative pieces made for export are indistinguishable from the Chinese designs. Exotic hunting scenes were particularly in vogue in the Netherlands in the late seventeenth and early eighteenth centuries. A Chinese export porcelain example from circa 1710 with a scene of two mounted bowmen in a landscape hunting a hare is illustrated in Howard & Ayers 1978, p. 65, no. 19 and an early eighteenth-century Chinese export saucer showing a landscape with four warriors of whom two are on horseback is in the collection of the Rijksmuseum, Amsterdam (inv. no. AK-NM 13175).