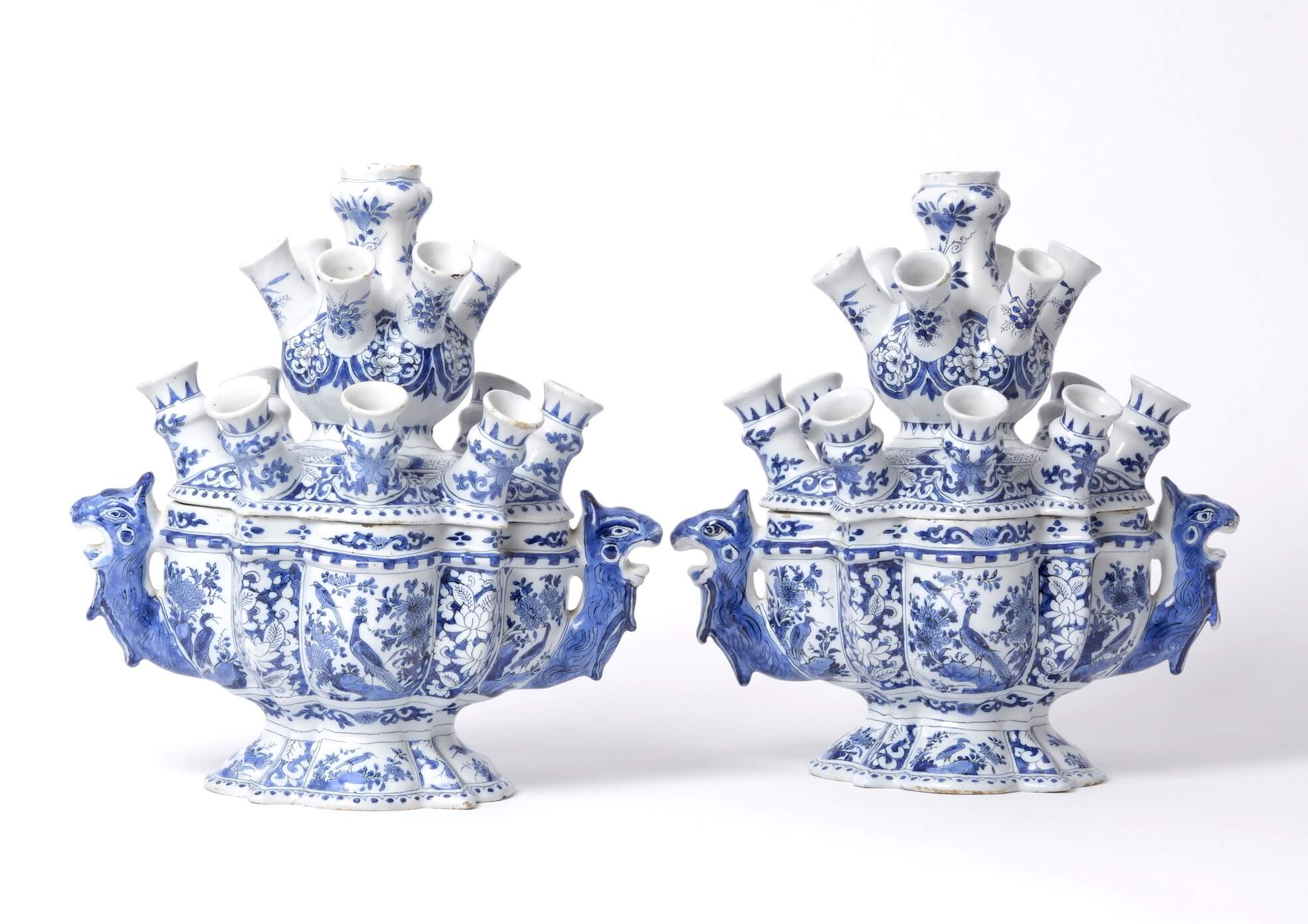 [popup_trigger id="13756″ tag="span"]

[/popup_trigger]
OBJECT
•D1799. Pair of Blue and White Bowl and Cover Flower Vases
Delft, circa 1695
Each marked AK in blue for Adrianus Kocx, the owner of De Grieksche A (The Greek A) factory from 1686 to 1701
Each bowl of scalloped and barbed quatrefoil shape, affixed at the ends with blue open-mouthed dragon or phoenix head handles, the lobes painted on the front and reverse with a pheasant perched among peonies, foliate and rock work, a bird perched on a flowering branch and on the ends with a bird perched on rock work amidst foliage, the barbs with a blue ground reserved with floral sprays, the conformingly-shaped domed foot similarly decorated beneath a band of floral scrollwork motifs around the ankle, repeated on the rim above a molded half-round band; the low domed cover rim with a blue-ground border of floral scrollwork interrupted by eight gu-form spouts decorated on the front with a stylized floral motif and on the reverse with four dots, the center with a trellis diaper work reserved with four blue-edged oval panels with a budding plant encircling a hexafoil bottle-shaped vase decorated with blue ground lappets with floral scrollwork, and issuing from each of the six lobes a slightly aring cylindrical spout painted on the front with a budding plant, and again at the reverse with four dots, the knotted neck of the central bottle with floral sprigs.
Heights: 29.2 and 29.5 cm. (11.5 and 11.6 in.)
Provenance: A Dutch Noble Collection
There are approximately fifteen known single bowl- shaped vases that resemble the present pair, of which seven are in museums, the others are in private collections. The Fitzwilliam Museum in Cambridge (inv. no. C. 2607 & A-1928), the British Museum in London (inv. no. 1891.0905.27), the Victoria & Albert Museum in London (inv. no. 3843 & A-1901), the Centraal Museum in Utrecht (inv. no. 10315), the Musées royaux d'Art et d'Histoire in Brussels (inv. no. 602 a-b), Museum Boijmans van Beuningen in Rotterdam (inv. no. A 2807a-b), and the Rijksmuseum in Amsterdam (inv. no. BK-NM-133313) all have a single bowl-shaped flower vase. Interestingly, the present pair of bowl-shaped flower vases is only one of four pairs that are known to exist. There is one pair in the collection of the Uměleckoprůmyslové Muzeum (Museum of Decorative Arts) in Prague (inv. no. UPM 70.678ab & UPM 76.968ab), another pair in the collection of the Gemeentemuseum in The Hague (inv. no. 0401074) and the third pair is in the collection of Mnichovo Hradištĕ in the Central Bohemian Region in the Czech Republic (inv. no. MH 10897/10900). Characteristically, as is the case with so many Dutch Delftware objects, these flower vases were probably produced and sold in pairs.