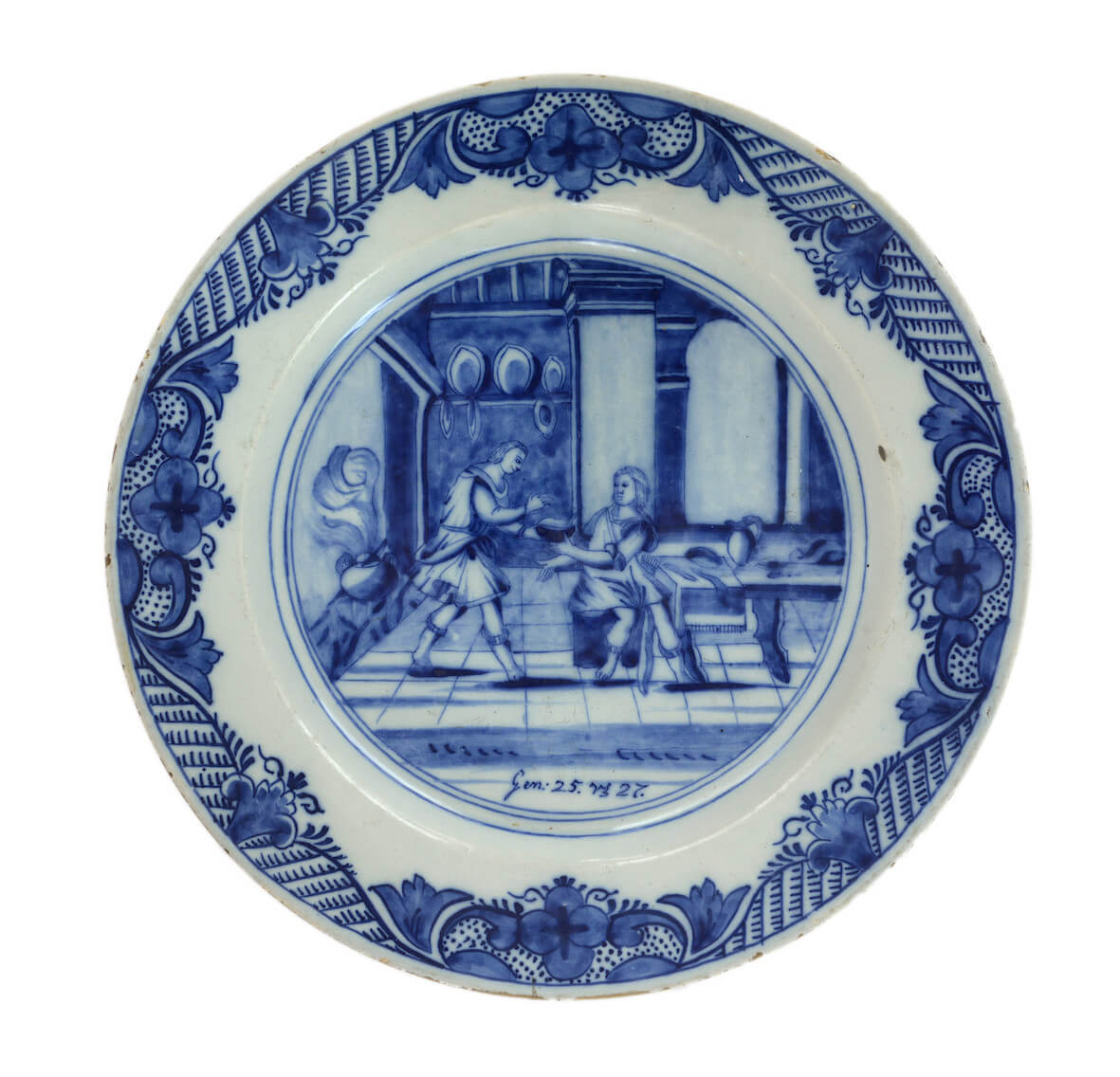 OBJECT
• D1780. Pair of Blue and White Biblical Dishes
Delft, circa 1780
Each marked LPK in blue for De Porceleyne Lampetkan (The Porcelain Ewer) factory
Each painted in the center with the story of Jacob and Esau depicting Jacob offering a bowl from a cauldron on the hearth at the left to the seated archer Esau, all above the inscription "Gen: 25. vs 27.", the rim decorated with a border of stylized floral scrollwork patterned with dots and stripes.
Diameters: 34.5 and 35 cm. (13.6 and 13.8 in.)
Note:
The story of Jacob and Esau is one of the most familiar of all of the accounts of Jacob's life in the Book of Genesis (Chapters 25-33). Jacob was the younger of the twin brothers born to Isaac (the son of Abraham and Sarah) and Rebekah. According to tradition, at their birth he grasped the heel of his brother Esau who emerged first, red and hairy. (In Hebrew, the name Esau means "hairy" or "rough" and Jacob means "heel-catcher" or "he who follows on the heels of another.") The brothers possessed very different temperaments: Esau became a cunning hunter and was loved by his father, while Jacob was homier and the favorite of his mother. One day Esau returned from a day of hunting, exhausted and hungry, and implored his brother for a bowl of the red lentil stew he was preparing. Jacob, seizing on the opportunity, offered to exchange the meal for Esau's birthright (the privilege of being recognized as the firstborn), and the famished Esau carelessly agreed.
Years later when the aged Isaac had become blind and concerned about his own death, he decided to bestow his blessing of the birthright on Esau. He dispatched Esau to trap and cook a piece of game to celebrate the blessing, but while Esau was hunting, Rebekah dressed Jacob in Esau's clothing and covered his arms in goatskin to simulate his hirsute brother. Although cleverly disguised when he approached his father's bed, Jacob did not immediately deceive his father, who pronounced, "The voice is Jacob's voice, but the hands are the hands of Esau!" (27:22). Nevertheless, after Jacob declared deceitfully that he was indeed Esau and Isaac had consumed the food and wine Jacob had offered him, he blessed his younger son, "Behold, thy dwelling shall be in the fatness of the earth, and the dew of heaven from above" (27:39).
Returning from the hunt, Esau discovered the deception, and both he and Isaac were dismayed, but Isaac could not rescind his blessing and could only promise Esau that "By thy sword shalt thou live, and shalt serve thy brother; and it shall come to pass that when thou shalt have the dominion, that thou shalt break his yoke from off your neck" (27:40).