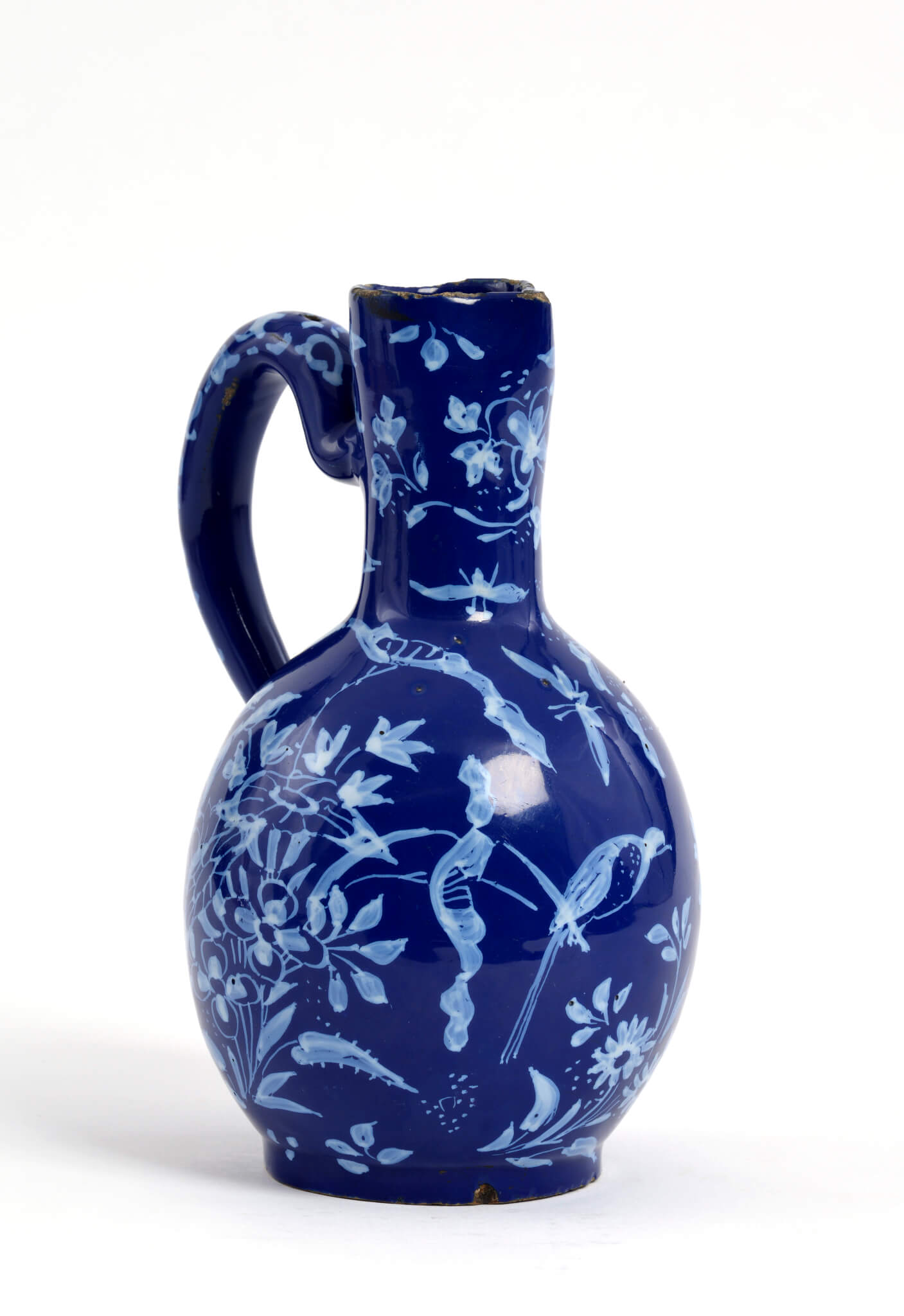 [popup_trigger id="13756″ tag="span"]

[/popup_trigger]
OBJECT
•D1723. Persian Blue Ewer
Delft, circa 1700
The rich blue ground painted in white on the ovoid body with a bird perched on a twig, several fluttering insects flying above it, amidst a profusion of flowering plants, on the neck with further insects around a floral spray, and on the loop handle with a scrolling vine.
Height: 19 cm. (7.5 in.)
Note:
Delft and English potters were inspired by the intense blue, white, and yellow glazed wares produced in Nevers, France from 1660 to 1680, known as bleu persan. The Delftware that followed the style of Persian blue ceramics enjoyed a brief popularity around 1690, and examples are rare to survive. Van Aken-Fehmers 1999 p. 220, states that it is unlikely that blue ground ceramics were styled after objects from Asia Minor (now Turkey), because the style was already seen on Dutch majolica dishes from the early seventeenth century. Instead, these majolica dishes were probably influenced by Italian potters working in Flanders. According to Lahaussois 1998, p. 165, the blue ground wares produced by De Paauw (The Peacock) factory are very close to the original ceramics from Nevers. They share a depth of color, as well as the characteristic lotus flowers and irises that decorate the bodies. Under the leadership of David Kam and his widow, De Paauw specialized in the Persian blue color scheme, and the present work fits within the factory's outstanding style.
Similar examples:
An ewer of 17.8 cm. in height marked for De Paauw with a very similar decoration in Gemeentemuseum, The Hague (inv. no. OC(D)635-z.j), is illustrated in Van Aken-Fehmers 2001, p. 165, no. 31. A slightly larger ewer marked De Paauw, with a drop-shaped body and a silver cover is illustrated in Aronson 2015, p. 39, ill. 20. A large jug of 27.5 cm. with the same bulbous shape is depicted in Aronson 2011, pp. 24-25, ill. 14. This ewer is also marked for De Paauw. A smaller De Paauw marked jug with the same height is depicted in Aronson 2008, p. 41, no. 24. A similar ewer is in the collection of Sèvres, Musée National de Céramique, illustrated in Lahaussois 1998, p. 165, no. 147. Other similar jugs with pewter cover, but smaller in size, marked D PAVW, are in the Rijksmuseum Twenthe, Enschede, on loan from Oudheidkamer 'Riessen' (inv. no. BR0001. R073), and also in the Victoria and Albert Museum in London (inv. no. 1015-1855 and no. 1016-1855). Another blue ground ovoid ewer with white decoration of the same shape and also marked for De Paauw factory, in the Musée des Arts Décoratifs (inv. no. 32007), Paris, is illustrated in Lahaussois 1994, p. 84.