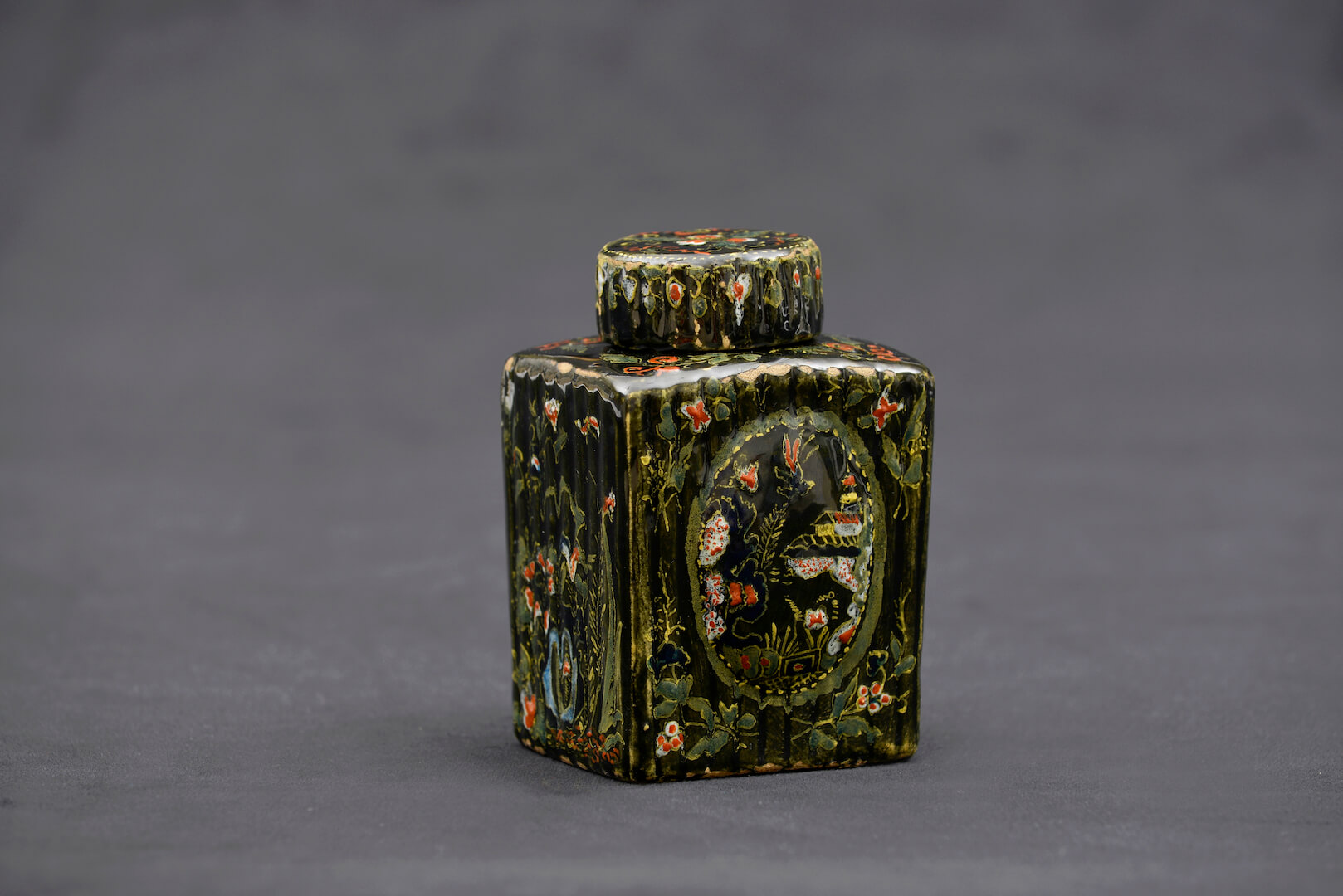 [popup_trigger id="13756″ tag="span"]

[/popup_trigger]
OBJECT
•D1436. 'Black Delftware' Fluted Rectangular Tea Canister and Cover
Delft, circa 1720
Probably De Metaale Pot (The Metal Pot) factory
The body lightly molded on the front and reverse with an oval panel edged in yellow dots and a green band andpainted on the front with a bird in flight above the pavilion in a Chinese landscape, and on the reverse with flowering plants, each surrounded by four clusters of iron-red and white flowers and green and yellow foliage; the sides with an insect flitting above further flowering plants and a blue stylized rock, the shoulder with a red scroll and green foliate device on each corner, and the circular cover painted on the top with a blossom formed by a yellow hatchwork center issuing three red and white petals alternating with three leaves and scrolls within a yellow-dotted edge, and on the flutted sides with pendent leaves and red-dotted white buds.
Height: 10.5 cm. (4 1/8 in.)
Note: 'Black Delft' was the rarest production of a very few Dutch Delft factories during the late seventeenth and early eighteenth century when the taste for the exotic thrived. These black-glazed Delftwares were inspired by Oriental and subsequent European lacquer wares as well as by Chinese 'famille noire' porcelain of the Kangxi period (1662-1722), both the so-called 'mirror black' type with its lustrous monochromatic ground, often left undecorated or ornamented only in gilding, and the type decorated in a 'famille verte' palette of predominantly green enamel. On Chinese porcelain pieces without a black ground, the 'famille verte' palette also included iron red, yellow, aubergine, black and overglaze and underglaze blue – and it was with this full palette of colors that the Delft potters sought to enliven the gleaming dark glaze of their 'Black Delft'.
Whereas the Chinese 'famille noire' porcelains tended to be large and decorative, the forms found in 'Black Delft' are generally small: occasionally figures, vases and ornemental objects, but more often useful wares, frequently associated with tea, which was an essential aspect of the fascination with the exotic, and which by 1680 had become a beloved beverage in Holland, its almost ceremonial consumption a particularly favored pastime of fashionable ladies. However, the inability of the porous Delftware clay and its fragile tin glaze to withstand the thermal shock of a hot beverage, combine with the difficult technology of firing the 'Black Delft' glaze and enamels successfully, must account for the rarity of the surviving pieces, of which only about 65 are known today.