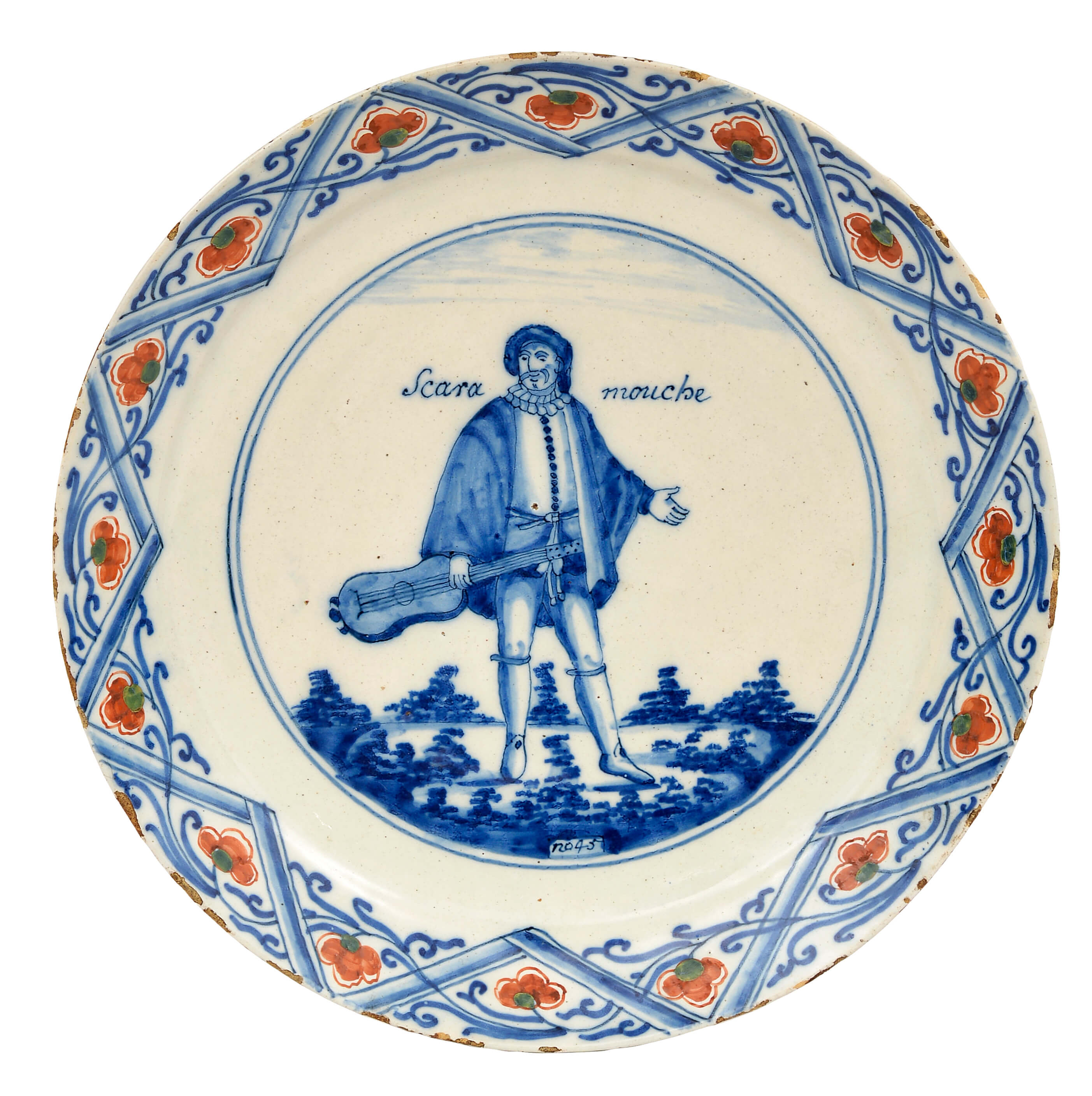 [popup_trigger id="13756″ tag="span"]

[/popup_trigger]
OBJECT
D1425. Polychrome 'Commedia dell'Arte' Plate
Delft, circa 1735
Marked AR in blue
Painted in blue in the center with the moustachioed actor wearing a floppy hat, a ruff around his neck, a mid-length cape, a buttoned doublet and knee breeches, holding a guitar in his right hand, gesturing with his left, and standing amidst leafy plants on a plateau reserved at the bottom with a small oval inscribed "no 45", his head bisecting his inscribed name "Scaramouche", all within a roundel of two concentric lines, the rim with a border of blue zigzags entwined with a blue meandering vine issuing iron-red blossoms and blue foliate scrolls, and the underside with five blue four-dot clusters beneath the rim.
Diameter: 22.7 cm. (8 7/8 in.)
Note
The Commedia dell'Arte (Italian Comedy) is a subject on which much has been written over the past three centuries, and representations of its actors, from the best known: Harlequin, Columbine and Pierrot, to the least known, whose names occasionally changed from region to region as the troupes traveled and improvised, appear in virtually every medium of the fine and decorative arts. Because of the expressive nature of acting and the plasticity of ceramics as a medium, however, some of the most successful representations of these comic actors have appeared in and on pottery and porcelain, and the present plate is just such an example. It was made in response the rising popularity of the Commedia dell'Arte in Italy, France, Germany and the Netherlands in the first half of the eighteenth century, and would have been part of a series of characters from the frequently varied cast.
Scaramouche was one of the standard actors, and in her book Harlequin Unmasked, The Commedia dell'Arte and Porcelain Sculpture (The George R. Gardiner Museum of Ceramic Art, Toronto 2001), p. 92, Meredith Chilton quotes Angelo Constantini, The Birth, Life and Death of Scaramouche (Paris 1695), Chapter 27 in describing his role: "He was tall and very upright … although he was such a large eater, he was one of the most agile Players ever seen…In character, he was extremely suspicious, miserly and hot-tempered. He had a lively imagination but rarely spoke, having great difficulty in expressing in words what he wished to say but, in return, nature had endowed him with a wonderful talent which enabled him to explain by the postures of his body and the grimaces of his face, all that he desired". Chilton 2001, p.92, fig. 144, also illustrates a late seventeenth-century engraving of 'Scaramouche' by Antoine Trouvain (1656-1708) on which the image on the present plate may have been based.
Various polychrome and gilded chinoiserie and related dishes with an AR mark are attributed to Adriaan van Rijsselbergh, who was contracted as a gold painter by De Grieksche A (The Greek A) Factory in 1713, and whose production period is thought to range from 1701 until his death in 1735, during which time he may have been working also in his own independent workshop. This gold painter, however, should not be confused with Arij van Rijsselbergh, who worked as a faience painter at the Drie Posteleyne Astonne (Three Porcelain Barrels) Factory and died in 1727.
Similar examples
Two AR-marked plates from two differently bordered Commedia dell'Arte series, one depicting a musician, the other a shepherdess, are illustrated in Van Aken- Fehmers 2001, p. 333, no. 117, who also discusses on pp. 331-335 the dilemma of the AR mark on pieces of this ilk. Another, also with the AR mark, is in the Musée National de Céramique, Sèvres (inv. no. CI7463), illustrated in Lahaussois 1998, pp. 48 and 233, no. 266.