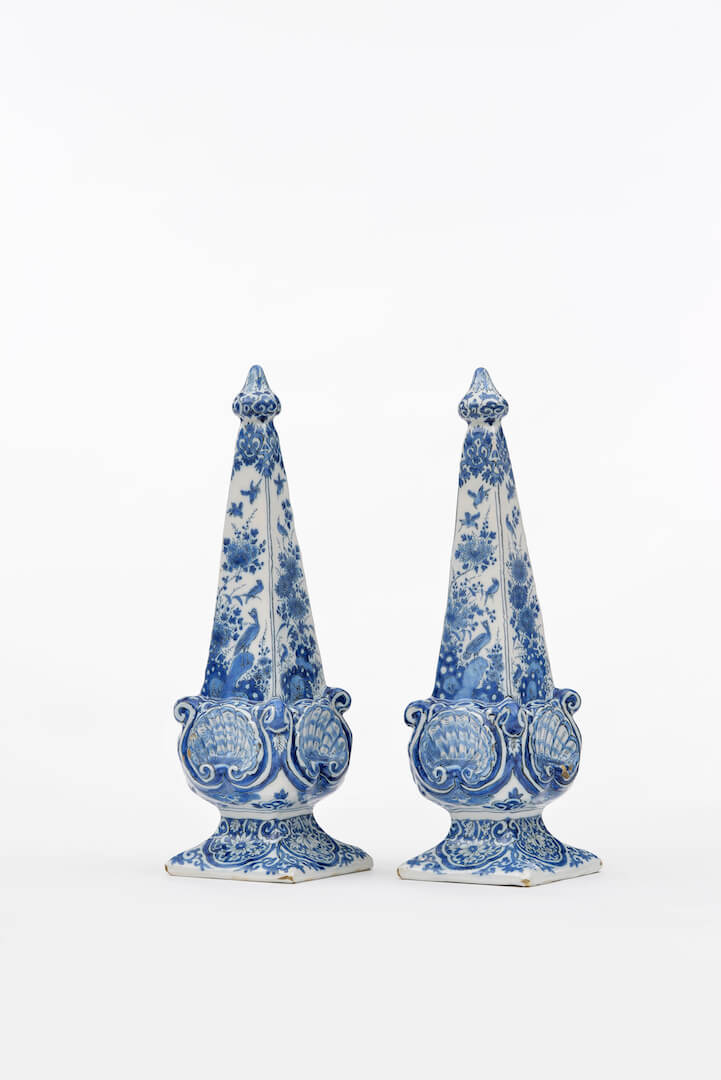 [popup_trigger id="13756″ tag="span"]

[/popup_trigger]
OBJECT
•D1415. Pair of Blue and White Obelisks
Delft, circa 1690
Marked AK in blue for Adrianus Kocx, the owner of De Grieksche A (The Greek A) factory from 1686 to 1701
Each with a pyramidal upper section painted on the front and reverse with a bird perched on a rock amidst peonis and other flowering plants beneath a smaller bird perched on a leafy stem and two songbirds in flight above, and on either side with a songbird in flight above two others perched on flowering chrysanthemums growing behind a rock, each scene beneath a ruyi-head and foliate ornament below the similarly ornamented bell-shaped finals, the lower section with a concave scallop shell molded on each side between prominent S-scrolls at the corners above pendent leaves and ruyi-head devices, and each side of the flaring square base with a ruyi-shaped panel enclosing a lotus or daisy blossom, leaves and scrolls between foliate-scroll motifs at the corners.
Height: 35.4 and 35.9 cm. (13 15/16 and 14 1/8 in.)
Note: Being strictly ornamental, obelisks of this large size (of which only a dozen are known, unmarked or marked LVE for Lambertus van Eenhoorn, or AK as this pair), must have been made in limited numbers and for a rarefied clientele. The 1713 inventory of Paleis Het Loo, Apeldoorn, lists two pairs of 'pyramids', as these obelisks were referred to at the time, and fragments of an obelisk (unmarked but attributed to Samuel van Eenhoorn of De Grieksche A [The Greek A] Factory, with decoration of a similar type to that on the present pair) were excavated in 1979 in Queen Mary's garden adjacent to her cellar dairy at the palace, and illustrated by Erkelens 1996, p. 126, no. 28.
The pyramidal form was much in vogue at the end of the seventeenth century, not only for decorative ornaments, but also for architectural elements, such as the chimneypieces designed by Daniel Marot (1661- 1752), and for the arrangement of table decorations and particularly flowers, as evidenced by the popular Dutch Delft pyramidal flower vases of this period, an example of which is number 21 in this publication. Marot is also known to have used scallop shells as architectural motifs above doors, and it is possible that the inspiration for the unusual combination of the pyramidal shape with the shells on these obelisks can be credited to Marot or even to Jean le Pautre (1618-1682), a prolific engraver of elaborate designs.