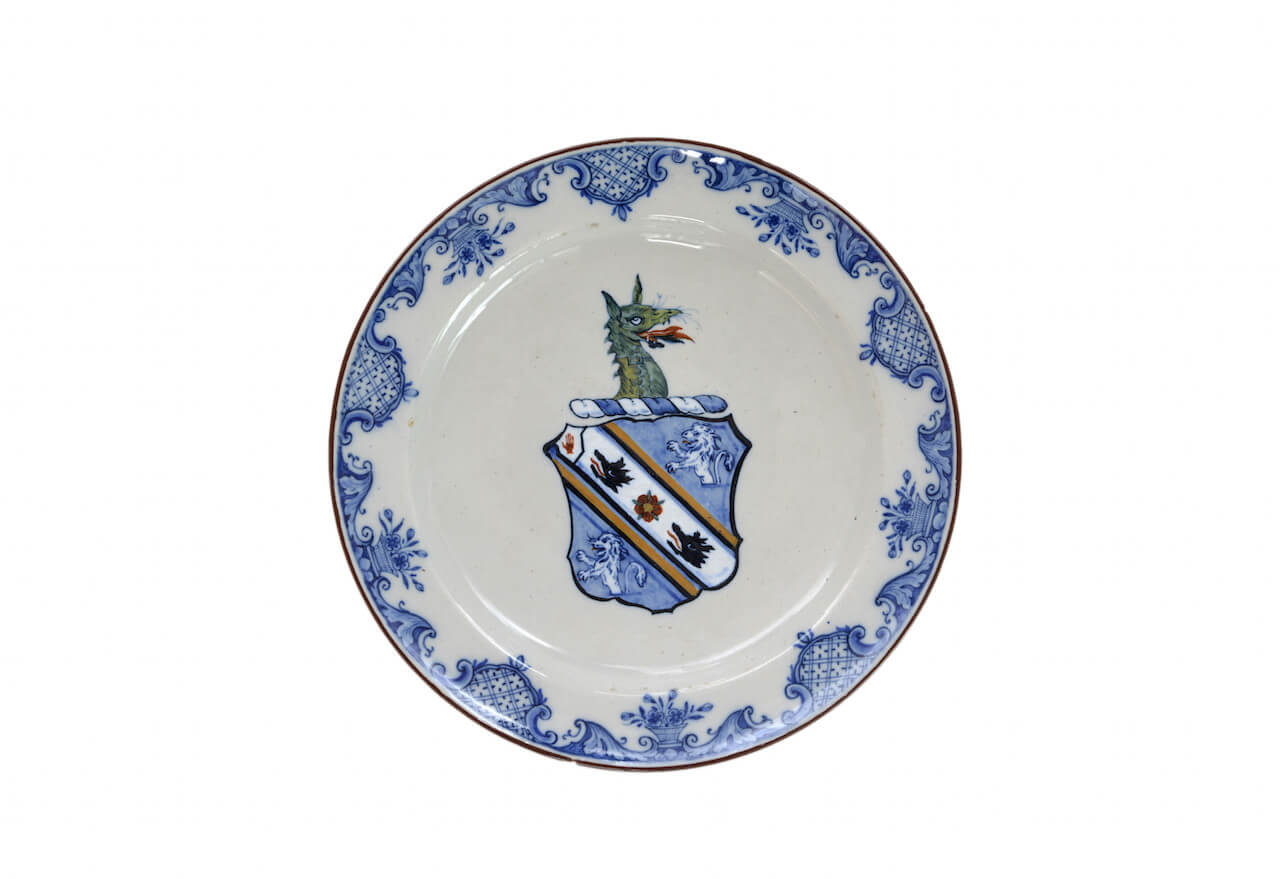 OBJECT
D1367. Polychrome Armorial Plate
Delft, circa 1760
Marked D/12 in blue possibly for Jan Teunis Dextra, the owner of De Grieksche A (The Greek A) Factory from 1757 to 1765.
The center painted in shades of blue and in white, iron-red, green and ochre with the coat of arms and dragon-head crest of Sir Whistler Webster, 2nd Baronet of Battle Abbey, Co. Sussex, and the rim with a border of five trellis diaper-patterned panels edged in scrolls and alternating with five baskets of flowers between leaf-scroll devices within a brown edge.
Dimensions
Diameter: 22.6 cm. (8 7/8 in.)
Note
The arms and crest are those of Webster, Baronets of Battle Abbey, Co. Sussex, whose baronetcy was created in 1703, but became extinct in 1923. From the date of this plate, it must have been made for Sir Whistler Webster, the 2nd Baronet and Member of Parliament for East Grinstead.
Whistler Webster (1708-1779) was the eldest son of Thomas Webster (1676-1751), M.P. for East Grinstead, and his wife Jane Cheek (d. 1760), the granddaughter of Henry Whistler, an immensely wealthy merchant of London and Somerset, whose entire estate she inherited in 1719. Thomas Webster was created a Baronet by Queen Anne in 1703 and he bought Battle Abbey as his estate in 1719, the year of his wife's vast inheritance. Their eldest son, Whistler, was returned as Member of Parliament for East Grinstead in the Election of 1741, a position he held for two decades until 1761, when he retired as an M.P., citing poor health. Sir Whistler had succeeded to the baronetcy on the death of his father in May 1751; and in 1766, at the relatively advanced age of 58, he embarked for the first time on marriage, taking as his bride Martha, the 37-year-old daughter of the Very Reverend Dr Richard Nairn, Dean of Battle. The marriage produced no children, so upon Sir Whistler's death in 1779, the baronetcy was inherited by his younger brother, Sir Godfrey Webster, 3rd Baronet (d. 1780).
The dating of this plate is based largely on the coat of arms, which, when read heraldically reveals that it is the arms of a bachelor and of a baronet (indicated by the baronet's badge of the 'Red Hand of Ulster' painted in the top left corner of the shield).
As an elderly gentleman, failing in health, it is highly unlikely that Sir Thomas Webster, would have ordered a new and expensive dinner service for his household, decorated with a coat of arms that did not include his wife's family arms. It is far more likely that the service was made for his son, Sir Whistler. Given that the arms are shown as for a baronet and a bachelor, the service would have to date from after 1751 when Sir Whistler inherited the title, but before 1766, when he married; and it can be reasonably supposed that the most likely time of manufacture would be either within the first few years of Sir Whistler having inherited his new title and estates, or possibly during his courtship of Miss Nairn, when he may have undertaken a certain amount of refurbishment of Battle Abbey to make his prospects more appealing.
We are grateful to Mr. Brand Inglis for his assistance with this armorial identification.