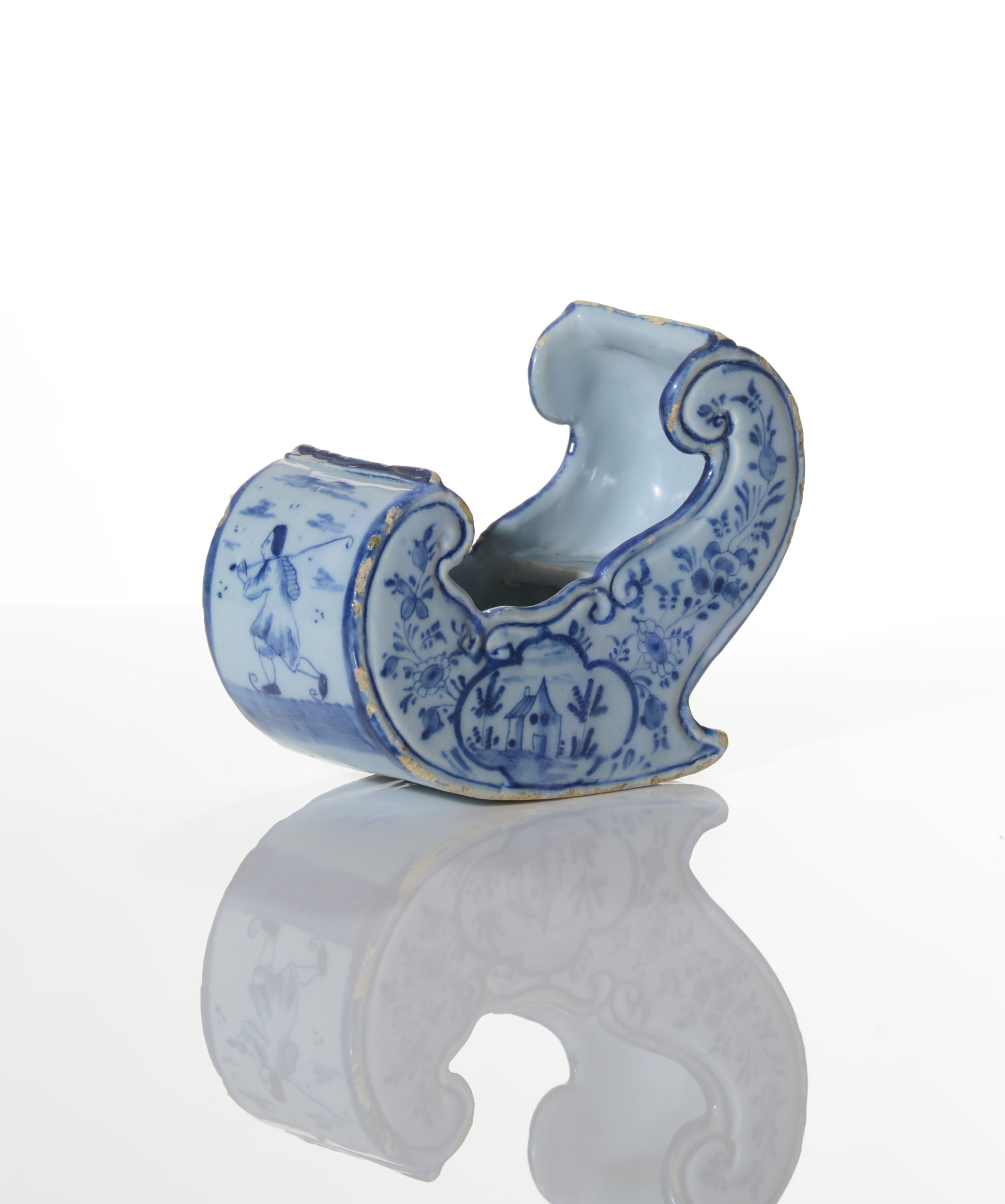 OBJECT
D1355. Blue and White Model of a Sleigh
Delft, circa 1770
Marked with a claw / 2 in blue for De Klaauw (The Claw) factory
Painted on either side with a cottage between trees within a quatrefoil panel issuing tall flowering branches conforming to the scrolling edges, the front with a skater bearing a satchel on his back and supporting on his shoulder a long crook or club, the reverse with a skater supporting a tall pick, and the interior seat painted with a small tasseled cushion.
Dimensions
Height: 10 cm. (3.9 in.); Length: 12.4 cm. (4.9 in.)
Note
This ornamental object is modeled in the shape of an ice sleigh of the type that provided a lady with a comfortable pleasure ride on the ice, while propelled by a skating gentleman. An example of this shape can be seen on a penny print illustrated in Aronson 2009, p. 89, and two simplified examples are illustrated on a blue and white plaque depicting a winter canal scene, illustrated in Aronson 2010, p. 111, no. 61. Although blue and white Delftware models of sleighs were being made by the late seventeenth and early eighteenth centuries, this type with floral patterns is dated stylistically to the second half of the eighteenth century (for examples dated 1732, see Van Aken-Fehmers 1999, p. 255, no. 97; and Helbig, Vol. II, p. 30, ill. 16).
Similar Examples
A sleigh of almost identical form and similar decoration decoration in the Musée des Arts Décoratifs, Paris, is illustrated in Lahaussois 1994, p. 143, no. 190; and Fourest 1980, p. 149, no. 147. Two polychrome sleighs from the period are illustrated in Aronson 2009, pp. 88-89, no. 56; and Lavino, p. 9. A further example with gilding is illustrated in Boyazoglu, De Neuville 1980, p. 215, ill. 26.