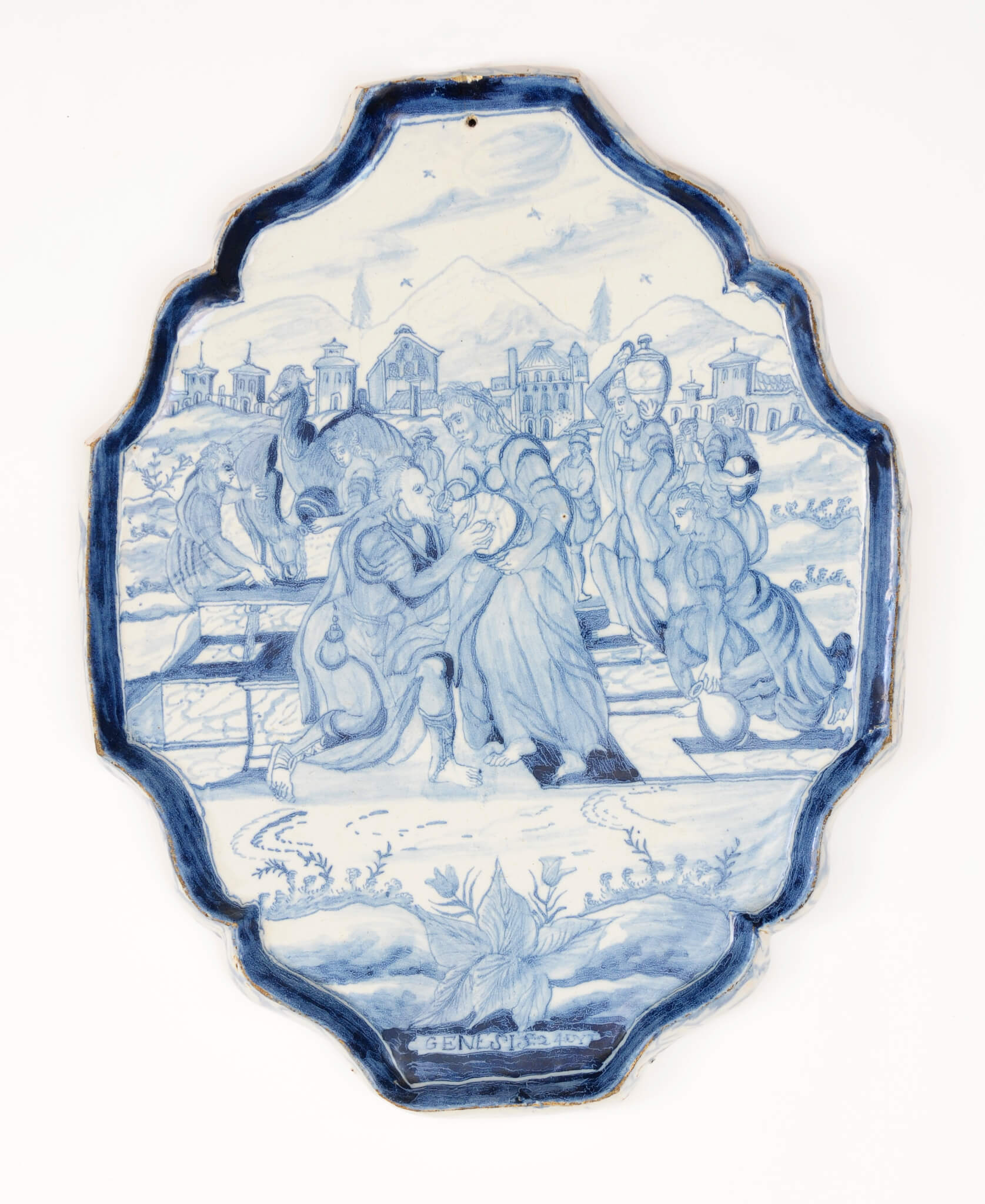 [popup_trigger id="13756″ tag="span"]

[/popup_trigger]
OBJECT
D1242. Blue and White Biblical Plaque
Attributed to Rotterdam, Delftschevaart or Hoogstraat factory, circa 1745
Painted with the Old Testament story of 'Rebecca at the Well' depicting Abraham's servant Eliezer kneeling to drink water from the jug offered by Rebecca. Around them her companion maidens with water jars, and beyond them his camels and attendants before a hilly landscape and the city of Nahor in Chaldea, Mesopotamia. The foreground with flowering shrubbery and rocks reserved with a panel inscribed: GENESIS:24:UYT; the self-molded blue-ground frame with a marbleized outer border, and the top pierced with a single hole for suspension; the reverse glazed.
Height: 45.8 cm. (18 in.)
Provenance: W. Angevaren Oude Kunst en Antiek, The Hague, 1998/1999
Note:
The Old Testament story of 'Rebecca [or Rebekah] at the Well' and the dénouement is told in Genesis, Chapter 24 (verses 1-67). After burying his wife Sarah, Abraham decided he must find a wife for his 37-year-old son Isaac, so he commanded his servant Eliezer of Damascus to travel to his birthplace of Aram Naharaim in order to select a bride from his own kin, rather than seeking a bride from among the local Canaanites. As an enticement to the potential bride and her family, Abraham dispatched Eliezer with expensive jewelry, but promised to absolve Eliezer if he were unsuccessful in returning with an eligible maiden. So Eliezer set off with Abraham's treasure and ten camels, and when he reached the city of Nahor in Mesopotamia, he stopped by a well at the time of day when the local maidens drew water, and prayed that one would offer him and his camels a drink from her pitcher. It was Rebecca (Abraham's great-niece) who stepped forward to offer refreshment and to continue to draw water for the camels' trough. It was her kindness that proved her worthiness to be chosen as the future wife of Isaac, to whom she was soon married, bringing him comfort and love.