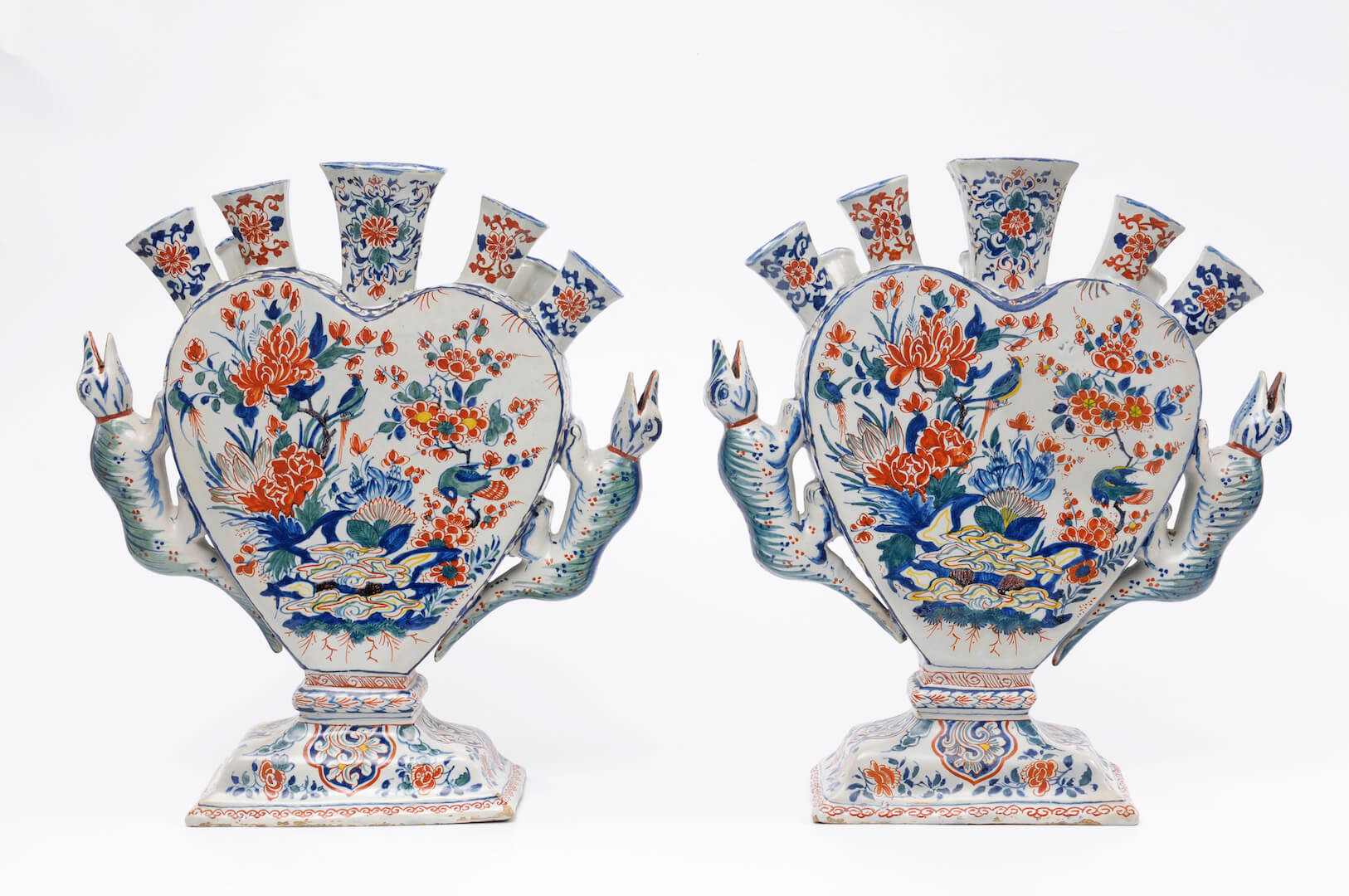 [popup_trigger id="13756″ tag="span"]

[/popup_trigger]
OBJECT
•D1228. Pair of Massive Cashmere Palette Flower Vases
Delft, circa 1710
Unmarked but attributed to Lambertus van Eenhoorn, the owner of De Metaale Pot (The Metal Pot) Factory (1691-1721)
Each with a flattened heart-shaped body painted on the front with flowering shrubbery growing around a manganese and blue pierced rock beneath a butterfly and an exotic bird in pursuit of a large dragonfly, the outset serpentine bracket above with three foliate-patterned lappets alternating with ruyi-head and scroll devices on the front and a flowered blue-ground top issuing three octagonal spouts decorated with blossoms and scrolls, the shoulder behind with a foliate-patterned blue-ground top issuing five larger flaring octagonal spouts similarly decorated, the back of each body painted with three birds perched on flowering peony and prunus branches above pierced rocks, the sides affixed with open-mouthed dragon handles forming additional spouts, and the domed rectangular foot with peony branches and foliate-patterned lappets between a border of overlapping leaves on the knopped ankle and a scroll band around the footrim.
Heights: 50 cm. (19 11/16 in.); lengths: 44 and 44.7 cm. (17 5/16 and 17 9/16 in.)
Provenance: The collection of Mr. and Mrs. Robert Kahn-Sriber, Monaco; The collection of Mr. and Mrs. Edmond J. Safra, Villefranche-sur-Mer, France
Note: Although no records have been discovered to document the commissioning of this pair of vases, it can be assumed from their monumental size that they were destined for a palace or stately home, and would have occupied a prominent position either in the fireplaces at either end of a grand salon, as a pair on a large mantel, or singularly on a pair of important tables or commodes. See also the note to number 25 in this publication.