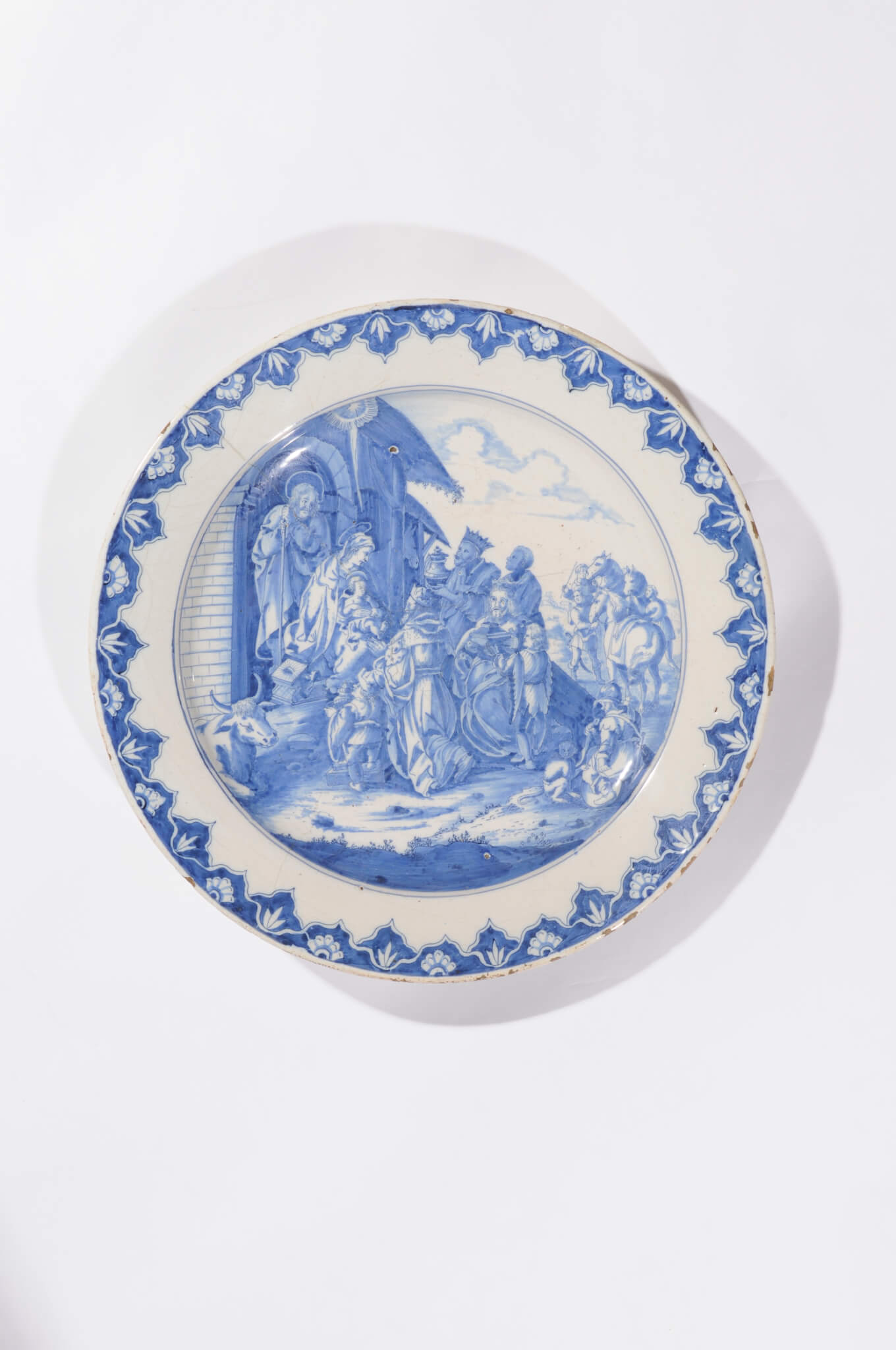 [popup_trigger id="13756″ tag="span"]

[/popup_trigger]
OBJECT
D1023. Blue and White Large Biblical Dish
Haarlem, circa 1650
Painted with 'The Adoration of the Magi' depicting Joseph standing at the door of the stable behind Mary seated with the Christ Child on her lap while the three Kings, Balthazar, Gaspar and Melchior, kneel before them to offer gold, frankincense and myrrh borne by their attendants. Behind them a seated archer with a monkey, beyond them to the right their three horses and grooms, and in the foreground at the left a recumbent ox. The rim with a scalloped and barbed blue-ground border of fan devices alternating with tripartite foliate sprigs, and the footrim pierced with two holes for suspension.
Diameter: 38.5 cm. (15 1/8 in.)
Note:
This dish has both the stylistic and technical characteristics of a group of blue and white biblical dishes produced in Haarlem in the mid seventeenth century. Red pin marks and a dripping glaze can be seen on the reverse.
Similar examples:
Five dishes are known decorated with a similar point motif along the edge. The first in the Keramiekmuseum Princessehof, Leeuwarden, is not only decorated with the similar point motif, it depicts the same biblical scene of 'The Adoration of the Magi'. The reverse of this dish is illustrated as the front cover of Vormen uit Vuur, (1991/2) 142, as part of the article 'Portugese en Hollandse faïence, Commentaar op een catalogus en vier artikelen' (pp. 5-13) by Jan Daan van Dam. The same biblical scene can be found also on a dish from a blue and white Haarlem group with a chinoiserie border.
The two further dishes with a similar border motif, of which one (in the Rijksmuseum Amsterdam) is of significantly larger size, are decorated with 'The Sacrifice of Isaac' and 'Christ Blessing the Children'. Interestingly, these two dishes both depict scenes that appear also on two of the six known dated Haarlem dishes with trellis diaperwork borders.
Another dish with a related border pattern, decorated with 'Lot and his Daughters', from the Kunstgewerbemuseum Berlin, is illustrated by Van Dam 1982, p. 68, ills. 108, along with a portrait dish from the Staatliche Kunstsammlungen Kassel (ill. 110).