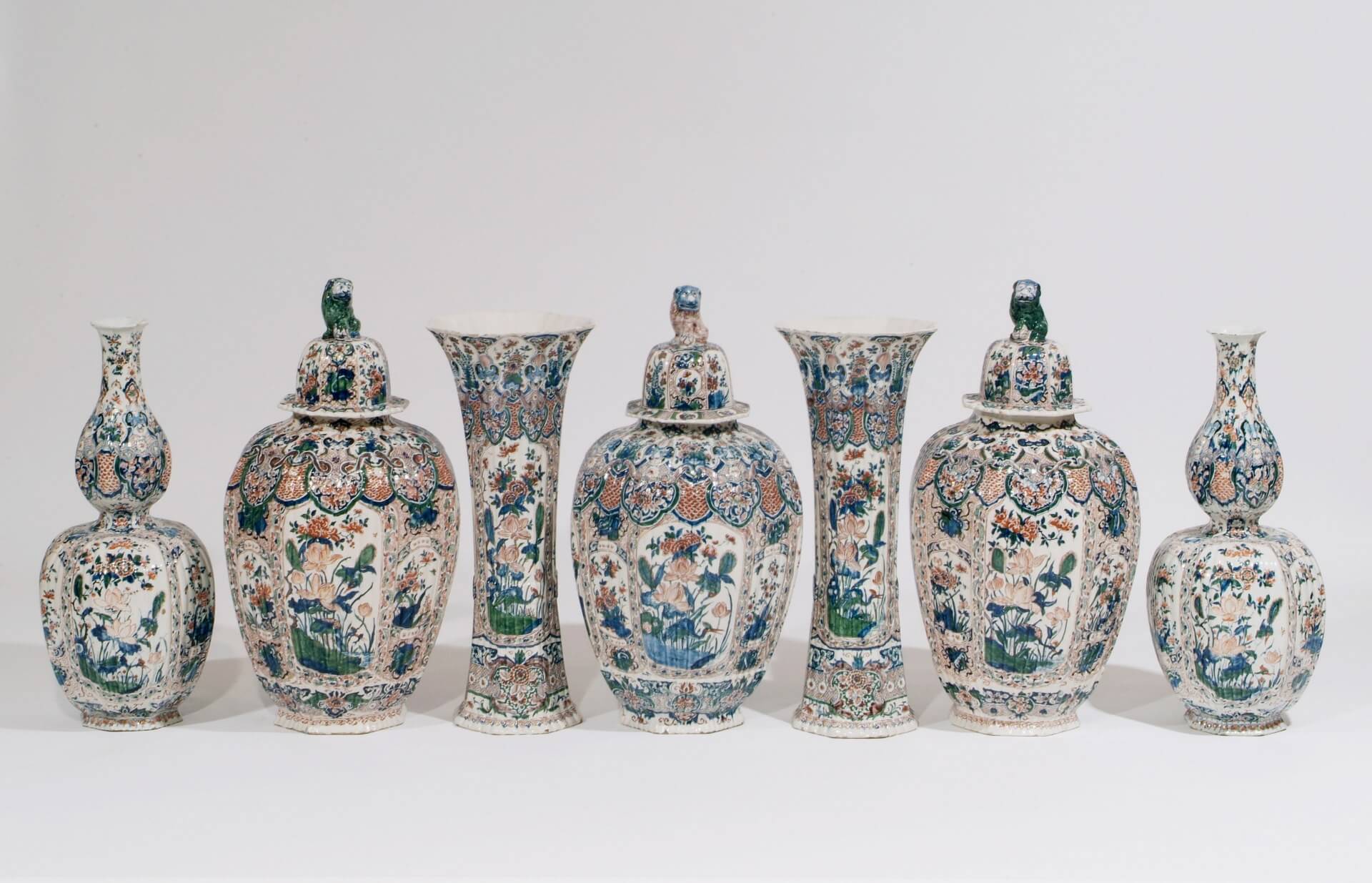 OBJECT
D0632. Garniture of Seven Large 'Cashmere' Palette Vases
Delft, circa 1700
Marked LVE 38 0 in iron-red on one ovoid vase and LVE 438 40 in blue on another for Lambertus van Eenhoorn of the Metal Pot Factory from 1691 to 1721
Comprising three ovoid vases and covers, a pair of double-gourd-shaped vases and a pair of beaker vases; each piece of reeded octagonal form and painted with either four, three or two large panels of exotic birds amidst flowering shrubbery within a flowering vine border, alternating with smaller floral panels between iron-red trellis diaper vignettes superimposed with beribboned precious objects, the upper body with an elaborate series of alternating floral and scalework lappets beneath dotted-diaperwork vignettes and scrolls, floral panels and grotesque masks, and the lower body with a dotted-diaperwork border interrupted with floral panels and foliate devices, the cover similarly but less elaborately decorated and surmounted by a seated lion knop, his left foreleg on a marbleized globe.
Height: 65.4 cm. (25.7 in.)
Provenance: The pair of double-gourd-shaped vases from the collection of Jacob Lierens, Amsterdam, sold at Frederik Muller & Cie., Amsterdam, October 17, 1949, lot 351;
The same pair of vases from Jacob Stodel, London, 1993;
Five pieces of the garniture (lacking the pair of ovoid vases and covers with green lion knows) from the G. Ephis Collection, France
Note:
Garnitures of this type, while often referred to as 'mantel garnitures,' appear to have been used equally as decoration in the fireplace during its idle summer months. Such suggested use as 'chimney pots' is evidenced in the designs of Daniel Marot (1667 – 1752), an example of which – the engraving of a porcelain and lacquer 'cabinet' (room) from folio 2 of the series Nouvelles Cheminées fates en plusieurs androids de la Hollande et actress Provinces…, circa 1710 – is illustrated by Erkelens, p. 20.