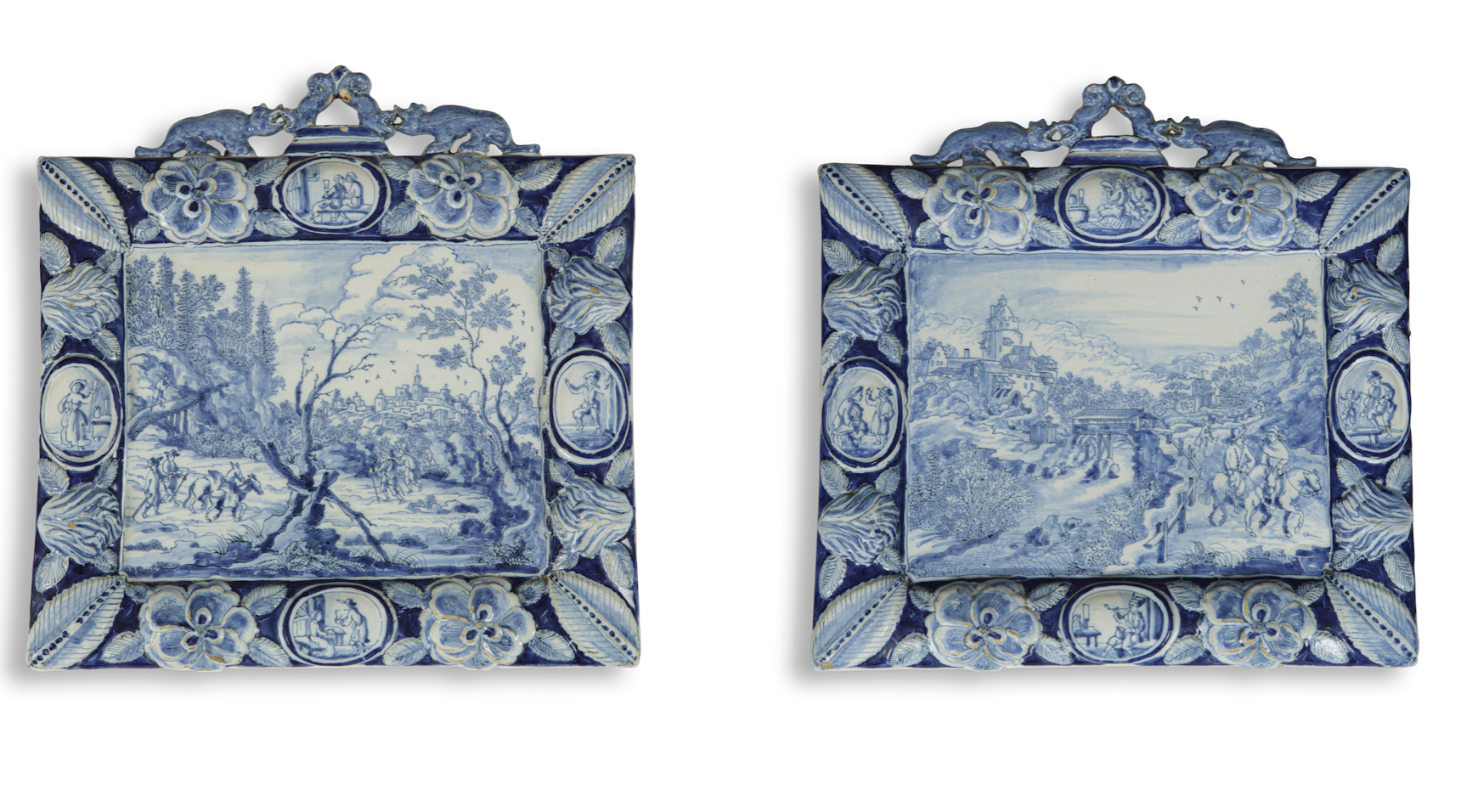 [popup_trigger id="13756″ tag="span"]

[/popup_trigger]
Posted on Instagram
@jenniferklos: "This pair of Delft "porcelain paintings" had me at hello in Maastricht – these blue and white plaques are atmospheric landscapes that are painted and glazed on one side, meant to be admired as a painting on panel, canvas or copper. In the 18th century the Delft potters began to create plaques with self-framing borders and to piece them at the top with two holes for hanging. Very rare and only two other pairs known, one in @rijksmuseum", August 1, 2022
&
"Excellent choice to demonstrate the superior quality of this unique art fair." — @youngcollectors.yc
"What an amazing art fair and I think of everything Delft with these pieces – I want them!!" — @francophiledallas
"This is out of this world. Amazing, it's truly like shopping at the Met!" — @amylaudesign
"These are beautiful and the self-framing borders are amazing! ❤️" — @one_fine_bay
"Wow! You really have a slice of history there. Crazy to think something made so long ago has survived so beautiful all this time." — @hannahghafaryart
OBJECT
• D2225. Pair of Blue and White Rectangular Plaques
Delft, circa 1690
Each painted in the center with an atmospheric landscape, one with a castle in the far distance behind large rocks and trees and in the foreground with a large bare tree in the middle and a group of two figures and their donkeys in the left foreground with in the distance a figure climbing a treetop/stairs and two figures walking in the right foreground; the other also with a castle and houses amidst trees and rocks in the distance and in the foreground two equestrians and two figures walking on the shore near a river with a covered bridge; with a blue-ground self-frame molded with four ovals, one painted with a couple drinking, a figure playing the violin, a figure smoking and a figure playing a bagpipe, the other with a couple drinking, a figure dancing, a couple in an interior and a woman raising her glass, all flanked by either large flower heads, or flowers, and leaves in the corner, the top affixed with a pediment of two openmouthed dragon-like creatures flanked by salamanders; the reverse unglazed.
DIMENSIONS
Height and width: 31.5 cm. (12.4 in.)
PROVENANCE
Probably with Abraham Nijstad (1895-1960), Nijstad Antiquairs, Lochem;
Dutch Private Collection, Wassenaar, before March 25, 1963 and hence by family descent
NOTE
The "porcelain paintings," as they were referred to in household inventories, were intended to be admired as if they were paintings on panel, canvas or copper. In the seventeenth century plaques were essentially large tiles, glazed on the front and some glazed on the back as well. The earliest examples, all in blue and white, were intended to be framed in wooden, predominantly ebony, frames and sometimes the reverse of the plaque was even chamfered to resemble the wooden panels used by contemporary painters. Realizing their own capability of making plaques more complete works of art, in the eighteenth century the Delft potters began to create plaques with self-framing borders, and to pierce them at the top with two holes for hanging.
SIMILAR EXAMPLES
The present pair of plaques are extremely rare as no publication history has yet been found. This extraordinary discovery is of great importance because it complements two known pairs of plaques. The first pair are regularly cited and illustrated in professional literature, and the second pair is now housed in the Rijksmuseum in Amsterdam.