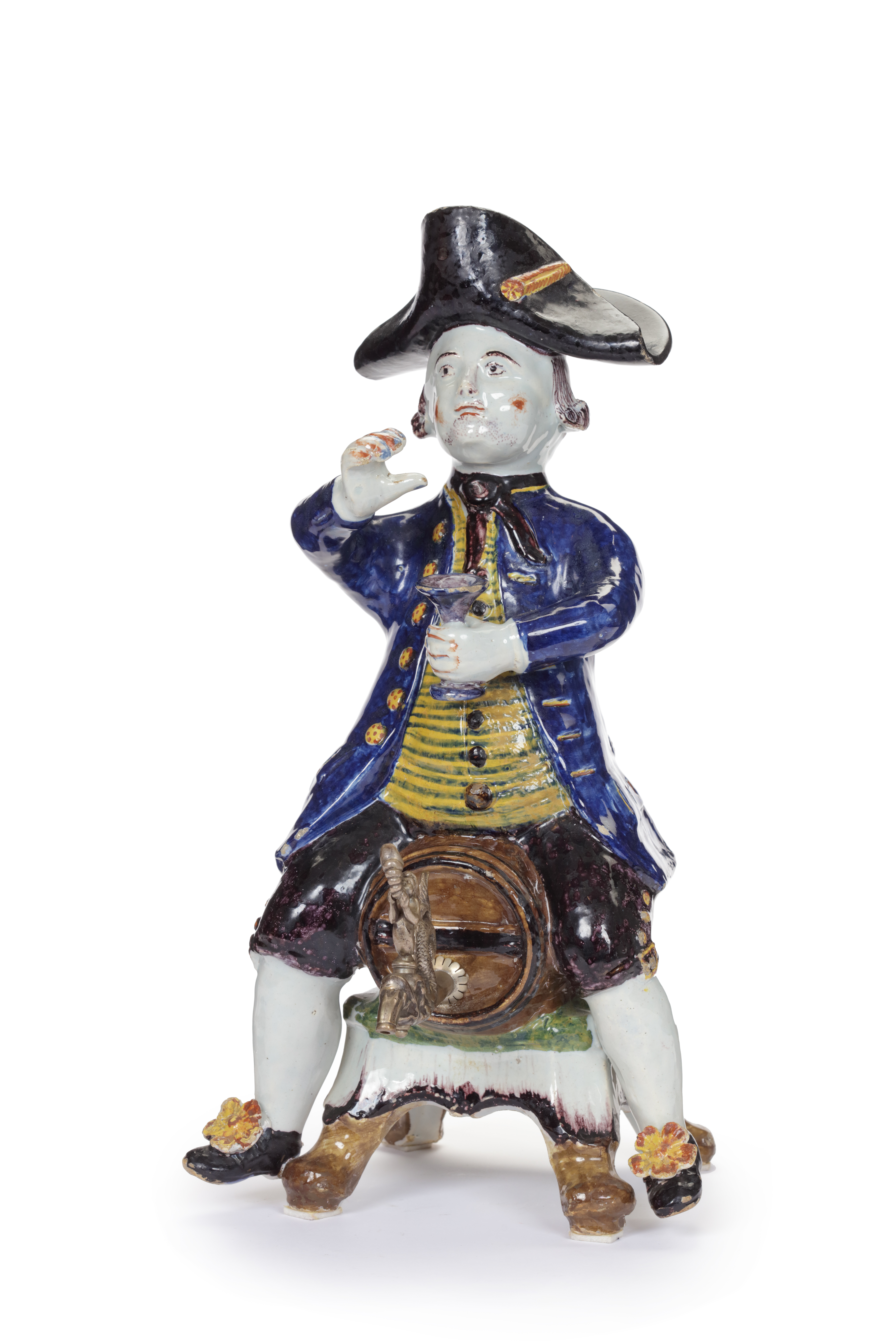 [popup_trigger id="13756″ tag="span"]

[/popup_trigger]
OBJECT
D2222. Polychrome Figural Cistern
Delft, circa 1780
Modeled as a gentleman wearing a manganese tricorn hat on his swept-back manganese hair, a yellow- buttoned blue coat over a manganese-buttoned yellow waistcoat, manganese breeches and yellow-buckled manganese shoes, his right hand raised, his left hand holding a blue goblet, and seated astride a brown barrel, its front pierced for the tap, supported on the green op of a white base with four brown tall legs terminating in scroll feet.
DIMENSIONS
Height: 37.1 cm. (14.6 in.)
NOTE
In the Netherlands and throughout Europe, people drank alcoholic beverages when water was unsafe. Cold beverages were consumed in the summer, and hot punch, wine and beer were drank to keep warm in the winter. In Northern Europe, the consumption of wine carried a strong social distinction, whereas beer was a more common beverage. Although grapes were known to have grown in the Netherlands since antiquity, the majority of wine that was consumed in the Netherlands was imported from France, Germany, Spain and Portugal. These imported wines were typically new wines because of the difficulty to preserve the luxurious beverage. Strong, aged wines were reserved for special occasions.
The Delft potteries quickly accommodated the new tastes of the nobility and the wealthy bourgeoisie for serving their drinks with the production of large decorative objects for the buffet, as well as wine and liquor cisterns. During a dinner, when a buffet was equipped with a fountain, a servant could remove the empty wine glasses from the table, rinse and dry them at the buffet, and then refill and return them to the table. The wines would be chilled in ice-filled wine coolers, and when desirable, the wine glasses also were chilled in monteiths. When chilling was unnecessary, and during less formal occasions, the wines could be served from figural cisterns, which also might have been placed on the buffet.
Cisterns were akin to large tankards or small pitchers with a low spout for easy tabletop dispensing of its contents, typically liquor. Delft potters transformed a very utilitarian object into a delightful work of art with a number of variations, from figural groups to mischievous monkeys, that further illustrates the versatility of Delftware designers. For example, this polychrome figural cistern depicts a man seated on a barrel. These cisterns of various male and female models are referred to in Dutch as 'Bobbejakken', whereas their French derivatives are called 'pots-Jacquot' or 'pots-Jacqueline', and the English variations are called ʻToby jugs'. Some of the Dutch Delft examples may be based on eighteenth- or nineteenth-century penny prints of the type depicting 'Trijn en Hans Altijddorst' (ʻTrijn and Hans Always- thirsty'). As in the case of the present cistern the head would function as a stopper, like a cork in a bottle and could also be filled through a hole in his hat.