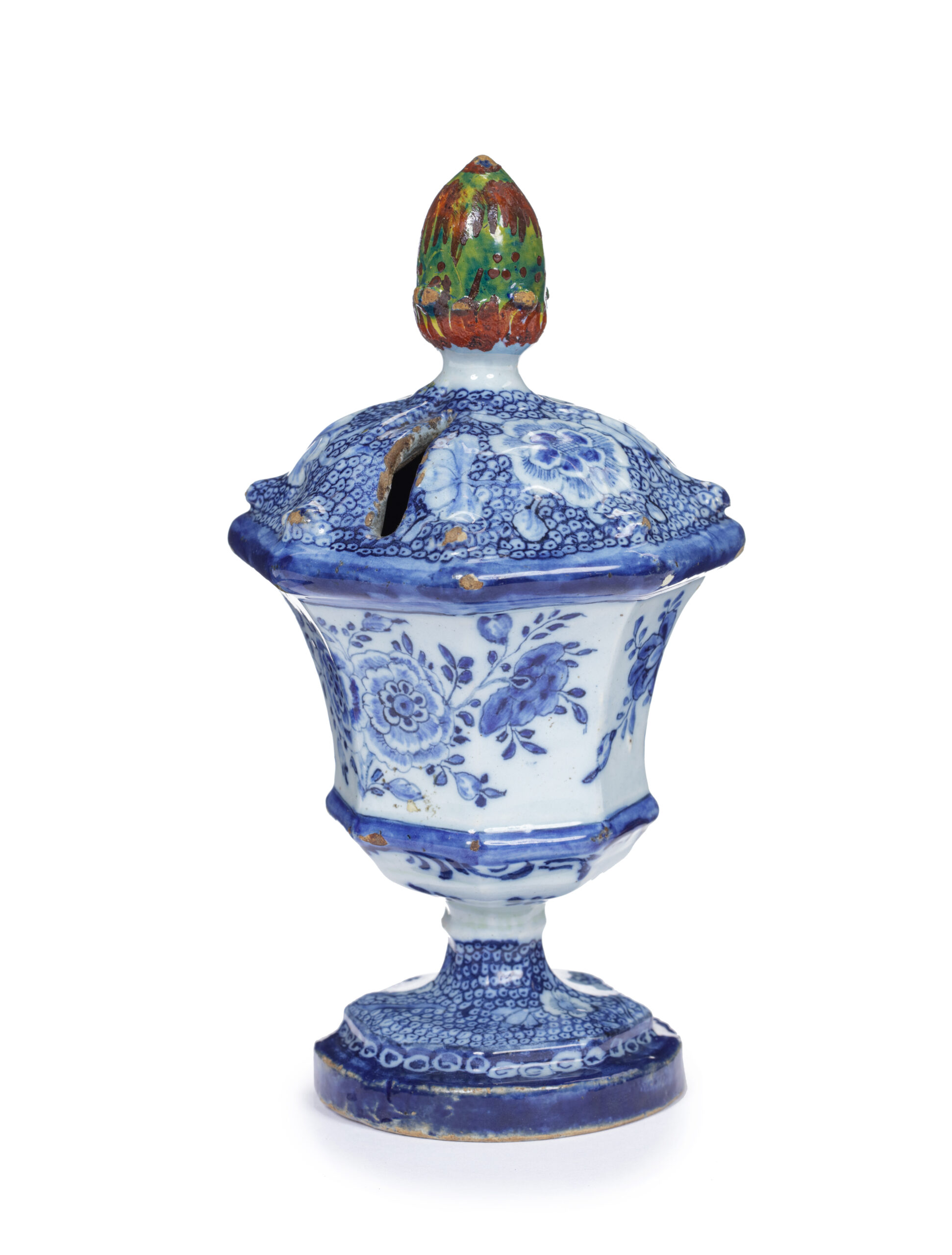 [popup_trigger id="13756″ tag="span"]

[/popup_trigger]
OBJECT
D2221. Polychrome Money Bank
Delft, circa 1760
Marked in blue with unidentified hashwork
The octagonal campaniform body painted in blue on the front and reverse with flowering branches, on the lower body with a band of scrolls above dot devices, the foot with scalework, repeated on the domed integral cover reserved with flowering branches with two large flowerheads interrupted by a pierced coin slot, and surmounted by a green and iron-red pine-shaped finial.
DIMENSIONS
Heights: 16.7 cm. (6.6 in.)
NOTE
The invention of the piggy bank originates to over 600 years ago in the fifteenth century when people would use pots to store what money they had. In that time, metal was an expensive commodity and not frequently used for household equipment. Household items such as plates and pots were made from an affordable clay called 'pygg'. Therefore, whenever people had a few extra coins, they would simply drop it into their clay jars which they referred to as a 'pygg' bank or pot. During the time of the Saxons, vowels had different sounds to them, therefore Pygg would be pronounced as Pug. However, soon after the pronunciation of 'y' changed from a 'u' to an 'i', making clay 'Pygg' and the animal pig sound the same.
The oldest money banks however are onion-shaped and have been used in the Netherlands since the fourteenth century. This onion-shape is also called a mother's breast based on its shape. This will no doubt have a symbolic background that is also easy to fathom. Further, it is also a fairly easy mold to make by potters. Misfires of these money banks from the late fifteenth and sixteenth centuries have also been found in Delft, proving that local potters also sold these products. They are mostly carelessly made pieces that were probably quite cheap to come by.
In the seventeenth and eighteenth centuries when the Delftware production thrived, these simple money banks evolved in to the most elaborate shapes and colors. Seventeenth and eighteenth-century Delftware money banks rarely survive, because they were either shaken or broken to remove the contents. As many of the surviving examples are dated, they were probably intended as gifts for special occasions
SIMILAR EXAMPLES
A polychrome campaniform-shaped money box with a bud-form knop is illustrated in Aronson 2003, p. 31, no. 28. A blue and white money bank of similar model is illustrated in Lavino 2002, p. 143, and another one is on p. 165, nowadays housed in the Kunstmuseum, The Hague.