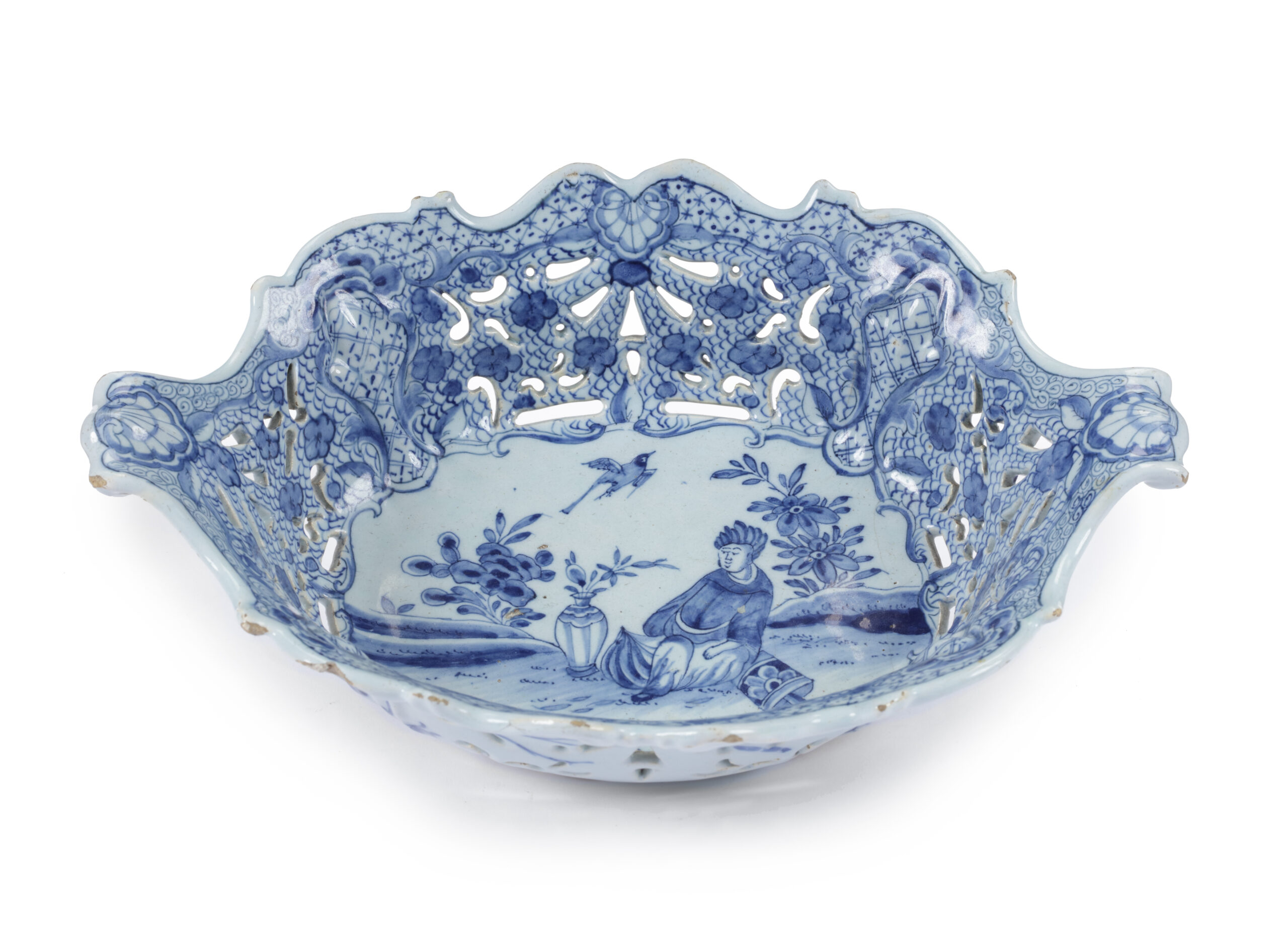 [popup_trigger id="13756″ tag="span"]

[/popup_trigger]
OBJECT
• D2220. Blue and White Reticulated Oval 'Profiteroles' Basket
Delft, circa 1760
Unidentifiably marked J:VD:H in blue
Painted in the center with a Chinese figure seated in a landscape besides a vase amidst floral shrubbery and rock work and beneath a bird in flight, the sides painted with scalework reserved with flowerheads, and four patchwork panels formed by floral scrolls scrolls and pierced with scrolls and four fan-shaped motifs, all beneath a band of scrolls intersected by four shells flanked by leaves on the scalloped and barbed rim, and the exterior with four large budding plants alternated by large sprigs.
DIMENSIONS
Width: 29 cm. (11.4 in.)
PROVENANCE
Collection Maurice de Ramaix (1850-1918), Château de Grune, Belgium, before 1913
NOTE
The mark JVDH has been attributed by Delft scholars (see De Jonge, Delft Ceramics, pp. 158 and 167) to Johanna van der Heul, who became the owner of De Grieksche A (The Greek A) factory upon the death of her husband Pieter Adriaensz. Kocx in 1703. It is known that in deference to her husband, Johanna van der Heul continued to use his mark PAK until she sold the factory in 1722, but there seems to be no definitive evidence that she used her own initials simultaneously as a factory mark. Given the style and decoration of the present profiteroles basket, it could not have been made as early as 1703-22. The initials JVDH, therefore, must belong to a not yet identified maker or factory.
Baskets have been used for the presentation of fruits and various delicacies since time immemorial and were already used in gold and silver in the Middle Ages. From the eighteenth century, however, the basket on the table became an important object and a permanent part of large services. In the design much attention was paid to richly decorated sides. In inventories, baskets are often named as 'confituurbennetje' (jam jar) or 'suikermandje' sugar basket. Several kind of foods were served in these baskets: from bread and (candied) fruits to profiteroles. In the nineteenth century the baskets were given different names, for example, larger baskets were called bread baskets and smaller ones were described as profiteroles baskets. It is unclear whether these names were also used in the eighteenth century, it is possible that the function of an object was determined by the user. Profiteroles baskets have turned out to be only a short-lived fad.
Choux pastry, the main ingredient of profiteroles, is said to have been invented by the chef of the court of Catharina de' Medici, who had come to France to marry Henry II. The original recipe changed over the years, as the art of the pastry chef began to develop around the seventeenth century. A confectioner by the name of Avice perfected the pastry in the mid- eighteenth century and created choux buns, the 'pâte à Popelin' becoming known as 'pâte à choux', because only choux buns were made from it.
SIMILAR EXAMPLES
An Arnhem blue and white reticulated lobed oval fruit bowl marked for Johan van Kerckhoff is illustrated in Aronson 2006, pp. 74-75, no. 55. A blue and white basket of similar shape marked for Geertruy Verstelle of Het Oude Moriaanshooft (The Old Moor's Head) factory is illustrated in Lavino 2002, p. 176, nowadays housed in the Kunstmuseum, The Hague.