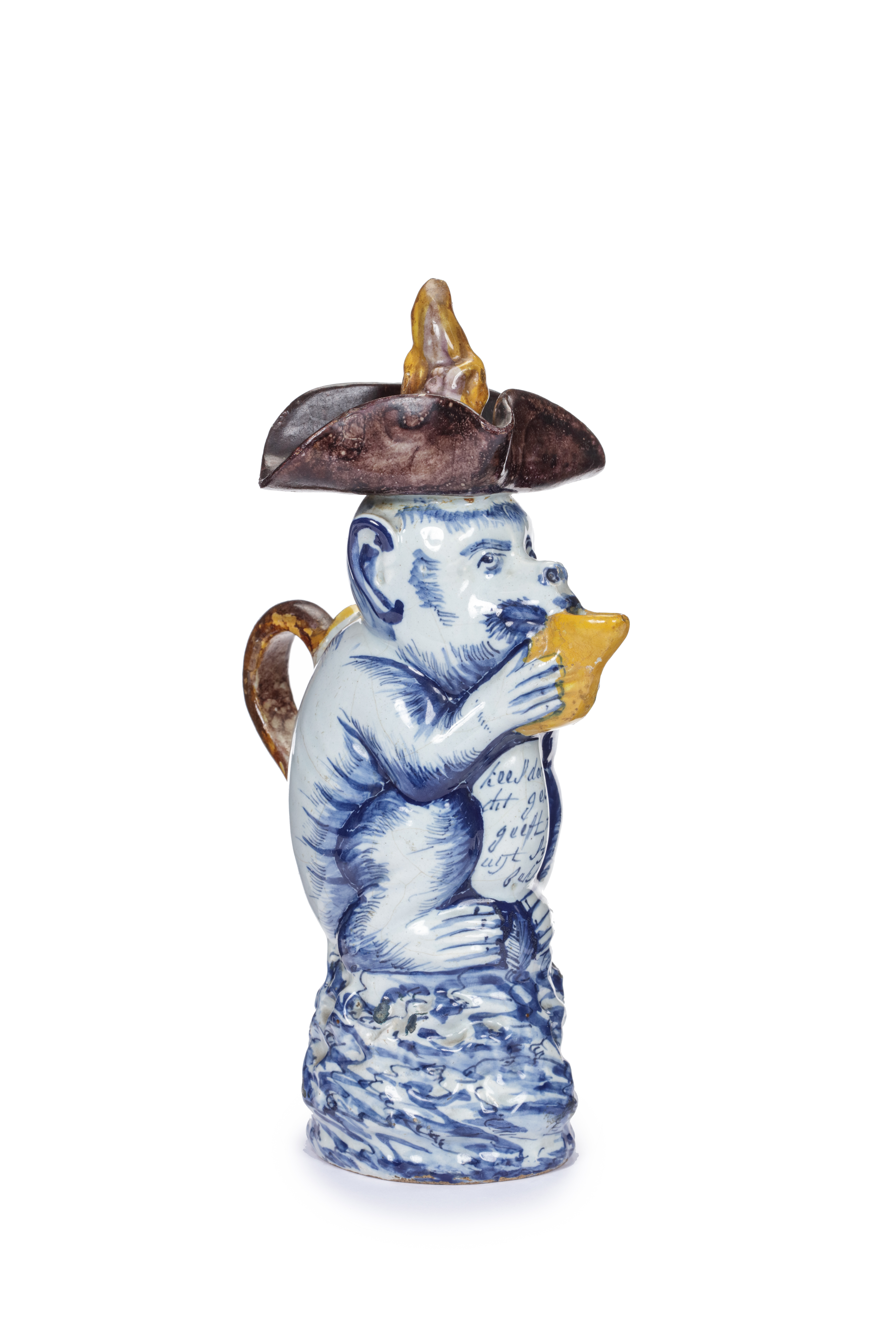 [popup_trigger id="13756″ tag="span"]

[/popup_trigger]
OBJECT
D2219. Polychrome Monkey-Form Milk Jug and Cover
Delft, circa 1760
Painted with blue delineated fur and facial features, wearing a manganese tricorn hat, mangenese brown yellow tail curling up to form a loop handle, holding to his mouth a yellow jug forming the spout, and seated on a blue-marbleized rock, his stomach inscribed in blue script: "Kees den aap, dit gekkie geeft melk uit zijn bekkie" ("Kees the monkey, this crazy [monkey] gives milk from his mouth").
DIMENSIONS
Height: 22.5 cm. (8.9 in.)
NOTE
The exotic and often comical monkey jugs, frequently intended as milk jugs with cheerful inscriptions on their bellies, enjoyed great popularity in Dutch Delftware. Jugs of this imaginative model were adapted from Chinese Kangxi period (1662-1722) enameled biscuit wine ewers formed as a seated monkey holding an open-topped peach to his mouth. A pair of these monkey wine ewers, in the James E. Sowell Collection, is illustrated by M. Cohen and W. Motley, Mandarin and Menagerie, Chinese and Japanese Export Ceramic Figures, Volume I: The James E. Sowell Collection, (Reigate [Cohen & Cohen] 2008), p. 196, no. 14.1, who note that "the monkey traditionally has control of hobgoblins and witches and was often worshipped by sick people to drive them away." As a popular and well-known rascally character in Chinese literature, the Monkey ('Sun Wukong') "appears in a Ming-dynasty novel, The Journey to the West, by Wu Chengen (1500-1582)," in which he gains immortality and enlightenment by disrupting the heavenly Peach Banquet in the Jade Emperor's garden, and eating the peaches that had ripened for 3,000 years and had been intended to renew the immortality of the Eight Daoist Immortals. Although his own "immortality proved useful" to his self-preservation, "eventually the Buddha tricked him and banished him to Earth to learn humility." In adapting the model, the Delft potters, ignorant of the fruit's symbolism, replaced the monkey's peach with a jug from which he drinks; moved one of the openings from behind the neck to the top of the head, covering it with either a beret-type hat, or a tricorn hat, as on the present example; and then raised the creature on a rockwork base to add solidity to the vessel and expand its liquid capacity.