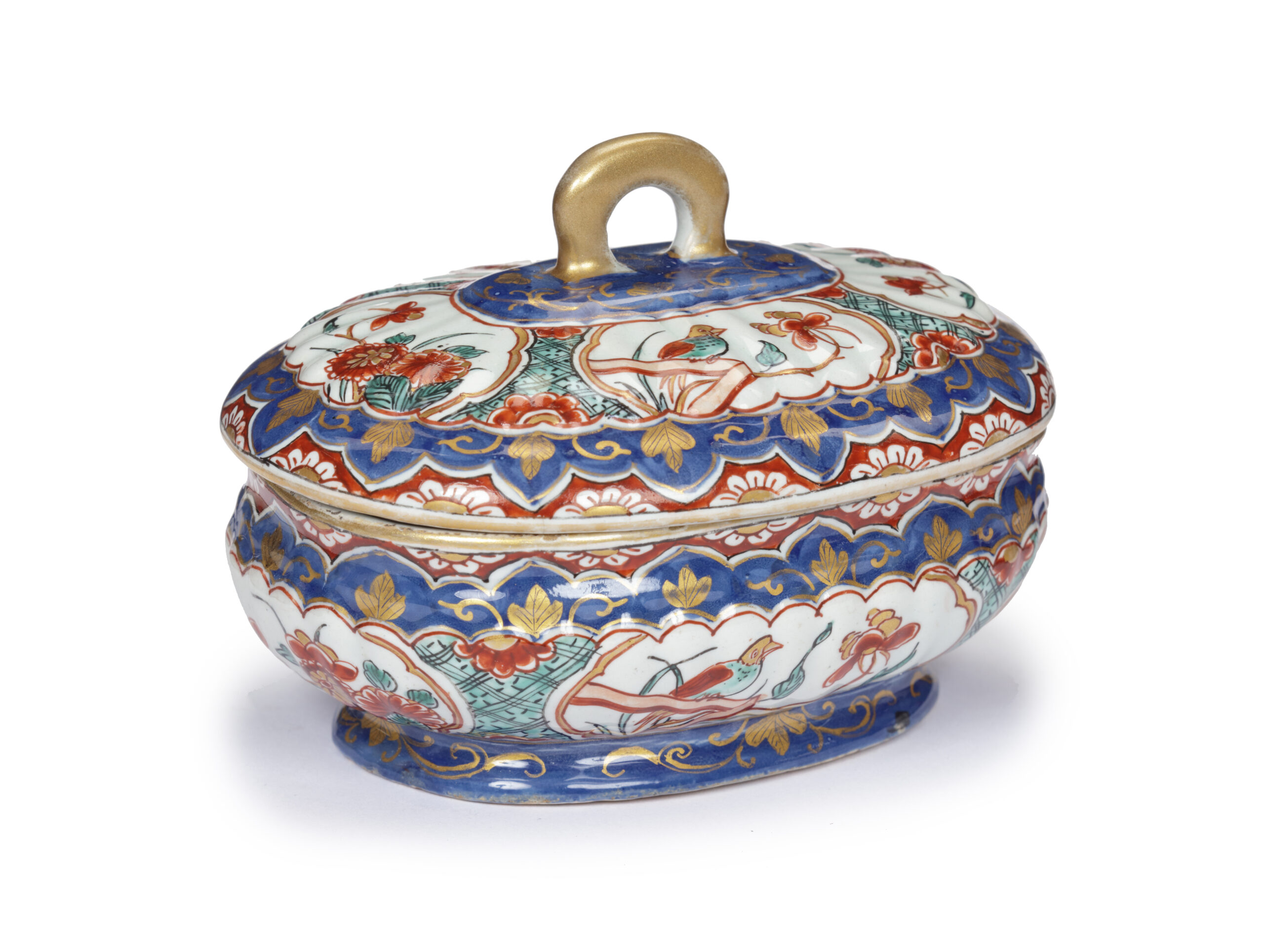 [popup_trigger id="13756″ tag="span"]

[/popup_trigger]
OBJECT
• D2216. Polychrome Petit Feu and Gilded Spice Box
Delft, circa 1710
Marked PAK in iron-red for Pieter Adriaensz. Kocx, the owner of De Grieksche A (The Greek A) factory from 1701 to 1703, or his widow Johanna van der Heul, the owner of the factory from 1703 to 1722
The interior of the box divided into a half and two quarter compartments, and the exterior of the box and cover painted on either side with a bird perched on a garden fence beside a peony, and on the ends with flowering plants, each within a lobed oval panel reserved on a green trellis diaper ground below or above a blue-ground border of gilt leaves and scrolls and a narrower iron-red- ground border of demi-flowerheads at the rim edge, the slightly domed oval center of the cover with a blue ground decorated with a gilt leafy vine beneath the gilt loop knop.
DIMENSIONS
Length: 10.8 cm. (4.3 in.)
PROVENANCE
Aronson Antiquairs, Amsterdam, 2007
LITERATURE
Described and illustrated in Aronson, Dutch Delftware, 2007, p. 24, no. 15
NOTE
Spice boxes are rare objects and must have represented in their day a certain level of affluence associated with the accessibility to exotic spices and other culinary ingredients and delicacies, including tea, imported primarily by the Dutch East India Company (VOC). As such, they probably were not in common production, but may have been special orders.
Throughout recorded history, spices were not just a luxury, but a necessity. Added to bland food, they made it more appetizing, and to nearly spoiled food they disguised its condition and made it edible.
At a more rarefied level, they were among the ingredients used in celebratory and palliative beverages such as mulled wine and saffron milk (a beverage made of saffron, cloves, cinnamon and mace mixed with sugar and cooked with milk); and they also were used widely for medicinal purposes to treat all sorts of complaints. In the Netherlands, therefore, spices were sold in both grocery stores and apothecary shops (see E.M. Jacobs, In Pursuit of Pepper and Tea. The Story of the Dutch East India Company, Zutphen 1991, p. 84).
During the seventeenth century, the use of spices gained an increasingly individual, even theatrical, character. No longer were they relegated to the preparation of the food in the kitchen; they began to appear at the dining table to be added more ceremoniously during a meal (see J.P. Glerum, Aan tafel. Antieke culinaire gebruiksvoorwerpen. Tien eeuwen eetgewoontes, koken en tafelen, Baarn 1997, p. 116). The earliest evocations of this development were the small silver spice dishes with three or four compartments for the most frequently- used spices, which were placed on the table along with the first nutmeg graters made from wrought iron. Mustard began to be served in Chinese porcelain, silver or pewter pots accompanied by a matching spoon, while the master salt held pride of place. The Delft potters surely were eager to accommodate this burgeoning trend of spices added to taste at the table, but perhaps the complicated compartmented interior of these spice boxes, which would have made them difficult and costly to produce, and costlier to purchase, prevented the Delft potters from making them in large numbers. As a result, spice boxes in Dutch Delftware, such as the present example, are rare survivors of a refined taste and table culture – specialized objects that for a brief period enhanced the panoply of a grand dinner.
SIMILAR EXAMPLES
A spice box of this model with different polychrome and gilt decoration in the Willet-Holthuysen Museum, Amsterdam, is illustrated by Lunsingh Scheurleer, Delft, p. 208, no. 76.