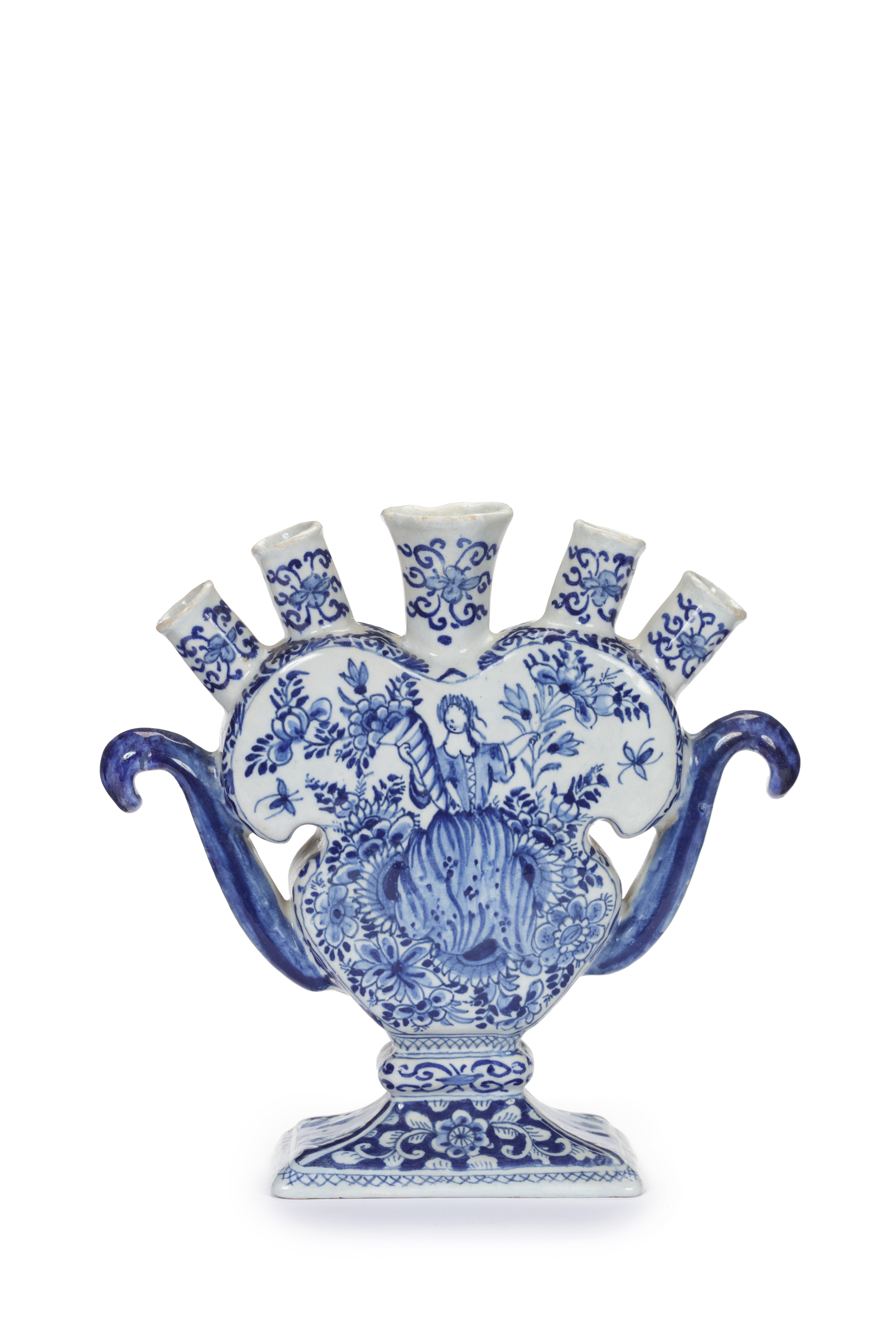 [popup_trigger id="13756″ tag="span"]

[/popup_trigger]
OBJECT
D2211. Blue and White Flower Vase
Delft, circa 1730
Marked CK for Cornelis Koppens, owner of De Metaale Pot (The Metal Pot) factory from 1724 to 1757
The flattened cartouche-shaped body painted on the front with the seated figure of 'Flora' holding a cornucopia of flowers in her right arm and a large spray of flowers in her left hand, and on the reverse with a landscape scene of a figure rowing in a boat near the mountainous shore with a pagoda, the top with a ruyi-head and sprigs border issuing five octagonal spouts, all with foliate devices, the sides affixed with blue ground S-scrolls, and the knotted ankle with scroll devices above the blue-ground rectangular foot reserved with panels of stylized leaves and floral sprigs.
DIMENSIONS
Height: 21.3 cm. (8.4 in.)
NOTE
Flower vases with fanning rows of spouts were produced at the Delft potteries from the 1680s to about 1740. Initially, they were designed as simple quintel vases, which were topped by a single row of five spouts arranged in a fan. The present heart- shaped model with five spouts followed the early quintel vase. The only marked pieces of the heart- shaped model are from De Metaale Pot (The Metal Pot) factory, and were produced until the 1730s. This model was probably intended to be seen from one side because of the flat shape. The decorative vase may have been displayed on a mantel piece, above a door, or on a piece of furniture.
The scenes painted on the heart-shaped body of this kind of vase often depicts Chinese scenes mixed with western imagery. The painters often referred to the function of the object in their imagery, namely to display flowers. Therefore, there are many flower vases known that depict plants, flowers, animals and mythological references for example to Flora, the goddess of flowers and spring.
SIMILAR EXAMPLES
A vase similar in decoration and shape, possibly marked for Cornelis Koppens is in a private collection, and illustrated in Aronson 2020, pp. 18-19, no. 7. Two vases of this model are illustrated in Van Aken-Fehmers 2007: two blue and white examples and a 'cashmere' palette example, all marked LVE for De Metaale Pot factory, pp. 217-218, nos. 7.12 and 7.13, respectively. The first of these, decorated with a figure of Flora, (no. 7.12) is in the Kunstmuseum, The Hague (inv. no. 1002593), and illustrated in Van Aken-Fehmers 2012, p. 106, pl. 48 (left center); the second (no. 7.13) is in the Rijksmuseum, Amsterdam (inv. no. BK-NM-2574), also illustrated in Hudig 1929, p. 208, ill. 200. Other examples of the same model, a pair of blue and white flower vases, unidentifiably marked is illustrated in Aronson 2015, p. 59, no. 31; a blue and white one marked for Lambertus van Eenhoorn in Aronson 2011, p. 46, no. 27, another one unidentifiably marked in Aronson 2018, pp. 52-53, no. 29 and two others marked for De Dubbelde Schenkkan (The Double Jug) factory in Lavino 2002, p. 105.