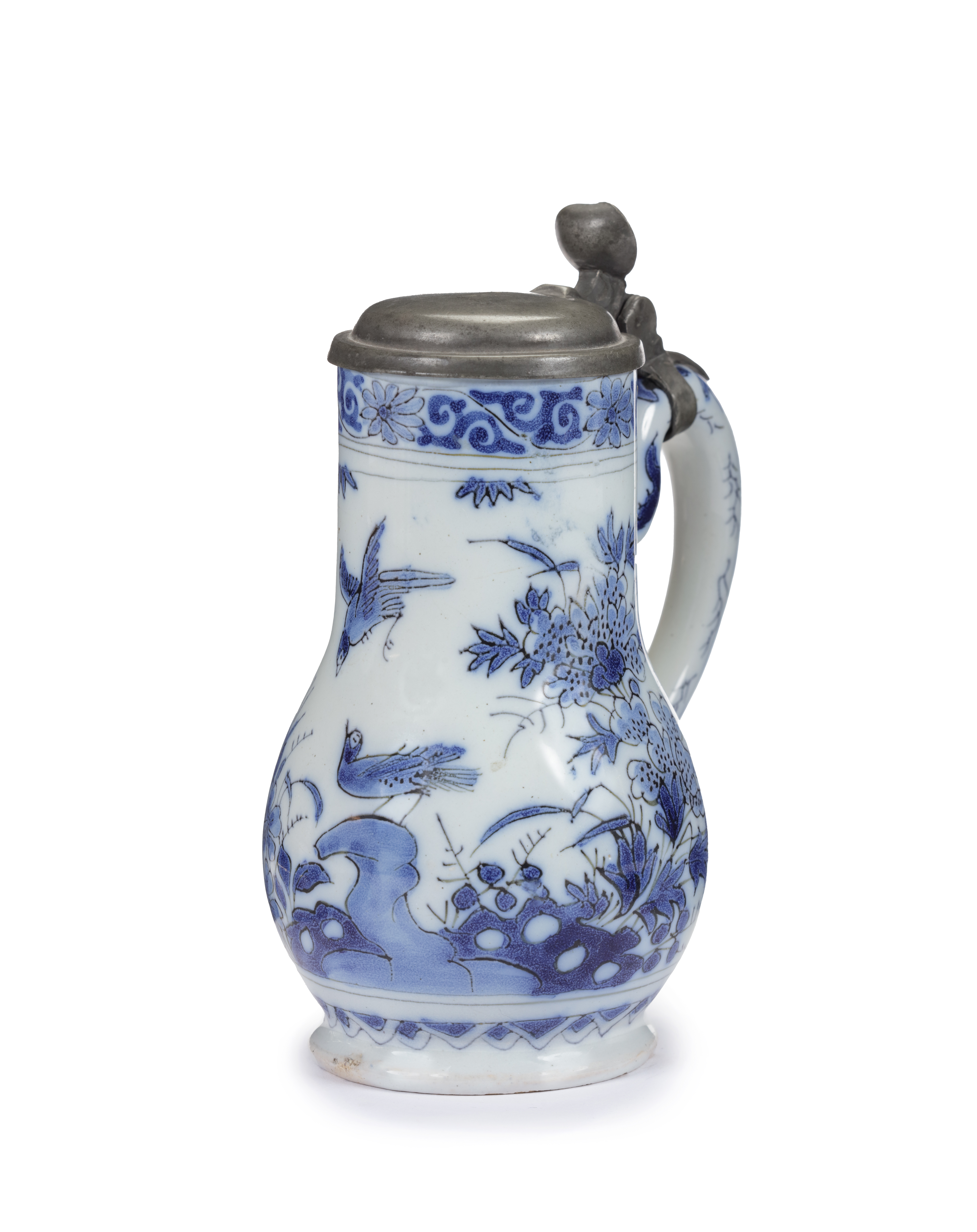 [popup_trigger id="13756″ tag="span"]

[/popup_trigger]
OBJECT
• D2205. Blue and White Small Tankard with a Pewter Cover
Delft, circa 1690
Marked AK 3 in blue for Adrianus Kocx, the owner of De Grieksche A (The Greek A) factory from 1686 to 1701
Painted with bird in flight above a bird perched on a stylized rock amidst flowering branches beneath a blossom-and-scroll border around the rim, and the handle with a foliate vine border; the contemporary hinged pewter cover struck with the maker's mark of a crowned Tudor rose and the letters DP, probably for Dirck Gerritse van der Piet (#2588), Delft, circa 1666 – circa 1693 (B. Dubbe, Nederlandse Tinnegieters & Tinmerken, Amsterdam 2009, p. 403).
DIMENSIONS
Height: 13.1 cm. (5.2 in.); Overall: 15.4 cm (6.1 in.)
PROVENANCE
The Dr. Günther Grethe Collection, Hamburg;
Aronson Antiquairs, Amsterdam 2004;
The Kramarsky Collection, New York
LITERATURE
Described and illustrated in Aronson, Dutch Delftware, The Dr. Günther Grethe Collection, Amsterdam, 2004, p. 68, no. 77.
NOTE
De Grieksche A (The Greek A) is considered as one of the most famous and prestigious Delftware factories of the Dutch Golden Age. The different owners have contributed, each their own way, to build what became a real institution. Especially with the patronage of Queen Mary, De Grieksche A under Adrianus Kocx became one of the most prestigious ceramic factories in the Netherlands. In order to decorate the palace, Queen Mary, who developed an unequalled passion for Delftware, commissioned many objects from De Grieksche A. Short after the death of Samuel van Eenhoorn, the former owner of De Grieksche A, the royal couple moved to Hampton Court Palace in Britain. Nevertheless, they continued ordering many magnificent Delft objects from Samuel's successor, Adrianus Kocx. Queen Mary highly contributed to the international spread of the fashion for Delftware. Under Adrianus Kocx's management many of the produced objects result in a symbiosis between Asian motifs borrowed from Chinese porcelain and European designs. The present tankard is a beautiful example of this symbiosis. While the tankards are European in shape, the decoration of the present one is executed in a Chinese style.
We acknowledge with thanks the help of Mr. Jan Beekhuizen in identifying the pewter cover makers mark.