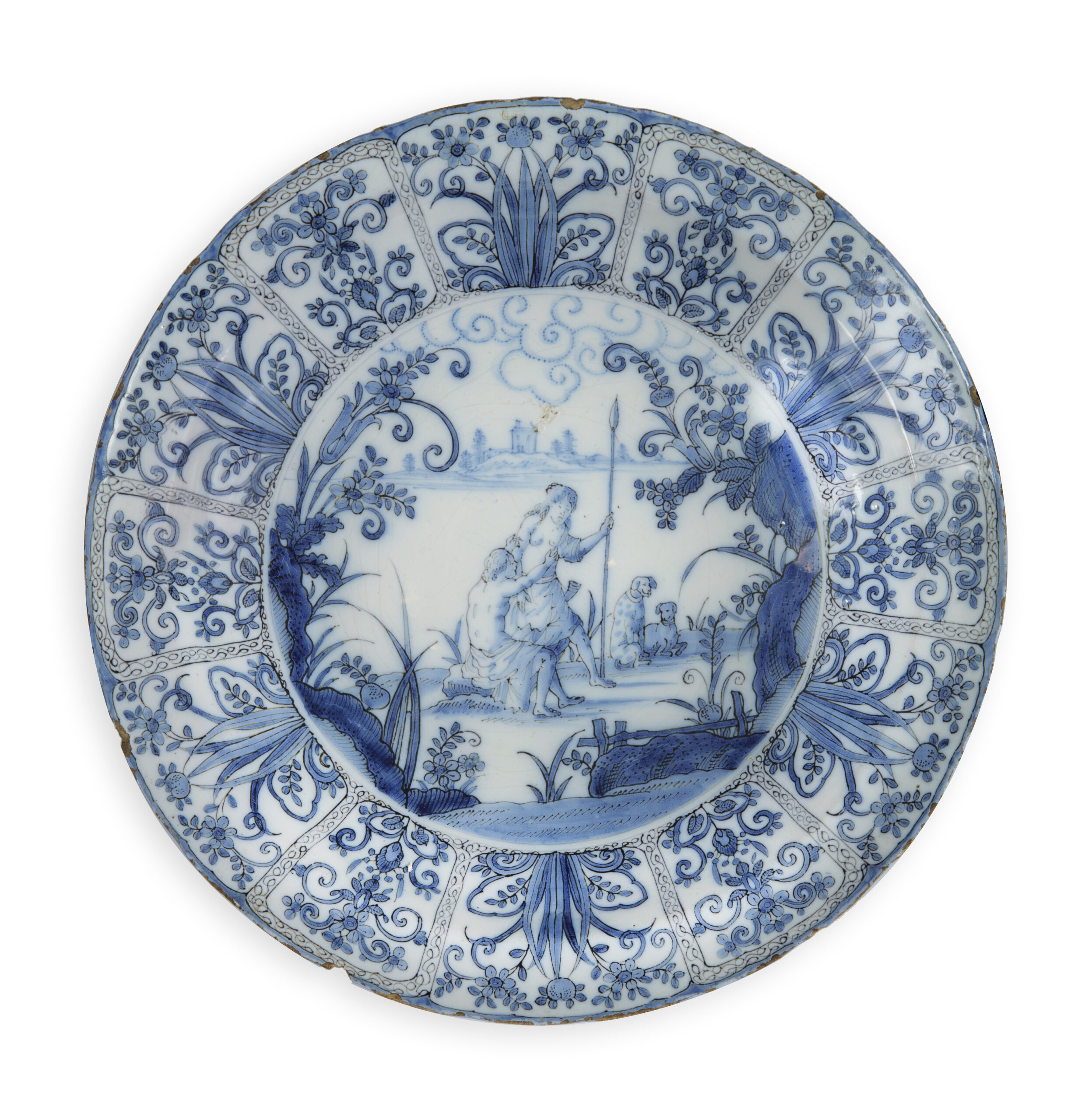 OBJECT
D2203. Blue and White Charger
Delft, circa 1680
Marked IW in blue for Jacob Wemmersz. Hoppesteyn, the full owner of Het Moriaanshooft (The Moor's Head) factory from 1664 until 1671, and succeeded by his widow Jannetge Claesdr. van Straten through 1686
Painted in blue with carefully delineated 'zwarte trek' (outlines in blackish blue) with the scene of Diana and Actaeon depicted at the moment of surprise before he turns into a stag in a landscape of rock work and floral shrubbery with in the background Actaeon's dogs, the cavetto rim with a wide border of fan-shaped floral scrollwork panels.
DIMENSIONS
Diameter: 34.2 cm. (13.4 in.)
PROVENANCE
Collection Maurice de Ramaix (1850-1918), Château de Grune, Belgium, before 1913.
NOTE
Het Moriaanshooft factory was one of the early potteries in Delft, though the date of its founding and its history of ownership is uncertain until 1658/59 when Jacob Wemmersz. Hoppesteyn became part owner. A few years later, Hoppesteyn purchased the remaining company shares as well as the tools and two pottery washing plants, becoming the primary owner of Het Moriaanshooft factory.
Over the next thirty years, the company progressively grew to become a major figure in the history of Delftware. The objects made by Het Moriaanshooft during the ownership of Jacob Wemmersz. Hoppesteyn are amongst the most rare and remarkable of all Delftware production. A document from 1669 states the names of at least nineteen plateelbakkersknechten, potters assistants, aged between 17 and 55 years old who were working for Hoppesteyn.
After Hoppesteyn's death in 1671, his wife, Jannetge Claesdr. van Straten, assumed the management of the business together with her son Rochus. These pieces are characterized by a very pure glaze of a milk white color. They are elegantly decorated with a cerulean blue. Like the present blue and white charger, few of his pieces are marked by the letters IW, his initials.
The present charger shows the classical myth of Diana and Actaeon which can be found in Ovid's Metamorphoses. Classical subjects taken from Ovid's Metamorphoses were intended for the most highly educated sections of society, and this story became very popular in the Renaissance. The tale recounts the unfortunate fate of a young hunter named Actaeon and his encounter with chaste Diana, goddess of the hunt. The latter is nude and enjoying a bath in a spring with help from her escort of nymphs when the mortal man unwittingly stumbles upon the scene. The nymphs scream in surprise and attempt to cover Diana, who, in a fit of embarrassed fury, splashes water upon Actaeon. He is transformed into a deer with a dappled hide and long antlers, robbed of his ability to speak, and thereafter promptly flees in fear. It is not long, however, before his own hounds track him down and kill him, failing to recognize their master.
The present scene of Diana and Actaeon is probably inspired on a print. Although the exact print is not known until this date, a copper painting by Hendrick van Balen (I) and Jan Brueghel (I) from circa 1605 with Actaeon kneeling in front of Diana comes close to the scene on the charger.
SIMILAR EXAMPLES
An almost identical example from the Krön collection, Paris, with polychrome decoration and gilding was exhibited by Nijstad Antiquairs at The Third International Art Treasures Exhibition, in the Victoria & Albert Museum, in 1962, and illustrated in Aronson 1993, no.2, currently in a Swiss private collection.