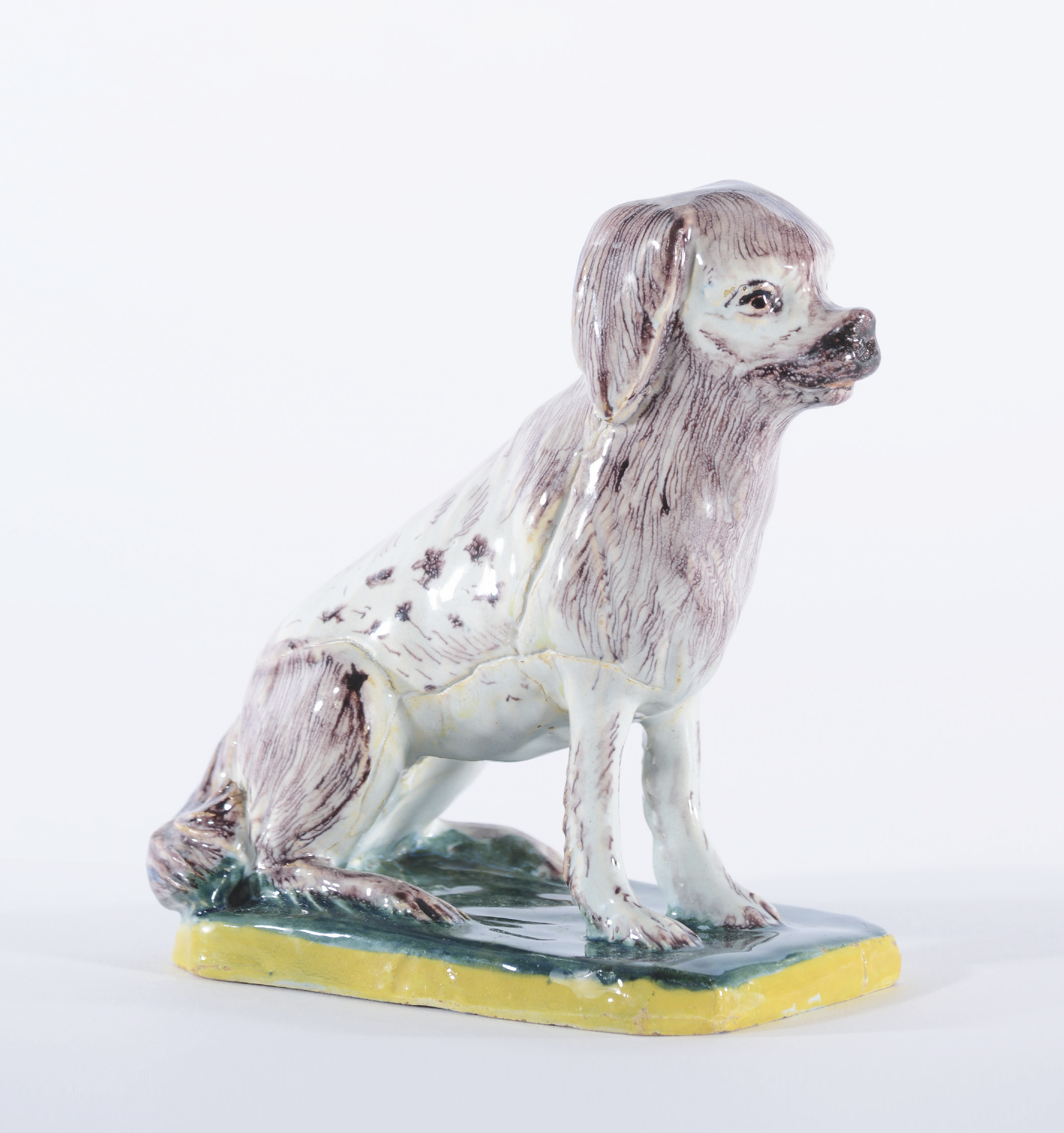 [popup_trigger id="13756″ tag="span"]

[/popup_trigger]
OBJECT
•D2124. Polychrome Figure of a Seated Spaniel
Delft, circa 1760
Modeled seated on its haunches looking straight ahead, its head, breast, paws and tail painted in manganese, manganese-delineated facial features and ears, and a blue spine, seated on the grassy green top of a chamfered rectangular base edged in yellow.
Dimensions
Height: 18.1 cm. (7.2 in.)
Provenance
Paul Brandt, 16 December 1974, lot 776; American Private Collection
Note
The origins of the Spaniel (in old-Dutch Spioen) can be traced back to the Middle Ages. Its name refers to Spain, where many dog breeds were created or further developed at the time. The Spaniel was a hunting dog that was used all over Europe to assist in hunting with a falcon, greyhound, gun or net. The dogs that were too small for hunting functioned as so-called 'lap Spaniels', and were owned by members of the court or the well-to-do bourgeoisie.
The popular Spaniel dog appears in many seventeenth-century paintings. Small Spaniels kept by the lady of the house are frequently shown, while men and boys are often portrayed with a larger Spaniel as a hunting dog. The Spaniel is depicted not only in portraits and genre paintings, but also in still lifes, particularly with hunting themes. The presence of a dog in the paintings also carries a meaning, since seventeenth-century Dutch paintings are filled with symbolism, metaphors and preaching morals. Portraits of children often feature pet dogs, not only because the dog may have been the child's favorite companion, but also because people considered the training of dogs to be a good metaphor for raising and educating children. A well-trained dog can be "useful," a concept that also applied to children of the time. In adult portraits, hunting dogs could refer to the owner's wealth and aristocratic status, and Spaniel companion dogs, to marital fidelity. Dogs can also have a more sensuous meaning, serving as warnings against lust and indecency. Further, dogs were sometimes included in a scene for purely aesthetic reasons, perhaps to enhance the domestic atmosphere.
Although it is possible that the present Delftware Spaniel bore additional meaning in the eighteenth century, it is more likely that the Delft potters added this popular dog to their wide assortment of purely ornamental farm and domestic animals, which were placed on the mantelpiece, etageres, or inside the 'porcelain' cabinet.
A firing crack on the sides of the dog illustrates the difficulty in firing Delftware objects. Flawed objects were usually thrown away, making this example exceptionally rare. As such, the Delft potters must have been satisfied with this object, despite the slightly failed firing. The firing cracks do not detract from the object's grandeur, even in the eighteenth century.