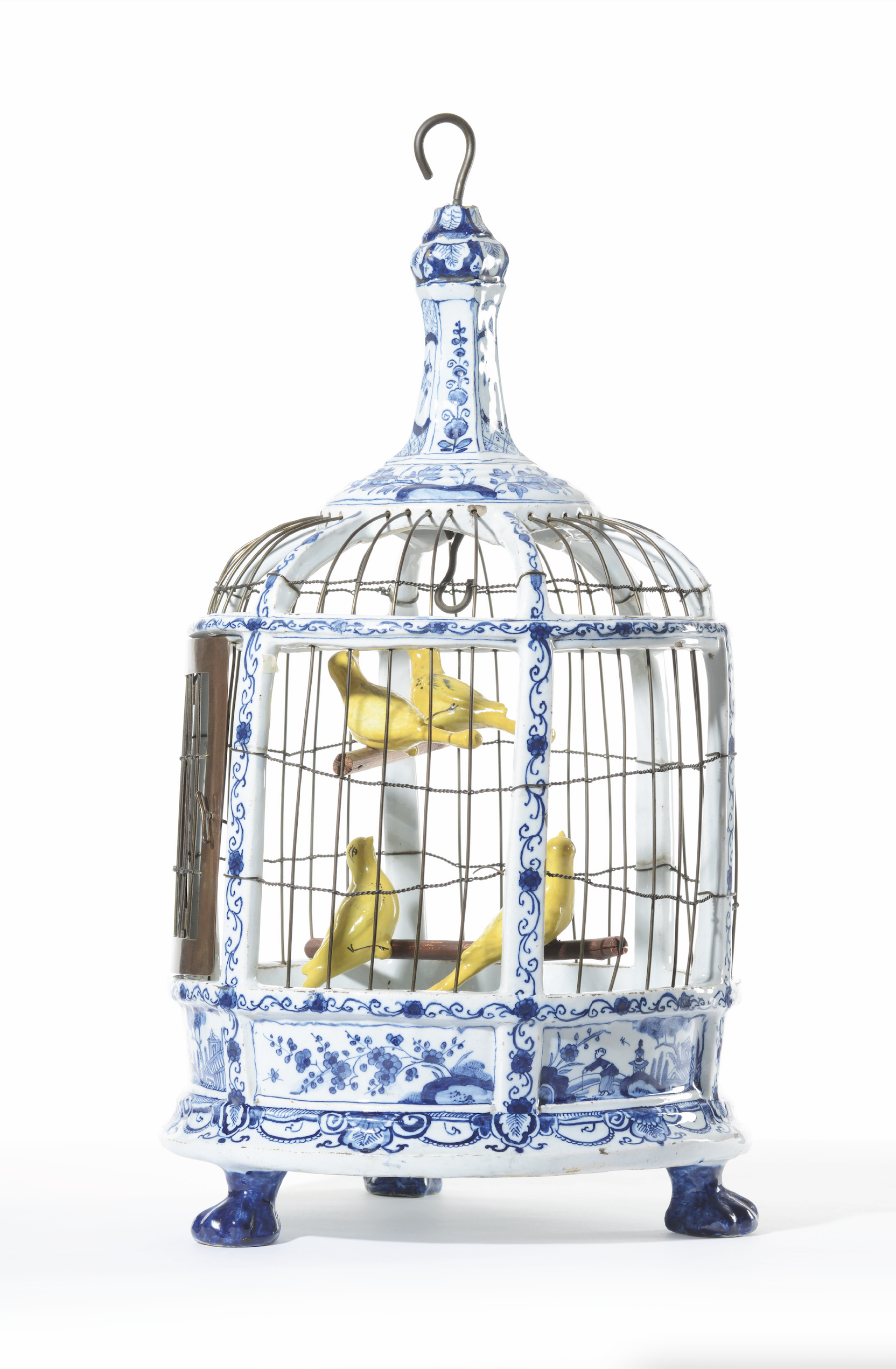 [popup_trigger id="13756″ tag="span"]

[/popup_trigger]
OBJECT
• D2122. Blue and White Bird Cage
Delft, circa 1720
Of round shape, resting on three lion-paw feet, the base with six panels painted with flowering plants alternated with a chinoiserie scene of a figure walking in a garden with a pagoda, all above a band of lambrequins and ruyi-heads, the supports with a flowering vine border and metal bars, and the top with a band of two flowering plants underneath the finial painted with three panels of fruiting plants alternated with three panels with a diaper work ground reserved with a fruit and leaf motif, the inside of the cage with four yellow birds, circa 1760, perched on two sticks.
Dimensions
Height: 50.5 cm. (19.9 in.); Diameter: 29 cm. (11.4 in.)
Provenance
Collection Maurice de Ramaix (1850-1918), before 1913; Paul de Ramaix, Château de Grune, Grune, Belgium and thence by family descent
Note
In addition to spices such as pepper and cinnamon, countless exotic animals from Asia were brought by the VOC to the Netherlands in the seventeenth century. Among these animals were exotic birds, which functioned as pets in the Netherlands. The importation of animals is consistent with the increasing interest in nature as evidenced by the menageries, aviaries and cabinets of naturals that many enthusiasts collected.
Contemporary paintings show the ways in which bird cages were used in the seventeenth-century interior. Birdcages were often suspended from the ceiling by ribbons or cords and decorated on the underside with a beautiful design that enhanced the living space. Although birdcages and birds traditionally symbolized the body and soul since early Christian times, they carried an amorous meaning in seventeenth-century genre paintings. Since the Dutch verb vogelen (birding) was the equivalent of to copulate, bird cages were an erotic motif for captive love. An empty bird cage was associated with the loss of a woman's virginity.
Bird cages were prominent in the interior of the well- to-do, although the object did not lend itself well to an earthenware version. Fragile objects like these have a tendency to distort or even collapse altogether in the kiln. The survival of this object after so many years must be regarded as little short of a miracle. This birdcage design was probably modeled after a wood and wire form. It must have been a huge challenge for the factory to make an object consisting of so much air and so little clay.
Similar Examples
Bird cages are one of the most appealing Delftware objects. Although they were produced from the end of the seventeenth century until the end of the eighteenth century, they are extremely rare. Only five other cages are known. A blue and white bird cage of rectangular shape is in the Rijksmuseum, Amsterdam (inv. no. BK-NM-12400-109). Smaller than the present one with its 29 cm. height and 24 cm. width, this bird cage was produced between circa 1685 and 1700. Of similar size and shape is a bird cage marked for De Roos (The Rose) factory in a Dutch private collection. Another slightly larger rectangular bird cage in a rococo style (height: 35.6 cm and width 31.2 cm), is in the Kunstmuseum The Hague (inv. no. OC(D) 110-1904). This blue and white bird cage is marked for Pieter van Marksveld, the owner of De Grieksche A (The Greek A) factory from 1796 until 1811. A fourth polychrome petit feu bird cage of round shape, more similar to the present one, is in the collection of the Musées Royaux d' Art et d'Histoire in Brussels (inv. no. Ev.235). Produced around 1750 in a typical petit feu style with a parrot and lambrequins, this cage is slightly smaller (40 cm. [15.7 in] high) than the present. Also of round shape, is a bird cage in the collection of the Metropolitan Museum of Art, New York (inv. no. 94.4.103). The cage, produced in the first half of the eighteenth century and painted with hunting scenes is smaller than the present bird cage with its 41.9 cm. (16.5 in.) in height and 27.9 cm. (11 in. ) in diameter.