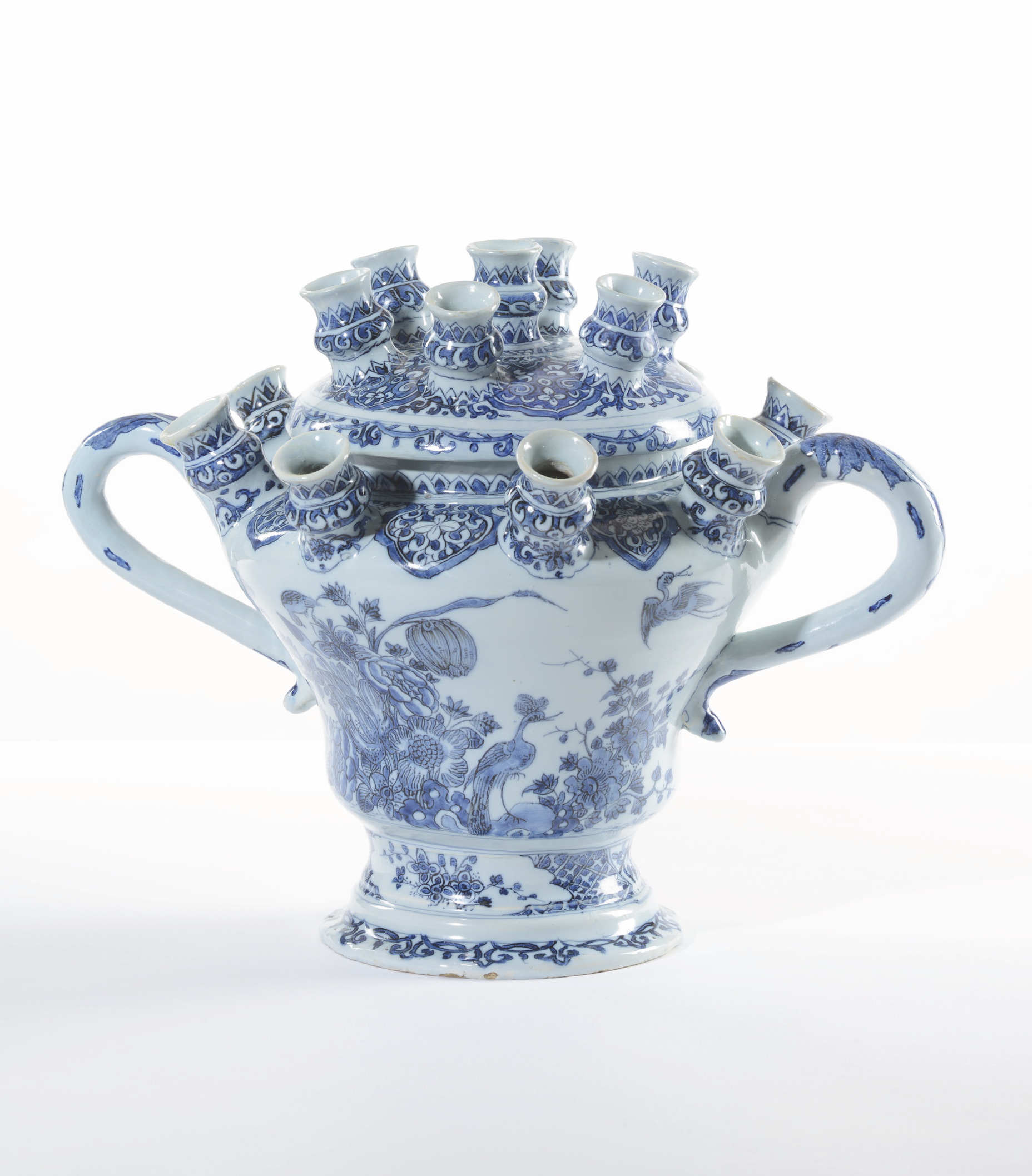 [popup_trigger id="13756″ tag="span"]

[/popup_trigger]
OBJECT
D2117. Blue and White Baluster-Shaped Flower Holder and Cover
Delft, circa 1680
Marked and numbered 2 SVE 18 in blue for Samuel van Eenhoorn, the owner of De Grieksche A (The Greek A) factory from 1678 to 1685
A round baluster-shaped vase painted on the front with a scene of three ducks seated on stylized pierced rock work below a bird perched on a flowering branch amidst a profusion of flowers, the reverse with a peacock standing on a stylized rock below two birds in flight and one perched on a flowering branch amidst a profusion of flowering plants, and handles with leaf devices affixed on the sides, the round foot with diaperwork, reserved with two large medallions of flowering plants alternated by two small triangular panels with scroll devices, the shoulder with a border of large blue ground lappets reserved with flower heads and scrolls, alternated by eight gu-form spouts decorated with a flowering scroll motif and dental band, the domed cover with a wide band of blue ground lappets reserved with flowerheads and scrolls, and scroll devices, alternated by six gu-form spouts painted with demi-ruyi-heads between two dental bands, encircling a similarly decorated central spout.
Dimensions
Height: 25.5 cm. (10 in.); width: 34 cm. (13.4 in. )
Note
The present vase, marked for Samuel van Eenhoorn, is one of the earliest known Delftware flower vases. Early flower vases were based on metal objects such as coolers and vases. Silver vases were regularly found in seventeenth-century court inventories and were among the items melted down by Louis XIV. Cassolettes were also used to hold bouquets as their perforated covers emitted beautiful floral perfumes.
Simple urns with spouts or apertures made in Nevers, France around 1650 may have also served as inspiration for Delft potters. These vases were based on contemporary silver examples, and perhaps even twelfth-century Persian vases. Between 1660 and 1680, the most common type of Nevers flower vases had a separate cover pierced with holes. These were used to hold either plants or flowers, depending on the thickness of the stem. The Nevers potters also produced numerous vases for bulbs. The cone-shaped vases were pierced with holes in the body, had plain or twisted handles, and were decorated with floral design in relief. Most of the surviving examples have lost their covers, therefore their use is largely misunderstood. Potpourri, a mixture of dried flower petals and herbs, became fashionable towards the end of Louis XIV's reign. Consequently, the Nevers vases with pierced covers were then used to hold potpourri, the scent of which could disperse through the apertures.
The surviving round and baluster-shaped examples dating from around 1680 onwards reveal the evolution of early spouted vases at De Grieksche A factory. Especially at De Grieksche A factory, these lidded vases evolved into flower holders composed of a number of segments.
Similar Examples
Only one other rather identical flower holder marked for Samuel van Eenhoorn is known and is located in the Umeleckoprumyslové Museum (Museum of Decorative Arts) in Prague (inv. no. UPM 102.969), and is illustrated in Van Aken-Fehmers 2007, p. 156, no. 4.01 (fig. 1). Like the present flower vase, the baluster-shaped body is painted with a Kraak-style decoration of flowering shrubs and birds with a band of stylized flower and leaf work filled lambrequins on both the vase and cover. Two other flower holders of similar baluster-shape, but marked for Adrianus Kocx and one lacking its cover are in a private collection, illustrated in Van Aken-Fehmers 2007, p. 157, no. 4.02 and the collection of Rastatt Favorite Palace, illustrated in Lunsingh Scheurleer 1984, p. 259, no. 206. Although the first is also executed in a Kraak-style decoration of birds and a deer in shrubbery, the latter is painted with a different decoration of stylized panels of grape vines.