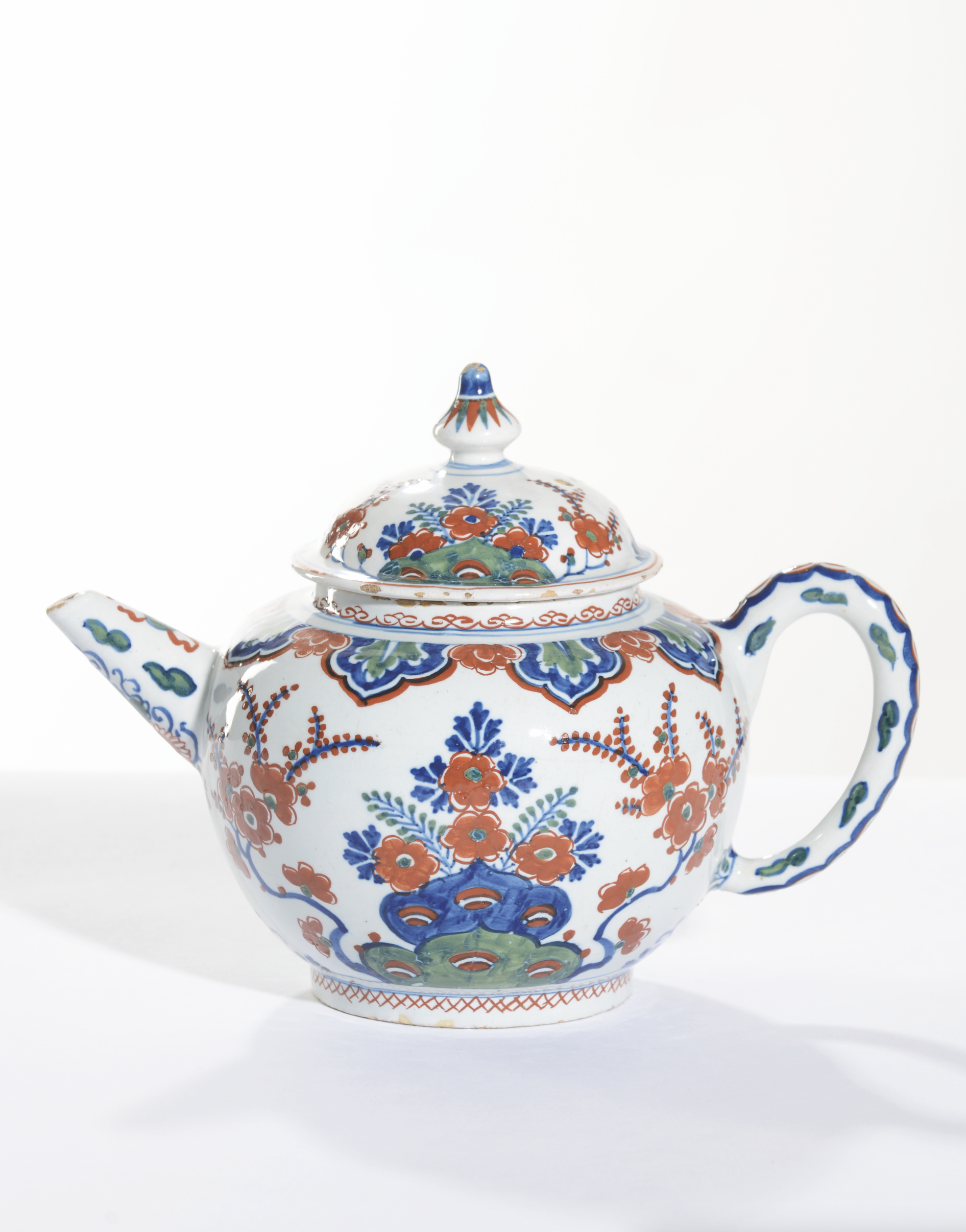 [popup_trigger id="13756″ tag="span"]

[/popup_trigger]
OBJECT
• D2112. Polychrome Cashmere Palette Teapot and Cover
Delft, circa 1710
Marked PAK in iron-red for Pieter Adriaensz. Kocx, the owner of De Grieksche A (The Greek A) factory from 1701 to 1703, or his widow Johanna van der Heul, the owner of the factory from 1703 to 1722
Painted in the cashmere palette of blue, green and iron-red on either side with branches of flowers and foliage growing behind a stylized rock, flanked by two branches with iron-red flowers, below a wide band of ruyi-heads, the spout with a flowerhead, scrollwork and Daoist symbol, the handle with scrollwork, the cover with a similar decoration of flower branches and foliage behind a stylized rock.
Dimensions
Height: 13.6 cm. (5.4 in.)
Note
Initially, tea was consumed for medicinal purposes in Europe, since it "suivert het grove bloedt, verdrijft de sware droomen, (…) 't verjaegt de dommigheijt en 't sterckt Venus' handel (gedienstig voor nieuw getrouwde)" ("purifies coarse blood, drives out heavy dreams, (…) chases away stupidity and strengthens Venus' affairs (useful for newly weds)". Although it took some time, the craze for tea drinking swept through Europe in the last quarter of the seventeenth century.
Once the practice became fashionable, it changed the rhythm of people's daily lives. Tea could be drunk once or twice a day, but afternoon gatherings became the new habit. Furthermore, it inspired people to acquire the necessary accoutrements for serving the drink. In the seventeenth century, these necessities could be of a variety of materials, and even a combination of Chinese and European tea wares. However, by the end of the eighteenth century, it was customary to have complete matching sets. Tea was presented to guests in beautiful tea canisters, and then strongly brewed in small pots. These concentrated brews were then diluted with hot water from a bouilloire, a silver, copper (although this material was thought not so suitable for boiling water) or pewter kettle on a stand over a brazier. Bouilloires were also executed in Delftware, but they are very rare. When the guest wanted to try a different kind of tea, he or she could rinse the cup in the slop bowl. The new drink should be sipped as hot as possible, but if too hot, it could be poured on the saucer to cool a little and sipped from there. With tea being very expensive, the cups were small, so it was not uncommon if one would have up to twenty or even fifty cups during a tea party.
Dutch Delftware teapots are rare, since vessels made from regular earthenware were comparably coarser than porcelain, and considered less elegant and pleasant to drink from. More important is the fact that earthenware is not the best material to hold boiling water. Heat is conducted more readily by earthenware, being a porous material, than by porcelain, and it was prone to crack when it had to endure large temperature differences. If the glaze crackled, the material underneath became unsealed, and the water caused it to crumble.
The delicate grand feu decoration on this teapot was given the descriptive title 'cashmere' for its likeness in color, and exotic, dense motifs to the fine woolen shawls that were imported from India and worn by high-class European ladies. The earthenware of this category has a color scheme of blue, red and green. Although the Delft pieces were named after the fashionable textiles, the Delft potters were in fact inspired by the Chinese famille verte porcelain wares of the Kangxi period (1662-1722), which arrived in Europe at the end of the seventeenth century. Since the production of these pieces was probably too expensive, the cashmere palette enjoyed a brief, yet widespread success during the first half of the eighteenth century.