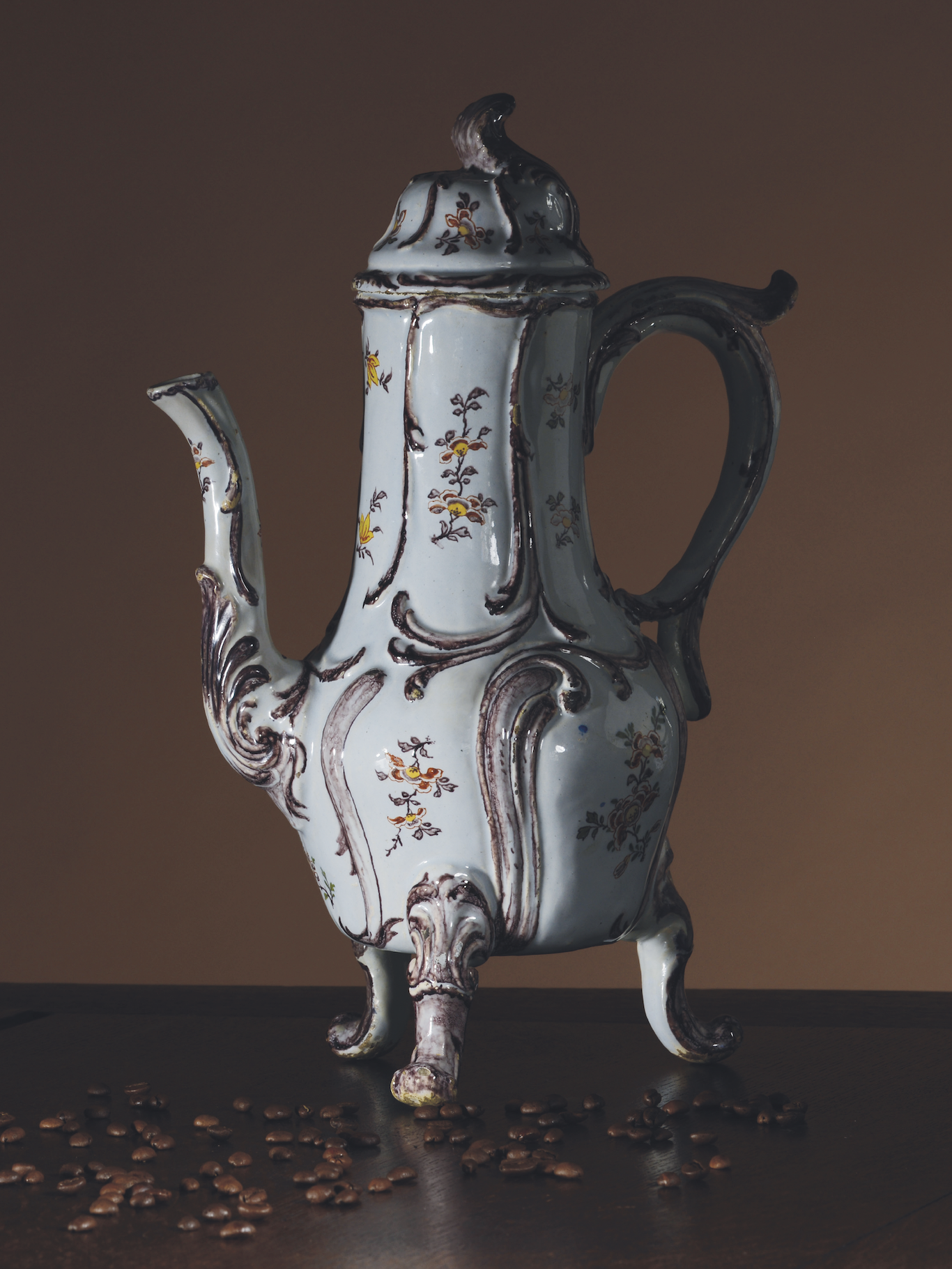 [popup_trigger id="13756″ tag="span"]

[/popup_trigger]
OBJECT
D2110. Polychrome Coffeepot and Cover
Delft, circa 1765
Marked A / IH / 12 and with numerals 120 in manganese for Jacobus Halder Adriaensz., the owner of De Grieksche A (The Greek A) factory from 1765 to 1768
Painted on the elongated pear-shaped body with manganese, yellow, iron-red and green floral sprigs alternating with manganese molded twirls in a pronounced rococo fashion, with a long flattened s-shaped spout and a large handle with protruding manganese thumb rest, on three manganese cabriole legs, the domed cover with similar floral decoration and a manganese scroll knop.
Dimensions
Height: 39 cm. (15.4 in.)
Note
Coffee was another exotic delicacy that initially derived from the Islamic world. During the first half of the seventeenth century, it was imported by Yemen to Western Europe through the Mediterranean Sea. Although the VOC was familiar with coffee by at least 1616, it did not gain popularity until after 1660, when it was imported to the Dutch Republic from France and England. The East Indian companies from those countries were therefore the main competitors in Mocha, the Yemeni port city where the largest coffee market could be found at the time. However, the demand for coffee was so large and the prices so high that the VOC exported some coffee plants from Yemen to Java to grow their own coffee.
Initially, coffee, like tea, was first considered a medicinal drink because the flavor was quite strong and bitter. However, the addition of sugar and milk caused a greater demand for the drink. Coffee houses were built to accommodate this new, exotic and modern beverage. People gathered in these large, comfortable spaces to read and discuss the news, or even gamble as they enjoyed coffee. Consumption also became more common at home, especially among women from the bourgeoisie. Around 1700 coffee was still very expensive, partly also due to the exclusive accoutrements that were necessary, such as coffee pots, cups and saucers. By 1740, coffee consumption was widespread among all classes. The price of coffee began to decline in the course of the eighteenth century, since coffee was also grown in other parts of the world, such as Africa, Surinam and Brazil.