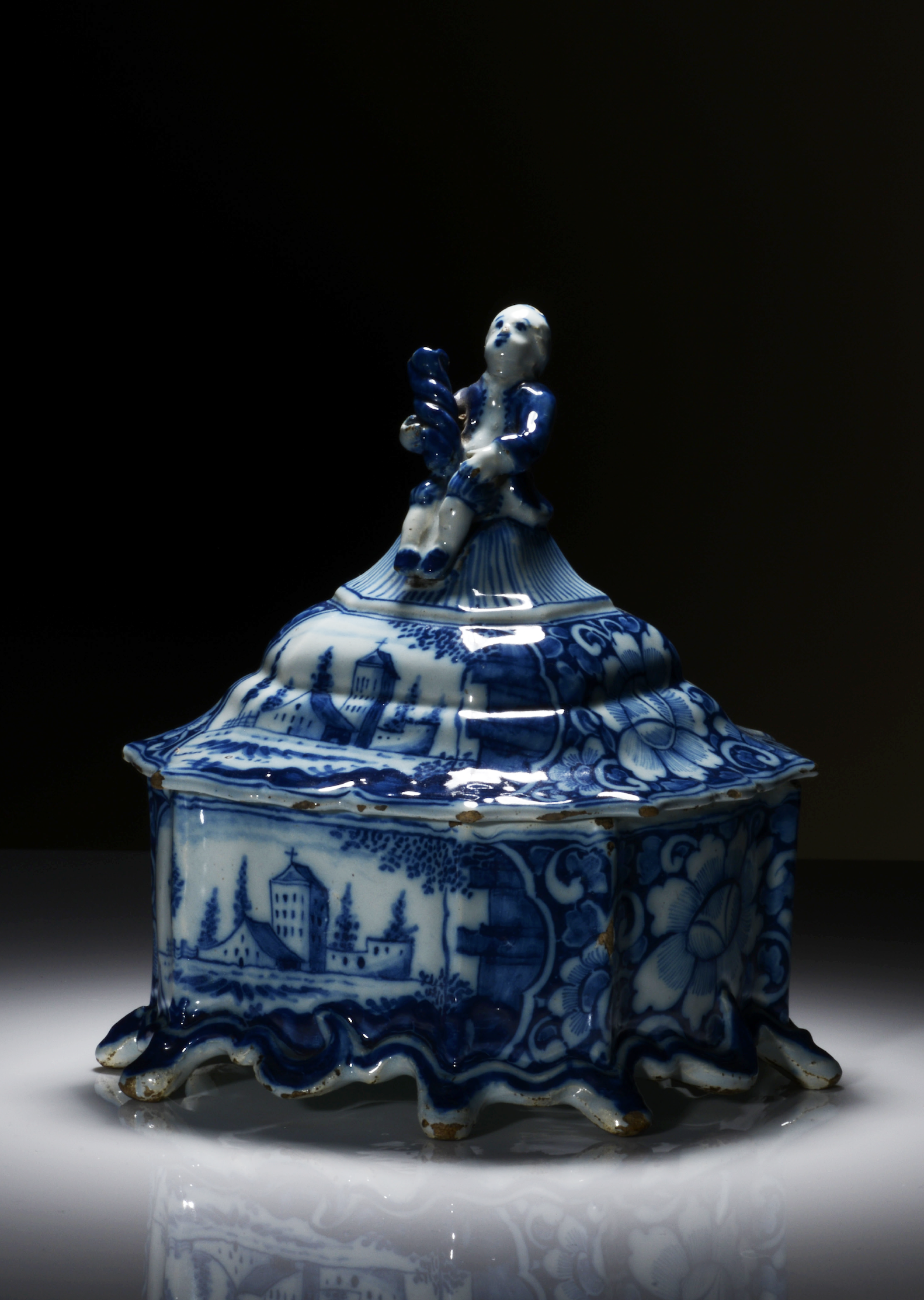 [popup_trigger id="13756″ tag="span"]

[/popup_trigger]
OBJECT
D2107. Blue and White Tobacco Box, Cover and Tamper
Delft, circa 1765
Of chamfered square shape, the box with bowed sides above a rococo-scroll-edged apron issuing four scroll feet, the cover with a serpentine edge, and the box and cover decorated on the blue-ground reserved with large flower heads and scroll motifs reserved on the front and reverse with large panels decorated with buildings in a landscape of trees and shrubbery, the cover surmounted by a seated man holding a tobacco leaf roll in his right hand, the conformingly-shaped flat tamper with a blue floriform knop.
Dimensions
Height: 18 cm. (7 in.); Width: 15.3 cm. (6 in.)
Provenance
Belgian Private Collection
Note
Tobacco was stored in specially designed boxes like the present example to keep the tobacco moist. The contemporary name for this model of tobacco box is probably tafeltabaksdoos ('table tobacco box') as it appears, for example, in the 1783 inventory of the salesman Pieter de Maar and the 1803 inventory of the Drie Posteleyne Astonne (Three Porcelain Barrels) factory in Van Aken-Fehmers 2001, p. 138 and p. 221. The shape is derived from metal tobacco boxes (see Mees 1997, pp. 118 bottom and 135 top for pewter and silver examples from the first half of the eighteenth century). Although the boxes served a functional purpose, they were often decorated with charming designs and used as a desk or table ornament. Many tobacco boxes nowadays lack the tamper, which was used to press the tobacco to keep it fresh.