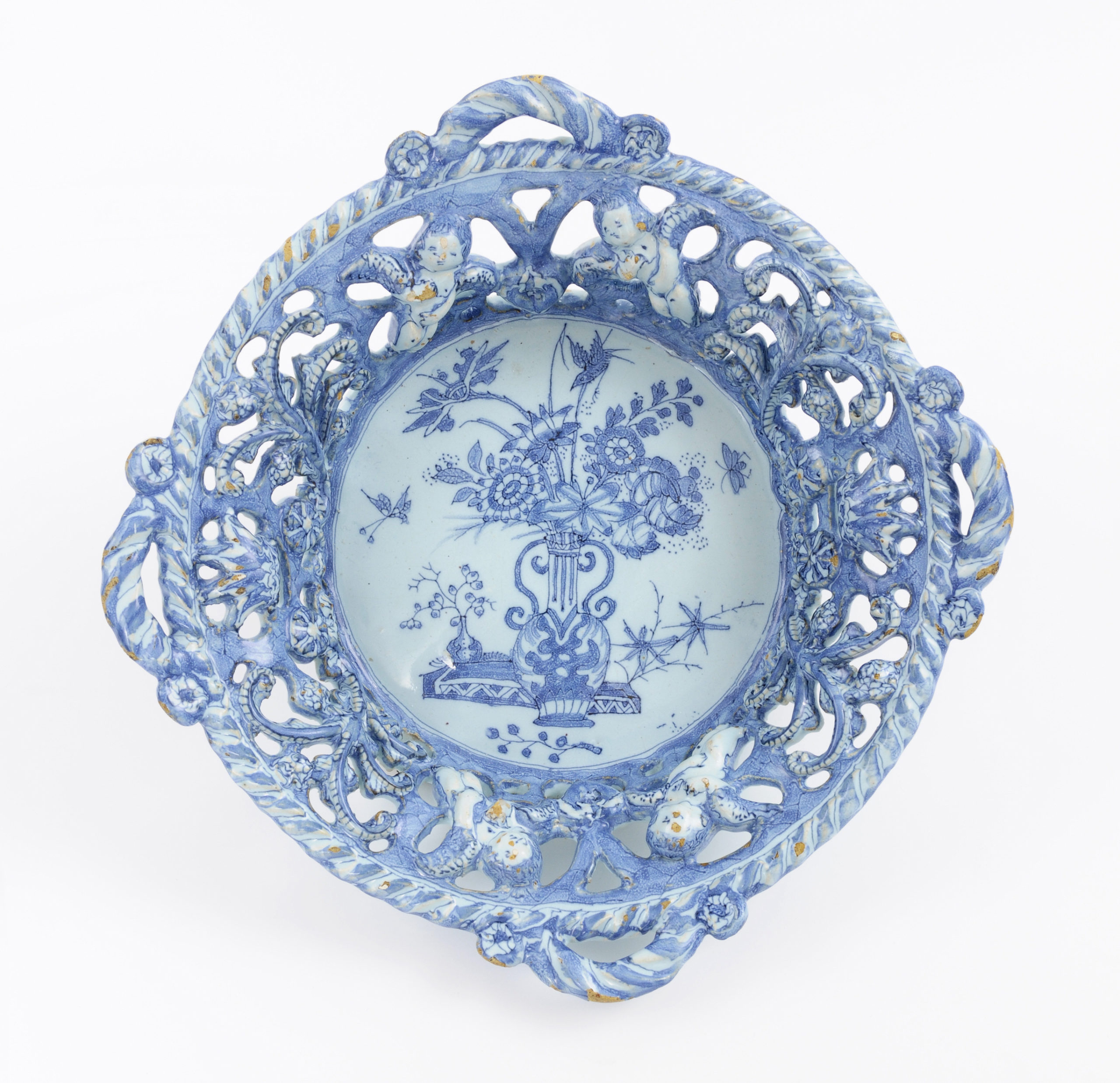 [popup_trigger id="13756″ tag="span"]

[/popup_trigger]
OBJECT
• D1207. Blue and White Reticulated Circular Basket
Delft, circa 1675
Painted in the center with bird and two insects hovering around an arrangement of flowers within a scroll-handled vase between a smaller bottle-shaped vase of flowering branches placed on a zigzag-edged table beyond and a trifurcated shoot of bamboo, the pierced flaring sides applied in high relief at the top and bottom of the interior with a heart between a pair of cherubs, on the sides with a coronet above a pair of wheel devices, and between with scrolling stems of blossoms, grape clusters and leaves, the rope- molded rim edge affixed with four rope-twist handles terminating in blossoms, and the whole raised on three low circular feet.
Width: 27.6 cm. ( 10.9 in.)
Note: The cherubs or cupids flanking a crowned heart at the top and bottom of the interior suggest that this basket might have been made as a wedding present -a thought reinforced by the symbolism of the blossoms and fruiting grapevines, and by the basket's probable use for serving bread, the staff of life.
Similar Examples: A blue and white basket of this type dated on the base Anno 1675, similarly decorated with a flower-filled vase, but the pierced sides applied only with flowering vines, is in the Gemeentemuseum, The Hague, and illustrated by Van Aken-Fehmers 1999, pp. 226, 237 and 238, no. 81, who suggests that the form was derived from a slightly earlier silver bread basket. The same basket is illustrated in Charleston, Lunsingh Scheurleer 1979, monochrome pl. 77; in Lunsingh Scheurleer 1975, pl. 38 and Lunsingh Scheurleer 1984, p. 211, pl. 85; and in Exh. Cat Dresden 2004, p. 249, no. 162. A slightly larger but otherwise very similar basket is illustrated in Aronson 2006 Catalogue, p. 11, no. 4. A polychrome basket also of this type, probably circa 1690, but with variations in the applied decoration on the pierced sides and painted with a chinoiserie figure and dog, is in the Evenepoel Collection, no. 80, at the Musées Royaux d'Art et d'Histoire, Brussels, illustrated in Dumortier 1990, cover and pl. 21; in Fourest 1980, p. 71, pl. 59; in Helbig, Vol. II, p. 124, fig. 118; in Hudig 1929, p. 124, fig. 114; in Mariën-Dugardin 1971, pl. 147; and in Aronson 2008 Catalogue, p. 29, no. 5. A Delft small covered basket pierced on the sides with related decoration of pairs of cherubs or cupids supporting a flaming heart, is in the Museum für Kunst und Gewerbe, Hamburg, illustrated by Bauer 1989, p. 51, no. 39, who ascribes it a date of circa 1650-70, and who also illustrates on p. 66, no. 52, a reticulated circular basket closer in form to the present example, though pierced on the sides with scrolling foliate vines and dated on the base Anno 1670. A further example of that type, dated 1675 and with a central flower-filled vase, is illustrated in Van Aken- Fehmers 1999, pp. 226 and 237, no. 81.