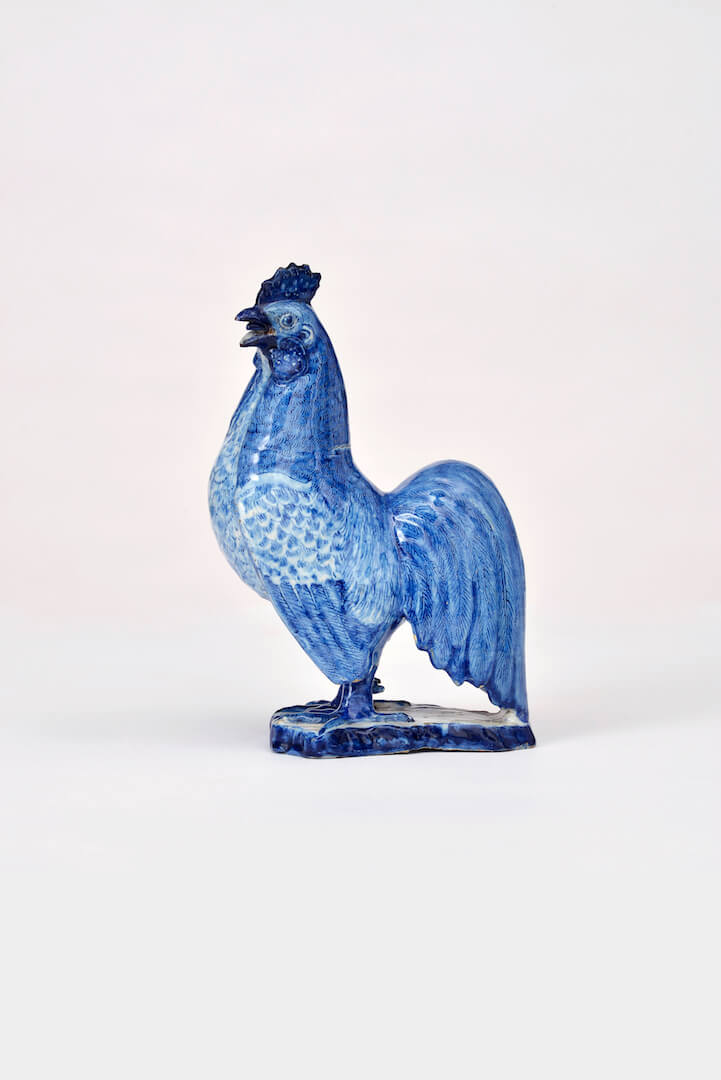 [popup_trigger id="13756″ tag="span"]

[/popup_trigger]
OBJECT
•D1533. Blue and White Figure of a Cockerel
Delft, circa 1700
Marked LVE 1 2 DW in blue for Lambertus van Eenhoorn, the owner of De Metaale Pot (The Metal Pot) Factory from 1691 until 1721
With lightly molded and finely delineated plumage, and white-speckled blue wattles and comb, modeled with his head turned slightly to the left, his open beak revealing a blue tongue, and with blue large feet perched at the front of a blue- edged conformingly-shaped base with a white grooved top and blue edge.
Height: 21.5 cm. (81⁄2 in.)
Note: Cockerels or roosters of this rare and robust model must have been taken from either a late seventeenth-century Japanese Arita porcelain original, an example of which is in the Burghley House Collection, Stamford, England, illustrated in the exhibition catalogue of The Burghley Porcelains (Japan Society, New York 1986), p. 223, no. 90, or equally likely, a Dehua blanc-de-Chine figure of circa 1700, an example of which, in the Groninger Museum, Groningen (inv. no. 1948-147) is illustrated by Jörg 1983, p. 93, no. 50, who on p. 185, no. 140, also illustrates a Delft polychrome counterpart of that same early date in the Gemeentemuseum, The Hague (inv. no. OCD204-04). The same cockerel is illustrated also by Fourest 1980, p. 161, pl. 159. Given the extensive trade by the Dutch East India Company (V.O.C.) with both Japan and China at this time, it is possible that either model served as the prototype for the present cockerel and for its polychrome counterparts, which actually are more prevalent than the blue and white examples, and which appear to have been sufficiently popular to have been made with minor variations at a number of Delft factories over a period of more than a half century.