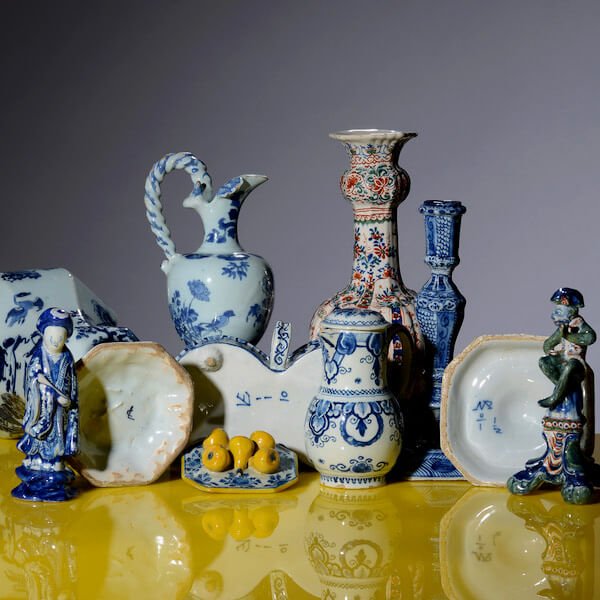 In a building named "de metalen Poth", located on the Geer, the present Lange Geer in the city of Delft, the factory arose in 1670 as the last in row of four Delftware factories. On the south side of De Metaale Pot (The Metal Pot) was 't Fortuyn ( The Fortune) factory and to the north De Drie Posteleyne Astonne (The Three Porcelain Ash Barrels) and De Grieksche A (The Greek A) factories.

The building which was transformed from a brewery into the chamber of the Dutch West India Company, included a house, a courtyard, a warehouse and sheds. De Metaale Pot factory was one of the most famous Delftware factories in the city. Its history extends over more than 100 years and is divided into five production periods.
The Metal Pot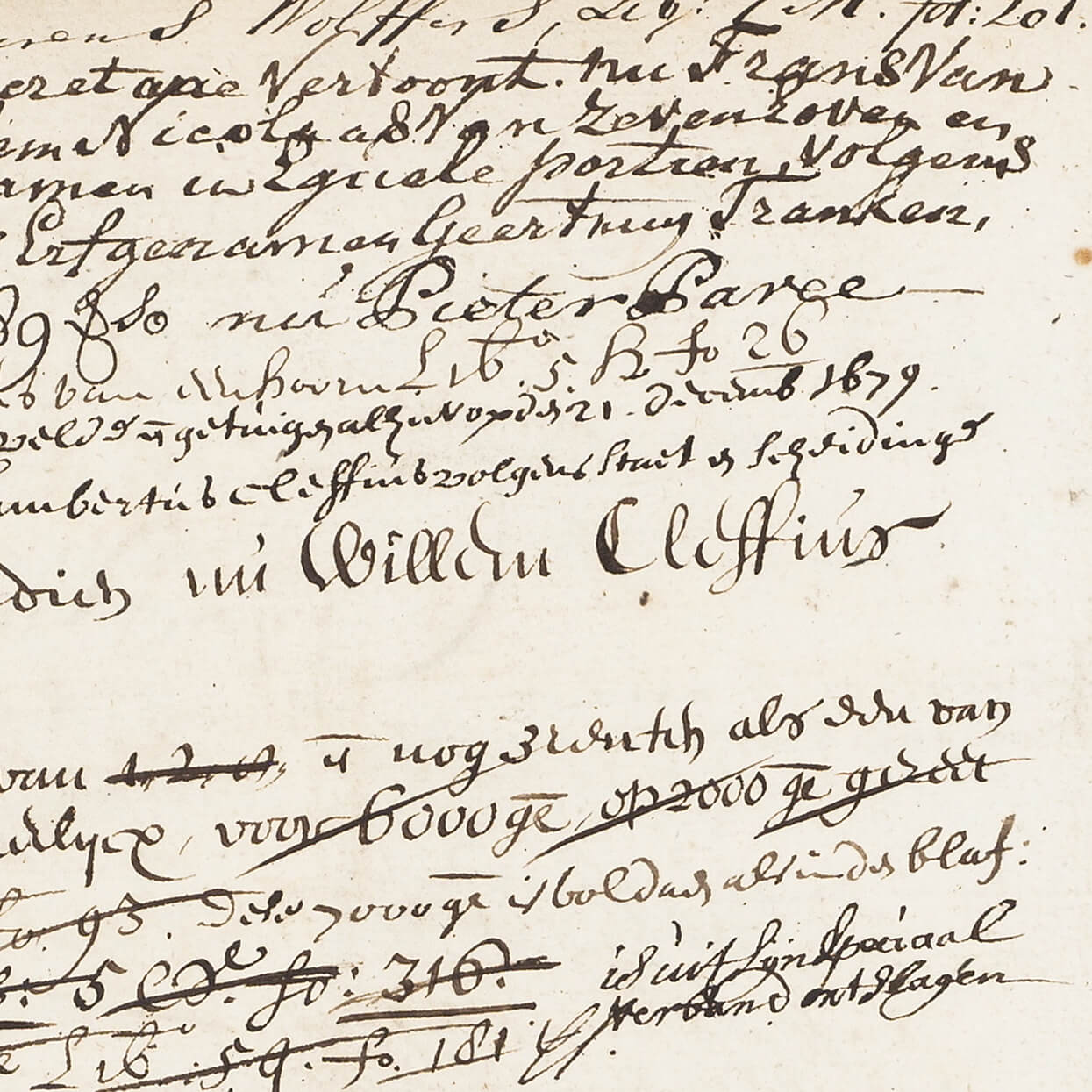 1670 - 1679
Willem Cleffius was originally from Cologne, and later moved to Amsterdam where he became a merchant. In 1632, he married Marguerite Lambrechtsdr. Cruyck, the daughter of Lambrecht Gisbrechtsz. Cruyck, owner of De Dissel factory. By marriage, he also became the brother-in-law of Wouter van Eenhoorn, the founder of De Grieksche A factory. This connection certainly made Willem Cleffius a well-informed investor into the Delftware industry. 

In 1662, Willem Cleffius became co-owner of De Paauw (The Peacock) factory, which marked his first step into the field of Delftware. At first, his role must have been strictly financial, as he inscribed himself at the Guild of Saint Luke as a plateelhouder (shop-owner) four years later. On January 6, 1670, he purchased De Metaale Pot factory from the directors of the Dutch West India Company.
Willem Cleffius
The Metal Pot

Read More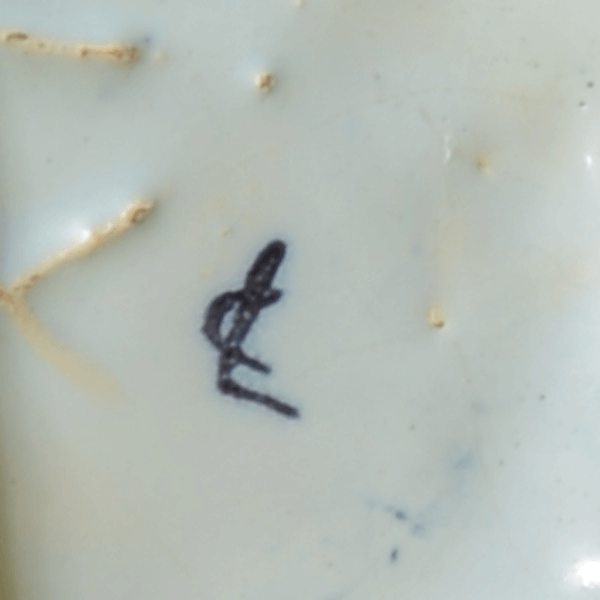 1679 - 1691
Lambertus Cleffius, the son of Willem, joined the company as soon as his father had acquired it. After his marriage in 1672, he became a shareholder of the company. Lambertus may have handled the day to day operations of the factory, while his father oversaw the business. Lambertus was registered as a plateelbakker (pottery master) at the Guild of Saint Luke since 1667.

When his father died in 1679, he became the sole owner of the company. Like his father, he also had shares in other Delftware companies, such as De Witte Ster (The White Star) factory in 1687. The factory developed an international clientele, including Wenzel Ferdinand, Prince Lobkowicz of Bílina (1656-1697) who commissioned a large Delftware dinner service.

Lambertus Cleffius
The Metal Pot

Read More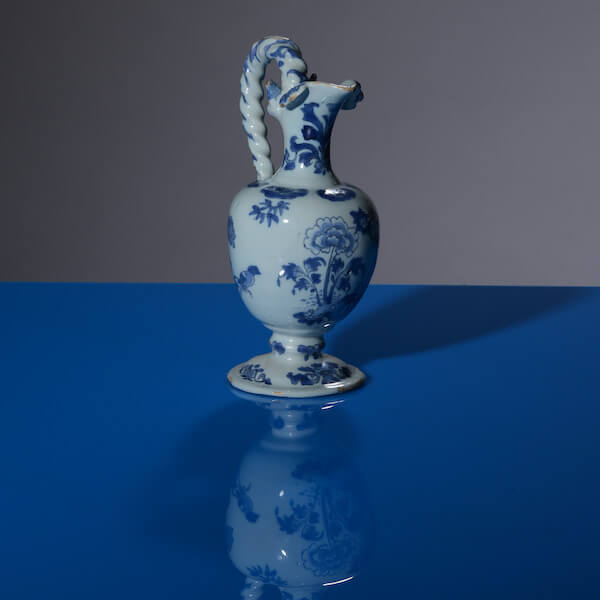 Blue and White Ewer
Delft, circa 1685
Unlike his contemporaries, whose production is characterized by horror vacui, Lambertus Cleffius preferred spare decoration, as can be seen on this ewer.

Although the shape was already known in the Netherlands in silver or pewter in the early seventeenth century, it is thought that the Delft potters adopted the shape from Nevers faience models, which in turn had borrowed their inspiration from Italy.

€ 6.500,00
Go to Webshop
Lambertus Cleffius
The Metal Pot

Read More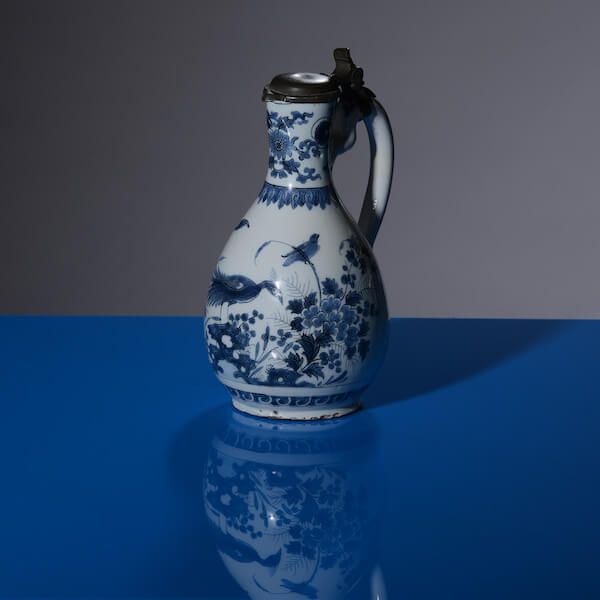 Blue and White Jug
Delft, circa 1680
Throughout the seventeenth century, Delft potters created faithful imitations of the Chinese Kraak-porcelain from the Wanli period (1573-1620). The decoration on this jug with animals such as peacocks, water- and songbirds amidst flowering plants and stylized pierced rock work is inspired on these Asian wares.

€ 4.500,00
Go to Webshop
Lambertus Cleffius
The Metal Pot

Read More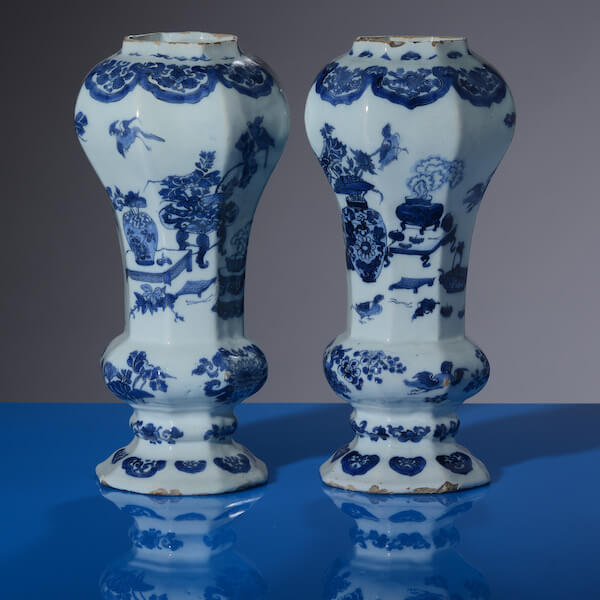 Pair of Blue and White Vases
Delft, circa 1680
This pair of vases is painted with a Chinoiserie decoration. This unique type of decoration evolved from different Chinese styles, which is freer and also shows the Delft interpretation. Chinese figures, landscapes, architecture and attributes are rendered and composed in a way that is not Chinese, but semi- Chinese.

This style originated in the seventeenth century and quickly became a dominant fashion throughout Europe, enduring through the first half of the eighteenth century. The faience painter chose especially the elements which were in his eyes the most characteristic for Asia and he combined it as he wished.

€ 9.000,00
Go to Webshop
Lambertus Cleffius
The Metal Pot

Read More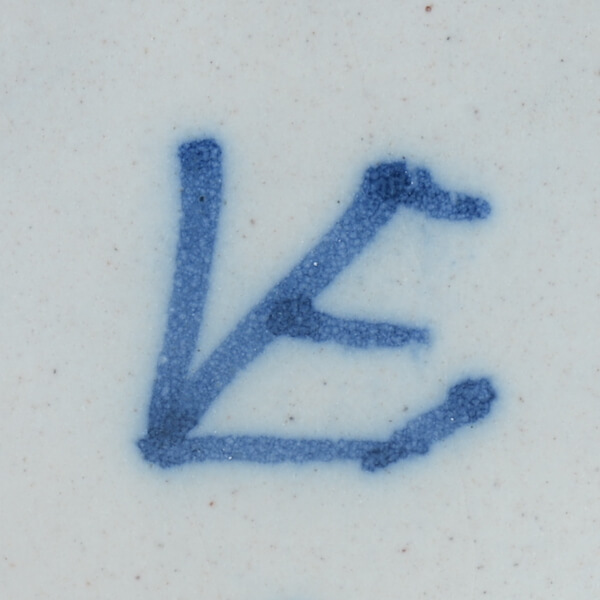 1691 - 1724
Lambertus van Eenhoorn was the son of Wouter van Eenhoorn, and brother of Samuel van Eenhoorn, two famous successive owners of De Grieksche A factory. His career as a Delft potter would seem like a natural progression given his family connection, however he chose to forgo his destiny at first by traveling, and even attending medical school for a short while.

In 1689, Lambertus was referred to as a 'jegenswoordigh porceleynbacker' (nowadays a maker of porcelain) and purchased De Metaale Pot factory in 1691. After the purchase of the factory, Lambertus van Eenhoorn began to comfortably settle into his new life as a potter, leaving his desire to travel in the past.

He quickly became one of the most important Delftware potters of his time, adapting his production to the public's taste and maintaining the integrity of his factory's reputation.

Lambertus van Eenhoorn
The Metal Pot

Read More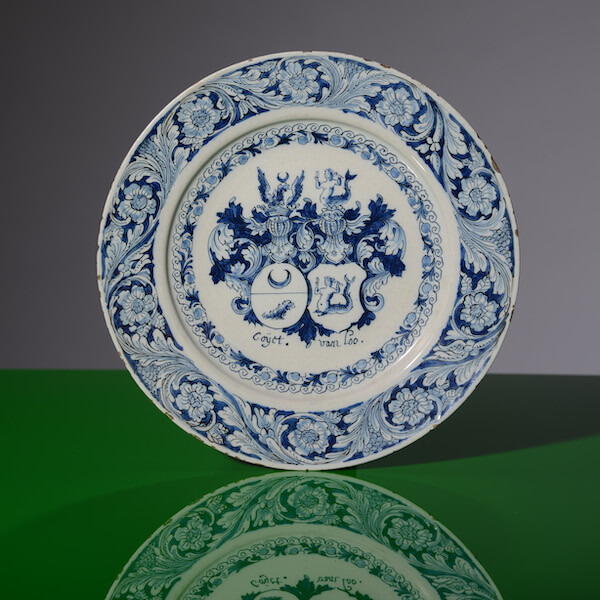 Blue and White Armorial Plate
Delft, circa 1710
Armorial plates were often commissioned to commemorate a special event, such as a wedding. In the present plate, the two coats of arms symbolize the wedding between the Van Loo and Coijet families. Everhart van Loo, 28 years old and from Arnhem married Suzanne Coijet, the 31-year-old widow of lieutenant Adriaen Schotel on February 5, 1678.

Procuration books show that Everhart and Suzanne were a well-to-do couple who had the means to purchase goods beyond the basic necessities. In light of this, the couple probably commissioned several Delftware dishes with their coat of arms around 1700, because the LVE mark on the plate indicates that the earliest date of production is 1691.

€ 4.200,00
Go to Webshop
Lambertus van Eenhoorn
The Metal Pot

Read More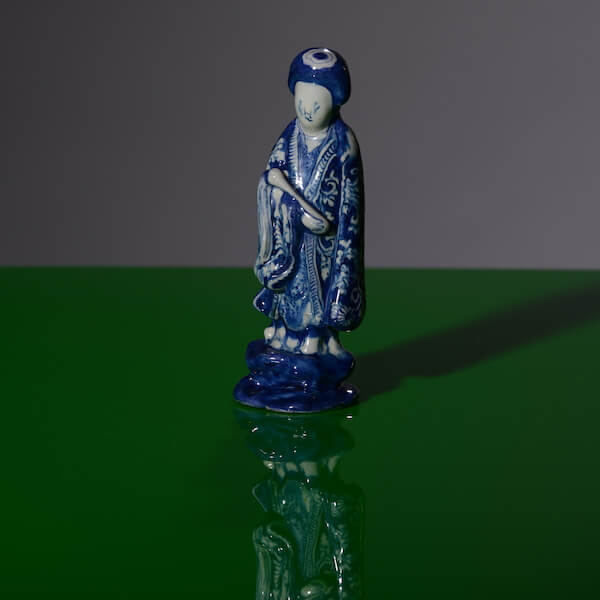 Blue and White Figure of a Chinese Lady
Delft, circa 1705
In the seventeenth century and the beginning of the eighteenth century, the fascination for Asia was triggered nationwide by the many curiosities that were brought home. Artists and craftsmen created wonderful and intriguing pieces of art that imitated the Chinese, Japanese and Indian treasures, or that combined Asian and European shapes and patterns into so-called chinoiseries.

The Delft figure is clearly inspired by Chinese figures, and he is most likely made by the Delft potters after an example in enameled biscuit of the Kangxi period (1662-1722) or a similar figure in soapstone or wood.

€ 5.800,00
Go to Webshop
Lambertus van Eenhoorn
The Metal Pot

Read More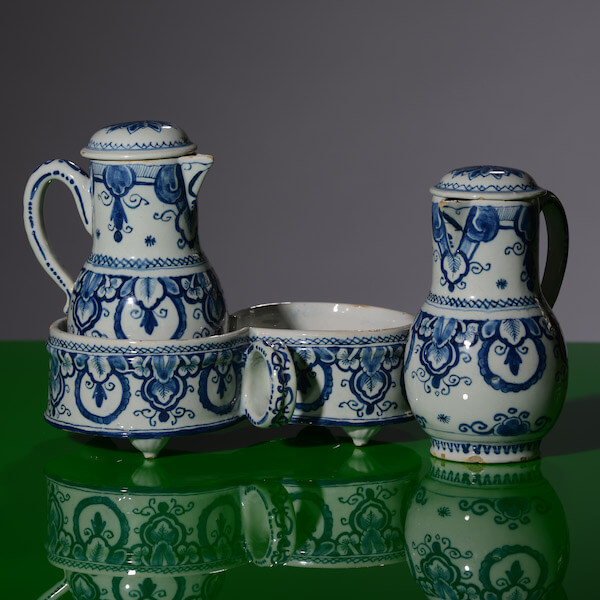 Blue and White Cruet Set
Delft, circa 1710
A cruet is any small container with a flat-bottom, narrow neck, spout, handle, and stopper. It is used to hold liquid condiments, such as olive oil and vinegar. The name is believed to have derived from the Old French word crue, which means earthen pot. Others say it is from the Dutch word kruicke, which was often spelled crewet.

This cruet set, consisting of an olive oil and vinegar container, could be used at meal times. Cruet sets like the present were probably a late seventeenth century invention, when fine dining became an exceedingly important social ritual and the dinner table underwent considerable changes.

As with many Delftware objects for the dinner table, the shape of this cruet set was probably inspired on a silver model.

€ 9.500,00
Go to Webshop
Lambertus van Eenhoorn
The Metal Pot

Read More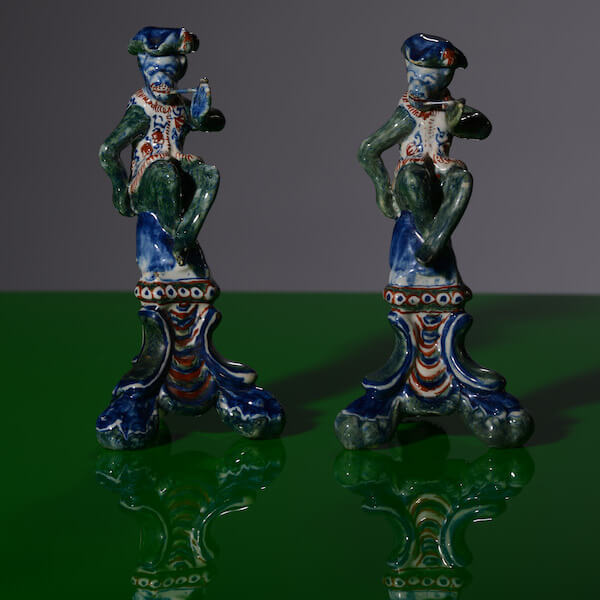 Pair of Polychrome Figures of Seated Monkeys
Delft, circa 1715
With their high intelligence and their humanlike behavior in which we can recognize our own, monkeys and apes were either loved or hated. In art, from the fourteenth throughout the seventeenth century, monkeys were not so much targets of ridicule themselves, but were used to point out the idiocies of human endeavor.

Once established as the rage in France, where its satirical freedom, its insouciance and its playful exoticism were so akin to the court culture, singerie spread rapidly around Europe. However, with few exceptions, it did not have the same fashionable effect in ceramic representations. Even in Holland, where the more jocular population was willing to laugh at its own foibles, the most popular figures produced at the Delft factories were more representative of familiar daily life than of élitist pursuits, a theme underlying singerie. This is what makes the present figures so rare and unusual, establishing them as one of the very few examples of singerie in Delftware.

€ 8.500,00
Go to Webshop
Lambertus van Eenhoorn
The Metal Pot

Read More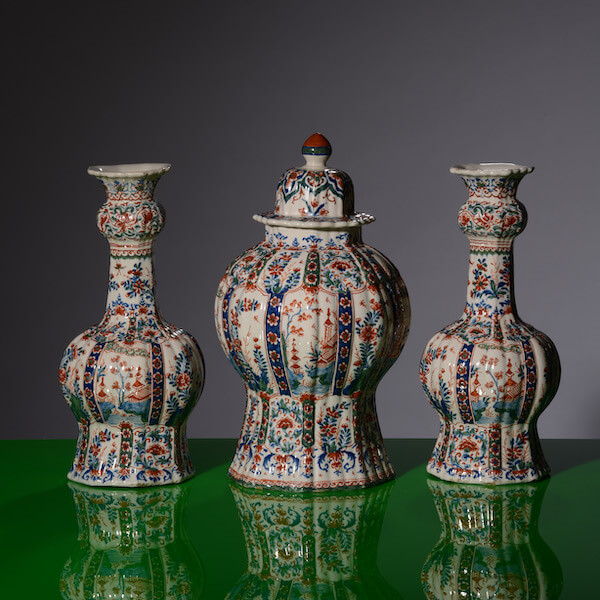 Cashmere Palette Garniture
Delft, circa 1710
The technical improvements and the arrival of new design sources from Asia also led to the development of the cashmere decorative patterns. The earthenware of this category often has a reeded surface with a color scheme of blue, red and green. Occasionally, the pieces were decorated with manganese and yellow. Asian scenes with rocky landscapes, exotic birds in flight or perched on branches of chrysanthemums, were placed amidst friezes of lace lambrequin and sometimes a dizzy abundance of vegetation with extraordinary flights of fancy.

Although it can not be said with certainty that Lambertus van Eenhoorn was its inventor, he was undoubtedly highly influential in its production and responsible for spreading the style.

€ 9.500,00
Go to Webshop
Lambertus van Eenhoorn
The Metal Pot

Read More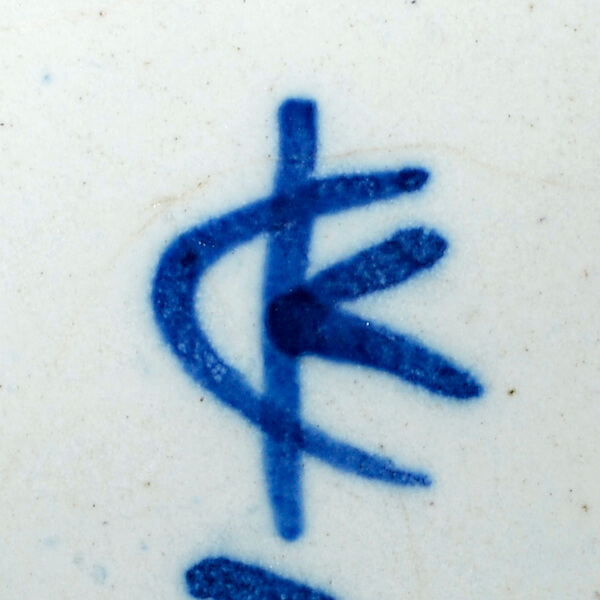 1724 - 1756
The information about De Metaale Pot factory from 1720-1750 is very scarce. Cornelis Koppens
bought the factory from the widow of Lambertus van Eenhoorn in 1724. The Koppens and Van
Eenhoorn families were indeed close, as it was recorded that Cornelis's son was appointed as guardian of the Van Eenhoorn children.

Cornelis Koppens is among the numerous talented master potters in the Delftware industry who deserve more scholarship. Beginning in 1723, Koppens was appointed the headman of the Guild of Saint Luke several times.
Cornelis Koppens
The Metal Pot



Pair of Blue and White Fluted Oval Monteiths
Delft, circa 1730
Wine glass coolers, also named monteiths after a Scottish nobleman known to wear a cloak with a serrated hem, were filled with cool water or ice, and used for chilling and cooling or rinsing wine glasses.

The forms were initially thought to be a late seventeenth-century French invention, where they were first created in silver to accompany the wine fountain or cistern and the wine bottle cooler in the increasingly grand displays of kings, princes and ambassadors. However, they were probably invented in England around 1680.

The earliest glass coolers were made of silver and were round or oval, often with lion's-paw feet and handles formed as heads or lion's heads holding rings in their mouth.

Cornelis Koppens
The Metal Pot

Read More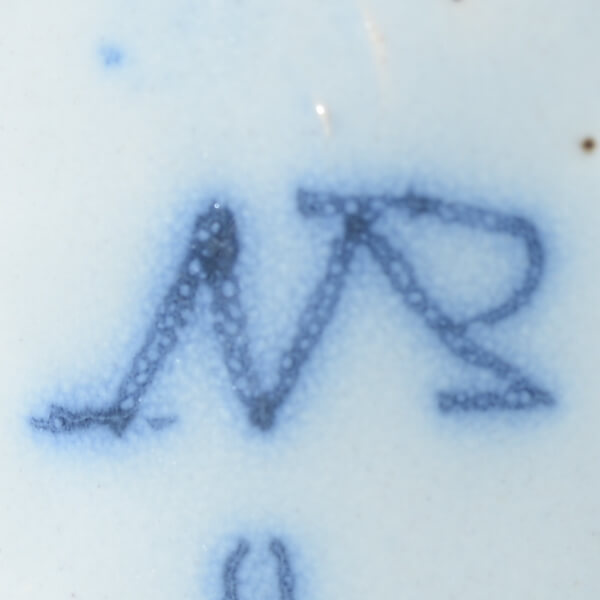 1756 - 1770
Master potter Pieter Paree, the son of a linen weaver, purchased the factory in 1756. After having traveled to Asia several times, including as quartermaster on a VOC ship and in the rank of lieutenant, he became a brewer in 1752. Even after the purchase of the factory, it appears that he still worked for the same brewery as a merchant 'in-company'.

Paree died in 1770 and the factory passed to his heirs. Although De Metaale Pot appears to have existed as such in 1771, it is possible that the production ceased shortly after Paree's death.
Pieter Paree
The Metal Pot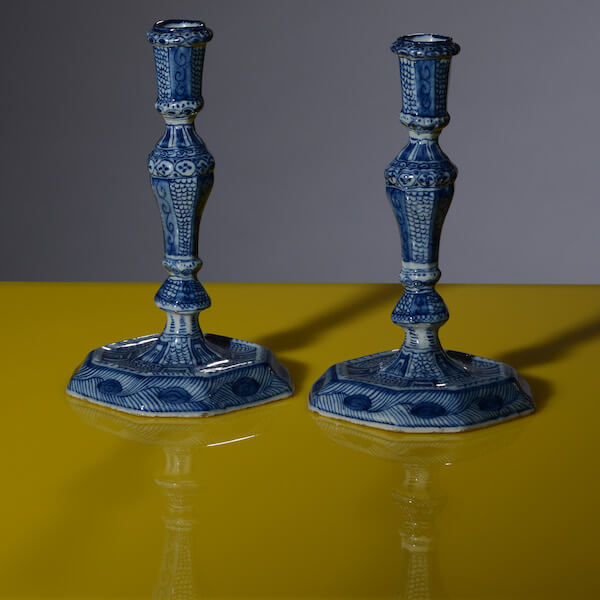 Pair of Blue and White Candlesticks
Delft, circa 1765
Candles were the main source of light after dark, however they were considered a luxury in the eighteenth century. Like the candles, their holders were also very expensive objects.

Candlesticks of various shapes have been produced in Delftware from the 1680s onwards. Since their shapes often followed the shapes of silver candlesticks, their form is traditionally European.

€ 12.500
Go to Webshop
Pieter Paree
The Metal Pot

Read More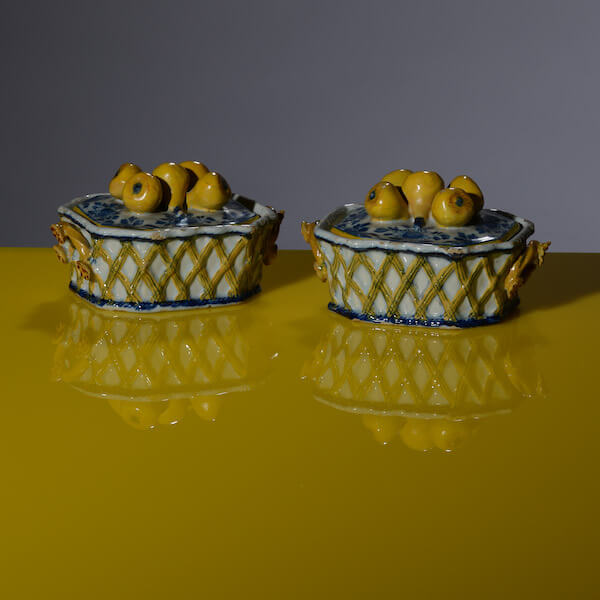 Pair of Polychrome Butter Tubs and Covers
Delft, circa 1765
Dining à la Française (in the French manner) was a fashionable new style of dining, where guests were served numerous dishes at once during the formal dinner service.

A wide range of wares were designed in the newly stylish trompe l'ceil to complement the dishes, which were symmetrically arranged on the table and within reach for guests to serve themselves. Dinner wares cleverly imitated nature in the form of fruits and vegetables. Further, the table itself would be adorned with real flowers or fruits.

A pair of butter tubs like the present one, formed as a wickerwork basket with a stack of pears, would fit accordingly on the dinner table.

€ 13.500
Go to Webshop
Pieter Paree
The Metal Pot

Read More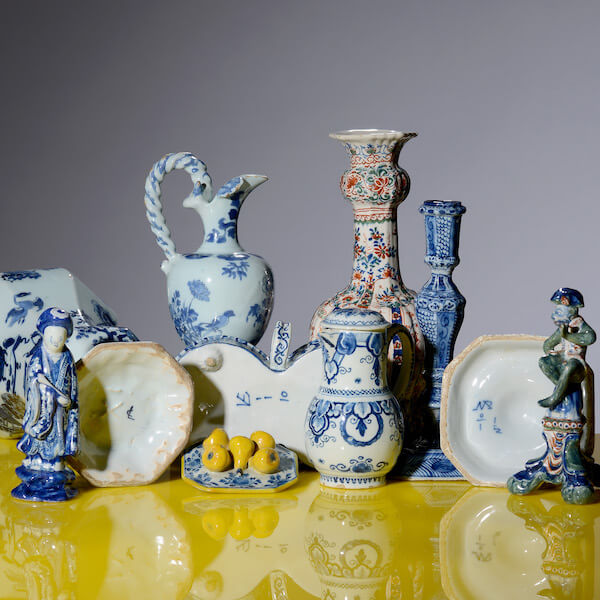 Thank you for your visit and let us keep you up-to-date
Visit Website
The Metal Pot

Sign up to our newsletter